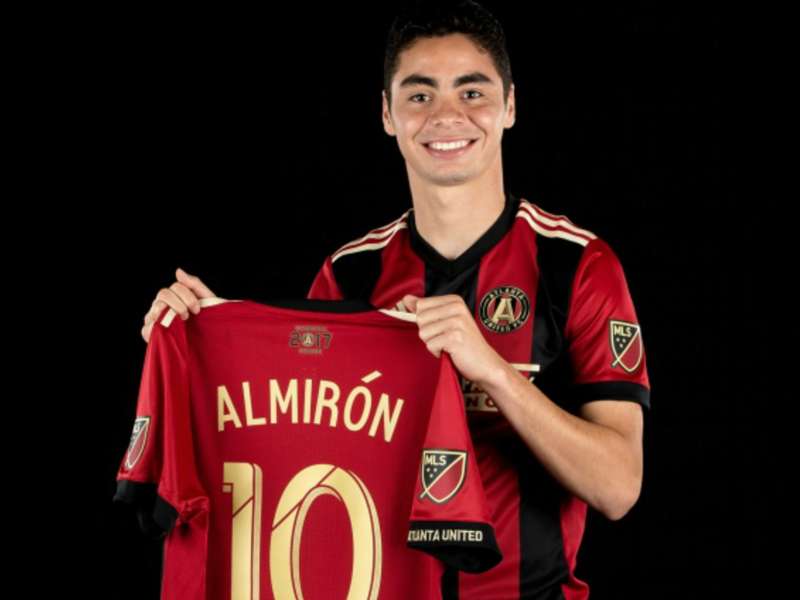 Atlanta United hasn't kicked a ball as a team yet, and its first game is still more than two months away, but the MLS expansion side already is turning heads with its early acquisitions and aggressive approach to roster building.
It's a bit premature to talk about Gerardo Martino's team being a title contender in year one, but MLS fans from coast to coast have been left impressed with the seemingly never-ending string of transactions that have all earned positive nods of approval.
The landing of highly regarded Paraguayan midfielder Miguel Almiron in a multi-million dollar deal is obviously the centerpiece move to date, but a handful of other transactions have impressed as well — from the trade for Michael Parkhurst and landing Zach Loyd in the expansion draft, to flipping of another expansion draft pick for the No. 8 selection in the upcoming MLS draft. Then you have free agent pickups and useful MLS veterans in Jeff Larentowicz and Jacob Peterson, as well as the latest move, first reported by Goal USA, of Greg Garza joining on loan.
That's not even including early acquisitions of Trinidadian striker Kenwyne Jones and Argentine winger (and young designated player) Hector Villalba, or the expected arrival of U.S. national team goalkeeper Brad Guzan in January. You can even include the move Atlanta made in acquiring veteran goalkeeper Sean Johnson for allocation money, only to turn around and flip him to New York City FC once Guzan's deal looked like a good bet. Did we mention Atlanta doubled its allocation money from the initial Johnson trade in the process?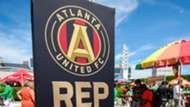 So why are Atlanta's moves drawing so many raves? The combination of being willing to spend money on higher-end players as well as a focus on building a foundation of MLS veterans has made Atlanta the envy of many MLS fans who have spent the winter watching their teams do little to boost their rosters so far. Opposing fans don't have established disdain for Atlanta as a rival yet, so its easy to live vicariously through them.
Of course, it isn't really fair to compare what an expansion team can do versus what an established MLS team can do in roster building. Expansion teams have a clean slate in terms of salary cap and a pile of allocation money, but even by past MLS expansion standards, what Atlanta is doing is unprecedented.
The deep pockets of Atlanta owner Arthur Blank very nearly allowed United to secure three high-priced and young designated players before
its bid for Oscar Romero was hijacked by Chinese Super League side Shanghai SIPG
. That isn't stopping Atlanta, though. The club already has moved on to the next transfer targets on the list, making it very likely three designated players will be on the field when Atlanta begins play in March.
By comparison, fellow expansion side Minnesota United is taking a much more measured approach to its roster construction. The Loons aren't going to be spending eight figures in transfers and salary to load up on high-priced players, but even excluding Atlanta's designated players, Minnesota is still playing catch up to its expansion classmate. There are more moves in the works for Minnesota, though, including the attempted reuniting of Miguel Ibarra and Christian Ramirez, who both starred for Minnesota's NASL team. There are also reported moves for Costa Rican national team defender Francisco Calvo and former MLS Cup-winning Portland Timbers goalkeeper Adam Kwarasey.
Those moves are encouraging for Minnesota, but overall it's still balling on a budget compared to what Atlanta has already done and could still be doing in the coming weeks. Atlanta is committed to filling its third designated player slot with a high-end talent, and is also pursuing a starting central defender to partner with Parkhurst. Throw in the two picks in the first eight in the upcoming MLS draft and Atlanta could kick off its training camp in January with a squad talented enough to be a serious playoff contender in the Eastern Conference in year one.
Perhaps the most impressive aspect of Atlanta's approach to building its team is the fact that hiring a foreign coach like Martino hasn't gotten in the way of Atlanta targeting a foundation of established MLS talent. Technical director Carlos Bocanegra and director of soccer operations Paul McDonough have been allowed to target and acquire talent well-equipped to succeed in MLS. There are plenty of examples of foreign coaches coming to MLS and struggling to build rosters.
For all of Atlanta's signings, Martino remains the most important piece to the puzzle. The former Barcelona boss must fit all the talent Atlanta has gathered and make it form a cohesive unit. As much as coaches to new MLS have struggled in the past, more often than not those struggles were based in large part on failures on squad building. Martino doesn't look like he will have that problem. In fact, Martino looks to be inheriting a roster that is shaping up to be the envy of many fans around the league.
---
TIMBERS FACE TOUGH DECISION ON NAGBE
---
The Portland Timbers had spent weeks waiting to see just how serious Celtic was about going after U.S. national team midfielder Darlington Nagbe, and now that the Scottish champion has made an opening offer, the Timbers are faced with the realization that a tough decision looms.
Reports emerged from Scotland on Wednesday claiming that Celtic had made a $3.7 million offer for Nagbe, but sources tell Goal USA the offer on the table at the moment is $3 million, a figure that is still enough to have the Timbers considering what to do now.
Nagbe has spent six seasons with the Timbers, but has made it clear he wants to join Celtic. The Timbers have shown a willingness in the past to sell players who wanted to move, but Nagbe is a unique case altogether. He has very much been the face of the club for years, and replacing him wouldn't be easy, and would likely cost more than the Timbers will be paid for him.
So why do it? A $3 million fee may sound small to some, but at age 26, and having yet to establish himself on the international stage, Nagbe isn't going to fetch much more than that from anybody. Timbers general manager Gavin Wilkinson is a pragmatist, and would have little problem hitting the market for a replacement. Timbers coach Caleb Porter would also be unlikely to stand in the way of the move, having coached Nagbe since their days at Akron. As much as Porter wants to win, he will also understand what a transfer to Celtic would mean to Nagbe.
Celtic manager Brendan Rogers is said to be a fan of Nagbe's, seeing him as a starter for the perennial UEFA Champions League participants. If Nagbe thrives at Celtic, he could see a move to a bigger league like the English Premier League in a year or two, which could fetch the Timbers an added bonus if they succeed in securing a sell-on clause in any transfer.
The fact Celtic jumped in with a $3 million offer to start shows how series the Hoops are about Nagbe, and as much as Portland might want to try and squeeze more out of Celtic, the benefit of completing a deal sooner than later would be giving the Timbers more time to find a replacement.
Rest assured, the Timbers should have the resources to land a suitable replacement, especially if they succeed in offloading disappointing Argentine Lucas Melano. Despite his struggles in MLS, Melano remains a sought-after commodity, and if the Timbers unload him, the designated player slot coupled with the revenue from the Nagbe sale would provide ample resources to secure another game-changing midfielder.
At this point, a transfer seems inevitable, meaning Timbers fans will have to start preparing for life without Nagbe, something they haven't had to do since the Timbers arrived in MLS.
---
JUNINHO CLOSING IN ON MLS MOVE
---
Greg Garza isn't the only Club Tijuana player preparing to make a move to MLS. Sources told Goal USA last week that former LA Galaxy midfielder Juninho wanted to return to MLS, and now it appears the wheels are in motion on a return for the Brazilian.
Sources tell Goal USA that MLS officials are already in discussions with Club Tijuana, and one club that could land the former MLS Cup winner is the Columbus Crew. Gregg Berhalter's midfield is in a state of flux, and adding a proven player like Juninho could give Columbus exactly what it needs to return to the playoffs after a woeful 2016. The Crew recently lost Mohammed Saied to the expansion draft, and Tony Tchani is coming off a somewhat disappointing 2016 season. Throw in the fact that the team's central defense is also in transition after Michael Parkhurst's departure and the news that Gaston Sauro will miss the 2017 season, and you can see why the Crew might be ready to use targeted allocation money to secure Juninho's services.
Note: The Chicago Fire acquired the rights to Juninho on Friday.
Juninho, 27, isn't going to come cheap though. The Xolos spent around $1.5 million to buy him from the LA Galaxy a year ago and would want to recoup a sizable chunk of that fee in any deal. The Crew do have money to spend, both in the form of general allocation money and targeted allocation money.
Berhalter is no stranger to Juninho, having been his teammate with the Galaxy in 2010 and 2011. Juninho was an integral part of some championship teams with the Galaxy, but struggled to maintain his same role once Steven Gerrard arrived in 2015. Berhalter knows what Juninho can bring, both with his tireless work rate and ability to contribute to the attack.
No deal is done yet, but talks between MLS and Club Tijuana are underway, and the former MLS Cup-winning midfielder could be back in MLS after spending just one year away in Liga MX.