Whether trailing by a mere point, or by a handful, the teams currently on the wrong side of the red line in the MLS standings know that the recent transition from summer to fall means one thing.
Time is running out, and it's time to start getting serious about turning things around if there is going to be any hope of playoff soccer.
Whether you are just two points behind the playoff pack like D.C. United or even nine points back like the Chicago Fire, you know the pressure is about to kick up several notches, especially given some of the matchups on the calendar this weekend.
There are plenty of other things on the line right now, whether you're talking about the Supporters' Shield, or the precious top spots in both conferences—which bring first-round byes in the playoffs— the real pressure this weekend is on those teams that have left themselves little room for error.
Technically speaking, no team has been eliminated from the playoffs yet. Not the league-worst Chicago Fire, and not even the Western Conference basement's Houston Dynamo, currently 11 points out of playoff position with six matches to play. Realistically speaking, the Fire and Dynamo aren't playing beyond October this season, because there is zero reason to believe either team is going to flick a switch and suddenly find the kind of form that neither has seen in years.
The league's other 18 teams have more reason to think the playoffs are possible from FC Dallas, which already qualified, to the Columbus Crew, which went almost three full summer months without a win, but suddenly has new life after a resounding road win in Orlando.
Another team in the midst of what it hopes is a successful resurrection after previously appearing dead in the playoff race is Seattle, which travels to California to face its familiar foe the LA Galaxy with a chance to edge closer to Sporting KC and Portland for the final Western Conference playoff spots.
Here is a closer look at what to watch for in MLS Week 29:
---
IT'S A BIG WEEKEND FOR ... THE COLUMBUS CREW
---
The Columbus Crew saw their 2015 season end in disappointing fashion at home last December, with an MLS Cup final loss to the Portland Timbers. Nine months later, the Crew have to know that a loss at home will effectively end their season yet again.
The Crew take on the New England Revolution on Sunday with a chance to close the gap on the Revs for the sixth playoff spot in the East. Columbus can cut its gap behind the Revs to four points with a win, and with two games in hand that would suddenly be a reasonable quest, even if D.C. United and Orlando City are also both chasing New England.
Gregg Berhalter's side has battled through injuries and a terrible summer, but last week's 4-1 win over Orlando City — their third win in six matches — breathed life into the Crew's playoff hopes.
Standing in the way is a surging New England side that has won three straight matches to jump back into the playoff race. Jay Heaps' team has revived a previously malfunctioning attack, while tightening up defensively, to grab sixth place and position itself to take advantage of Montreal's recent free-fall to move up into fifth place.
The Crew looked very good in pummeling Orlando City, but the Revs are a much better team at the moment than Orlando, and Columbus will find it tough to run wild on the Revs defense, even if they are at home.
There is also the matter of stopping a familiar face in Kei Kamara, the striker who helped lead Columbus to last year's MLS Cup final before wearing out his welcome in Columbus in the spring, which led to a trade few could have seen coming.
Kamara already has faced the Crew twice since that May trade, but it's a good bet he'd take some joy in crushing the Crew's playoff hopes by beating them Sunday.
---
DON'T MISS ... LA GALAXY vs. SEATTLE SOUNDERS
---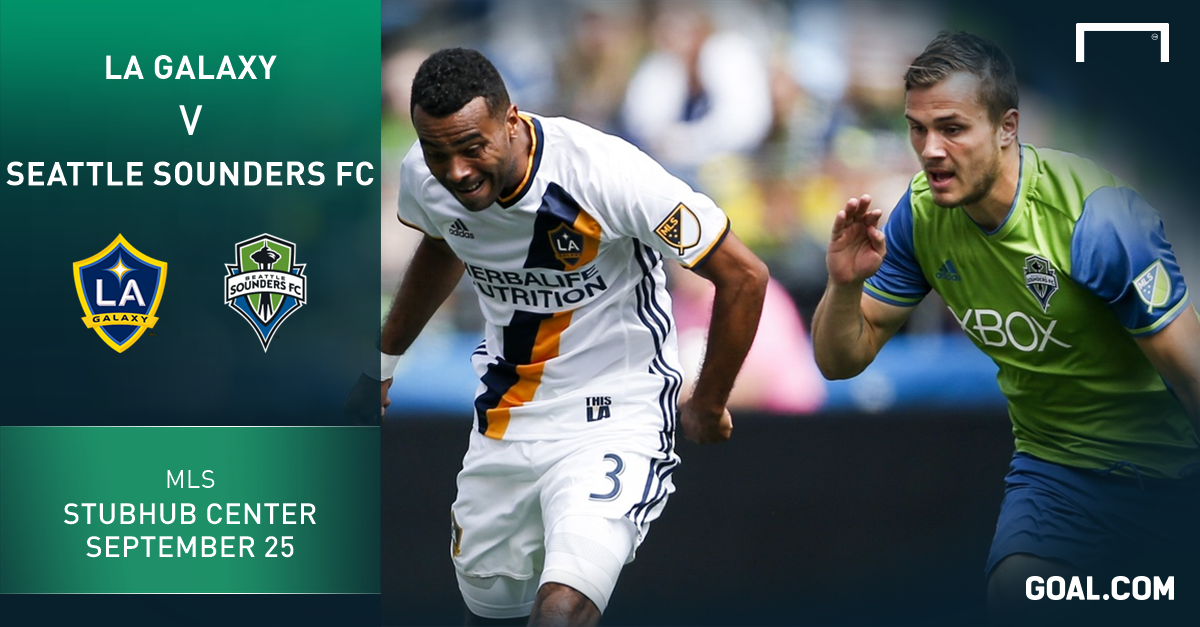 In recent years, we have grown more accustomed to seeing the Galaxy and Sounders battle for Western Conference supremacy. Their roles aren't quite the same this time around.
The Galaxy are in familiar territory, currently in second place in the West, but the Sounders are currently five points out of the playoffs, still working to dig themselves out of the hole they made for themselves during the season's first half. That climb has been complicated by Clint Dempsey's irregular heartbeat diagnosis, which has sidelined him, though Nico Lodeiro has helped offset that loss.
The Galaxy have been dealing with their own injury issues, such as losing Robbie Keane and Steven Gerrard for several weeks and Gyasi Zardes for the season. Giovani dos Santos stepped up his game recently to help pick up the slack, while Landon Donovan returned from retirement to help provide some depth.
Keane is back from injury, and Dos Santos is expected to start after sitting out last week's 2-2 tie with Sporting Kansas City. It would mark the first time Keane and Dos Santos have been in the starting lineup together since an August 20th loss to New York City FC. They will face a Seattle defense made much tougher by the return of Roman Torres, a formidable center back who has helped take some of the load off veteran defender Chad Marshall.
The Sounders won't have Clint Dempsey, but with Lodeiro and Morris, they should be able to find chances against a Galaxy defense that has allowed seven goals in its past three matches.
---
MATCHUPS TO WATCH
---
If you are a fan of seeing top center backs facing in-form strikers, then this is the weekend for you. From the red-hot Bradley Wright-Phillips, to the healthy-again Robbie Keane, some of the top strikers in MLS will face very stiff challenges among the league's top one-on-one matchups. Here are this weekend's best:
1. Gio Dos Santos vs. Osvaldo Alonso: Dos Santos was on a tear before sitting out LA's last game, but he will find the going much tougher with the terrific Alonso chasing him around.
2. Bradley Wright-Phillips vs. Laurent Ciman: There isn't a hotter striker in the league right now than Wright-Phillips, who scored two on Montreal when he faced them in August.
3. Robbie Keane vs. Chad Marshall: If Keane is back to 100 percent, he will look to find Marshall in space, though Marshall will have some strong help from Roman Torres.
4. Cyle Larin vs. Steve Birnbaum: The first meeting of the year between the Lions and DCU pits the always-dangerous Larin against the in-form Birnbaum.
5. Mauro Diaz vs. Kyle Beckerman: Diaz is playing with confidence these days, but Beckerman has the motor to keep Diaz out of his comfort zone.
6. Tranquillo Barnetta vs. Michael Bradley: Barnetta is one of the most underrated players in MLS, but Bradley isn't likely to overlook his fellow Bundesliga alumnus.
7. Chris Wondolowski vs. Matt Besler: U.S. teammates square off in a clash they each need to win in this crucial Western Conference clash.
8. Jordan Morris vs. Jelle van Damme: A battle between the MLS Rookie of the Year favorite and likely Defender of the Year frontrunner isn't one to miss.
9. Yura Movsisyan vs. Matt Hedges. Movsisyan combines quickness and strength as well as anyone in MLS, but Hedges has the tools to keep him under wraps.
10. Kei Kamara vs. Michael Parkhurst. Kamara will look to try and outmuscle Parkhurst, but the savvy veteran defender knows how to battle that.