With a consistent run of playing time, Walker Zimmerman is finally starting to show what he can do.
After starting just 23 games combined in his first three MLS campaigns, the FC Dallas center back started his 24th game of 2016 on Saturday — which he marked with his third goal of the season.
The 23-year-old has struggled with injuries and found himself out of favor at various points during his career, but Zimmerman is now starting to live up to the obvious potential that has seen him capped by the U.S. youth national team at various age groups.
"I think there's a confidence factor that goes in with getting consecutive games and kind of getting into a rhythm," Zimmerman told Goal USA. "I think I'm in a very comfortable state right now."
It's been a breakout campaign for the defender, whom FCD selected as a 19-year-old with the seventh overall pick of the 2013 MLS SuperDraft.
Zimmerman made four starts in his rookie season, which was hampered by injury. So too was his sophomore campaign, as he made just 10 MLS appearances in 2014. His return to health in 2015 meant 20 appearances, but just 10 starts.
"It's a trying time for sure," Zimmerman said of his early time in the league. "I learned a lot about persevering in that time, learned how to be a better teammate, learned how to work hard even when you're not playing."
That work has paid off in 2016. Zimmerman's form and his burgeoning partnership with Matt Hedges at center back have helped propel Dallas to the top of the MLS table. At 15-7-6, FCD has a comfortable seven-point advantage over New York City FC in the race for the Supporters' Shield.
Zimmerman hasn't just passed the eye test in 2016. The Georgia native is second among all MLS players with 84 aerials won this season, second with 128 clearances, fourth with 68 headed clearances and second with 89 interceptions.
"Walker has always been a guy who's been focused but for some reason this past offseason he came back with a determination," Dallas defender Atiba Harris said. "He wants to score goals and he wants to keep clean sheets, so I think he's mature and he's staying healthy."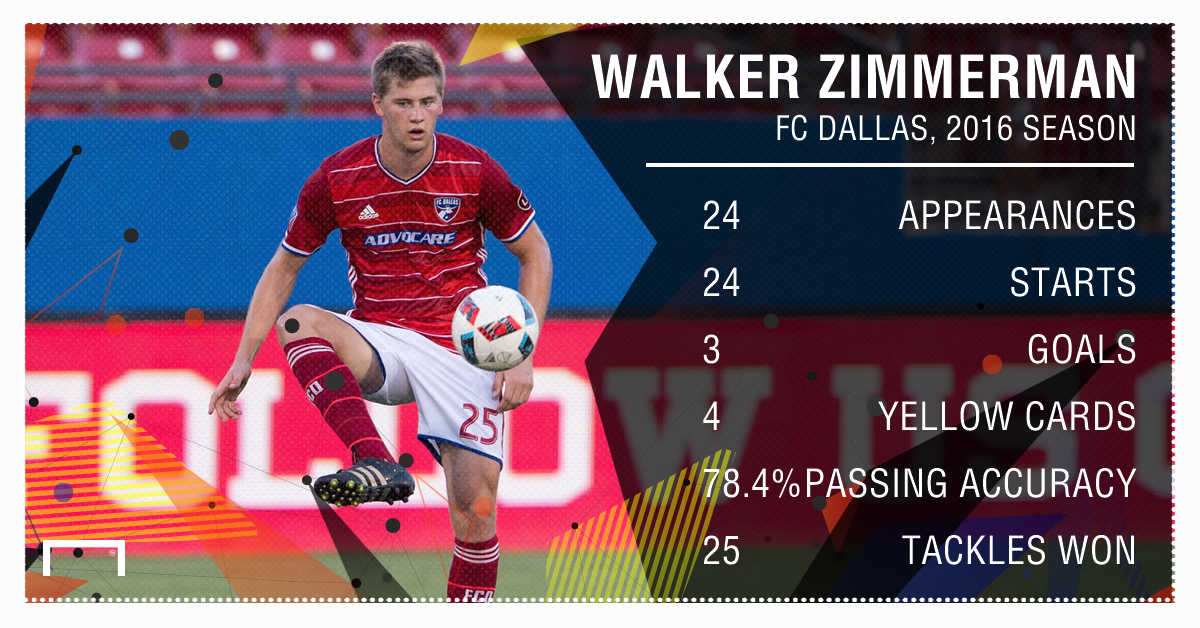 Though Zimmerman has enjoyed a breakout season in 2016, it very nearly didn't happen.
The center back's original contract — a Generation Adidas deal — expired after last season. Zimmerman flew to Scandinavia in the offseason to train with clubs in Sweden and Norway, including a trial with Norwegian side Viking.
"It was really refreshing to go over there and just get some different training experience in — get a little bit of a culture change over there in Sweden and Norway and really just prepare myself for whatever was going to happen," Zimmerman said.
In the end, though, Zimmerman signed a new deal with Dallas.
"Ultimately we saw what we did last year as a team at FC Dallas and saw the potential that we had," Zimmerman said. "[I] wanted to earn my spot on this team as well, and to come back and to prove that, and to get a good run of games this season. It's been a really good fit and I'm happy to be here."
Zimmerman's future in MLS was again put into some doubt just months into the season, when his strong start drew reported interest from Mexican clubs, including Club America and Atlas.
"It's rewarding to know that people are watching," Zimmerman said of the rumors. "That was just a realization that people are watching and every game is important. It's definitely helped me concentrate playing with that in mind."
For now, Zimmerman will maintain his focus on FC Dallas. There is, however, another goal he has in mind after representing the U.S. at various youth levels: a first senior national team call-up.
"It's been an honor to represent my country for about nine years now in various age groups," Zimmerman said. "So that is the next step and it's something that I work for every day and dream about and hopefully I'll be able to get the opportunity to play there."