It's no secret that how a story begins sets the tone for the rest of the tale.
Just ask Toronto FC's Marky Delgado. The start of 2016 could not have been more different than the year that preceded it.
In 2015, Delgado was a teenager who was leaving life in Southern California behind after his first club, Chivas USA, folded. Taken in the MLS dispersal draft, he found himself thrust into a new team, new country and harsh new weather.
"I felt like it was a lot harder because I didn't come prepared, on and off the field," Delgado told Goal USA. "Off the field I came in the thermal, the jacket and was freezing. Then getting to the preseason where we had to start playing soccer, (with) fitness and everything, I was completely out of it."
That rough start snowballed for Delgado, costing him confidence. He was concerned about making mistakes and not losing the ball. And he didn't see the field much as a result — Delgado made the game-day roster in just four of Toronto's first nine games in all competitions, and played in only one.
Things improved a bit after his time with the United States at the U-20 World Cup, as Delgado ended up getting 19 starts down the stretch. But in 2016 there was no waiting around. He didn't start the first game of the year — but he scored a goal in it anyway, delivering the insurance tally to finish off a 2-0 win over the New York Red Bulls.
"This year I'm more prepared, more settled in with the club and all my teammates," he said. "I can play more like myself. I feel more open as a player and a person off the field. I have a little bit of creativity in my game, so I feel like I've brought that out a bit more this year than I did last year."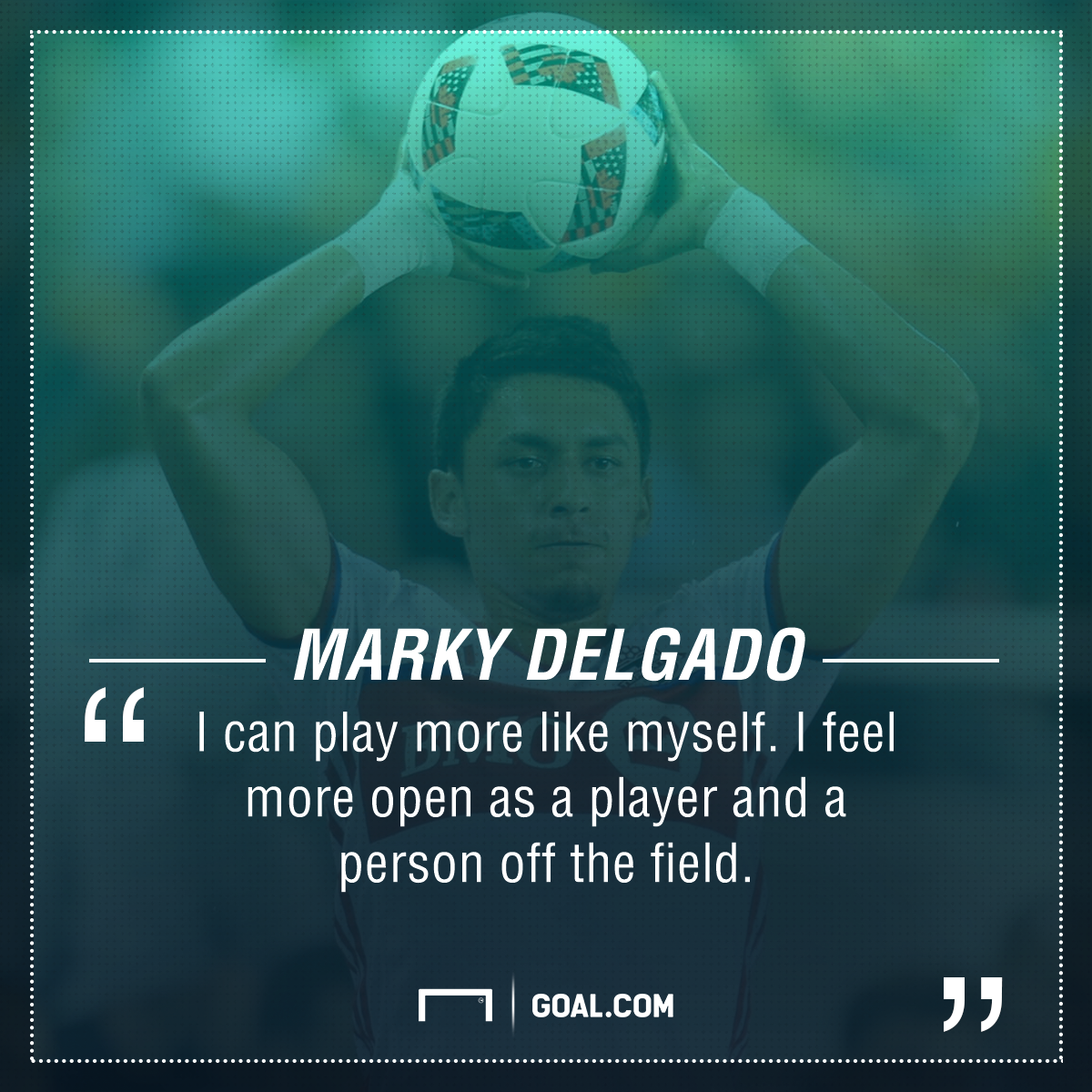 That technical aspect is something that his coach, Greg Vanney, sees and values.
"It's a real skill to know when to and to be capable of, from a technical level, to play the right number of touches for a given action," Vanney said. "I think there are often too many times where guys take too many touches or they play off the ball too fast. Marky has a nice understanding of how many touches are needed and he can play on the move. He doesn't have to necessarily have the ball at his feet."
Described by Vanney as a big engine guy who is respectful in everything he does, Delgado wasn't an unknown quantity when he arrived in Toronto — Vanney and assistant coach Robin Fraser were the ones who helped bring Delgado to Chivas USA in the first place. That familiarity helped the youngster with the adjustment, and also leaves him feeling as though the coaching staff is behind him.
That feeling, combined with a better offseason, has given Delgado more of a "swagger" with how he approaches the games. Now, he's much more willing to attack without fear when the opportunities present themselves.
"(The coaches) have been there letting me know to always look forward, always look to goal — that's what wins games," he said. "I've been really trying to work on that so I've been a lot more aggressive towards goal, finding ways to get opportunities on goal."
The statistics back that up. Despite playing just 18 minutes less than he did the entirety of last season, Delgado has attempted 939 passes, compared to 742 last season. He's made 347 passes that ended in the final third this year, versus 249 last year.
The payoff is in the chances created — Delgado has 25 already this season, whereas in 2015 he had 19 total. And one of the best ones you'll see in MLS this season happened Aug. 20 when he delivered a gorgeous ball off a chest-down from Jozy Altidore into the path of Sebastian Giovinco, which the reigning MLS MVP finished off against the Philadelphia Union.
The touch. The run. Even double post goes Giovinco's way. Spectacular.

1-0 @torontofc. #PHIvTOR https://t.co/1zzb1QXKmx

— Major League Soccer (@MLS) August 20, 2016
"People might say what a great assist, world-class assist, but I've been doing it for quite a while," Delgado said. "This year I feel like I can do more, I can take more risks. There's not always a reward at the end, but when there is, you get a lot of compliments."
You also get a player who, at just 21 years old, has made himself into a consistent, every-week starter for Toronto. Delgado also isn't a guy who has shirked from pressure. He was confident he could earn his place in the squad when Toronto brought in Will Johnson in the offseason and was eager to prove himself in a greater role when Johnson and Michael Bradley went down with injuries in June.
"I just saw it as an opportunity to step up — a very big opportunity to really show what kind of player I am when all the stars are injured," he said.
The fact that Delgado has managed to become such a key contributor has impressed Vanney, and leads him to believe the 21-year-old could be a key piece for Toronto in the years to come.
"Of the guys who start for us on a week-in, week-out basis, he's our youngest by a long shot," Vanney said. "For us, he's got a really bright future here as he continues to grow, learn and take on more responsibility in the coming years within our group.
"He's definitely a guy we're going to be building with and going to be building around in the next couple of years as we continue to try to build a consistent performing team. Next year we go into (CONCACAF) Champions League, which is a great opportunity for us to get back into international soccer. And frankly, I believe he needs to be seeing his way back into the national team program. For his ability level and his age, he has a bright future for U.S. Soccer."
Delgado's contract, however, is up at the end of the year. It's led to pressure — the type Delgado welcomes as a means to stay focused and sharp every time he takes the field. It's also led to thoughts of his future.
"I mean, I'm like a nosy person who wants to see what it's like abroad," he said, adding later he is "kind of curious to see what's out there."
With that said, he also thinks highly of Toronto from top to bottom, especially after his experience at Chivas USA. While Delgado is grateful to the organization that first gave him the chance, Toronto's facilities have made a lasting impression on him.
"I haven't been overseas yet but I feel like it's a world-class club. The organization and the club, what they supply you with, is great," Delgado said. "I'd love to stay here."