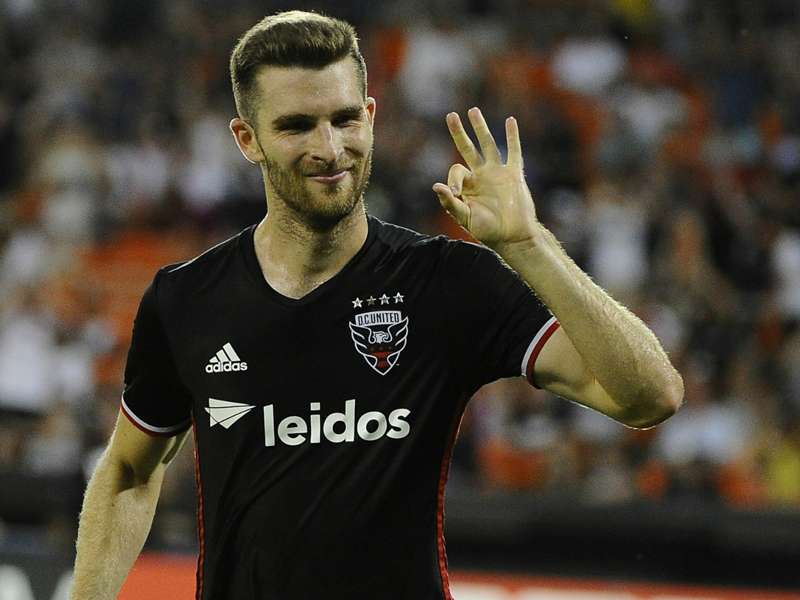 WASHINGTON — With D.C. United's midseason shakeup have come signs of encouragement, even if the finished product has largely proved elusive.
An often-sluggish attack has given way to smart combination play. Newcomers Patrick Mullins and Lloyd Sam have found a groove. The switch to a 4-1-4-1 has helped invigorate prized offseason signing Luciano Acosta.
While United entered Saturday's match against the Chicago Fire tied as the worst attack in MLS, the hosts emphatically dropped that label with a 6-2 win over their 10-man opponent at RFK Stadium.
"We got a bunch of goals, which for us is a big deal," United coach Ben Olsen said. "That's a good feeling. That's a feeling I think this team has been waiting for."
United (7-8-11) now finds itself in the driver's seat for the sixth and final playoff slot in the Eastern Conference, boasting a four-point cushion with eight matches remaining.
Although Mullins' hat trick stole the headlines against Chicago, Acosta quietly produced a one-goal, three-assist performance and Patrick Nyarko delivered a goal and two assists of his own. With the win, United extended its season-best unbeaten run to six matches.
"It just all came together," Mullins said. "It was a good performance obviously, front to back. I thought we built up from the back well, and that's a big part for our attacking players to get those chances. If we get in the right positions and build well, we'll be successful."
It's perhaps a sign of the club's increasing standard that Olsen was dissatisfied by United's highest scoring first half in more than two years. While Acosta opened the scoring with a beautiful team goal in the 25th minute, Michael de Leeuw promptly equalized for Chicago.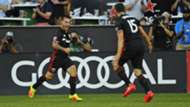 But the Fire went down a man thanks to a moment of madness from Khaly Thiam, who threw the ball at Nyarko's head in the 34th minute. Although Mullins capitalized with two goals late in the first half, Razvan Cocis pulled one back for Chicago just before the break to dampen the halftime mood.
"My take on the first half is it was pretty poor how we started the game," Olsen said. "I'll have to look at it again, but it looked like we were just not up for it and they looked like they had a little bit more pulse to them and they looked like the team that wanted to be in the playoffs. They bail us out with the red card, and that obviously changes the game."
United restored its two-goal lead with an overhead strike from Nyarko six minutes after halftime, and from there the home side cruised. With Mullins chasing his first professional hat trick, the former New York City FC striker buried a Sean Franklin cross in the 74th minute for United's fifth goal of the evening.
Mullins has been the centerpiece of United's summer retooling, arriving in a trade with New York City FC the same week designated player Fabian Espindola was shipped away. With five goals in seven matches, he already is United's leading scorer in 2016.
"It's been a long time since I scored a hat trick — honestly, I don't even remember," Mullins said. "It was an exciting moment and one I wanted to take in. It was a special night for me and for the team to get three points. It was a fun one to share with RFK — not going to forget this one."
In a wide-open Eastern Conference, there's now reason to be wary of a United team that hasn't lost in over a month. With Sam and Nyarko creating from the flanks, Mullins and Acosta thriving in the attacking third, and Marcelo Sarvas embracing a deep-lying playmaker role, United's attack is a far cry from the unit that struggled to get on the score sheet for much of this season.
The club's depth also has improved, with Lamar Neagle, Kennedy Igboananike, Alvaro Saborio and Nick DeLeon — who snapped a 33-game scoreless drought Saturday — among the attacking options available off the bench.
Now this new-look United side faces its toughest test yet, with a trip to second-place New York City FC looming Thursday at Yankee Stadium.
"We'll take the six goals and the three points," captain Bobby Boswell said. "And we'll learn from what we did and get ready for a really tough game coming up."