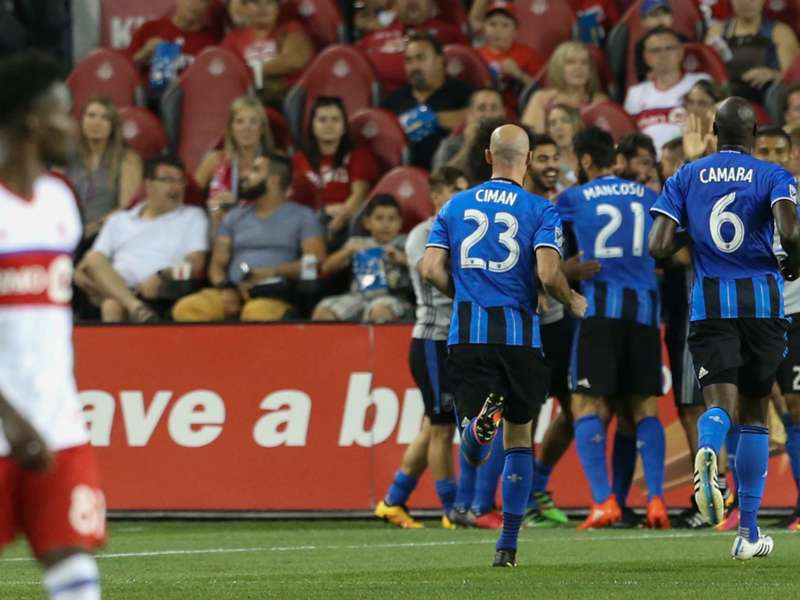 TORONTO — Instead of a triumphant homecoming for a Toronto FC team riding high on a near-perfect three-game road trip, Saturday's clash with the Montreal Impact at BMO Field was a rude awakening.
TFC has been the hottest team in MLS in recent weeks, having won six of its last seven matches. Perhaps even more impressive is that Toronto returned home having collected seven points on a three-game road stretch, thrusting the team into sole possession of the Eastern Conference lead and sparking genuine discussion about its chances of snagging the Supporters Shield as the best team in the entire league over the regular season.
Then Saturday happened.
A Montreal team reeling from a series of poor results — including a 3-0 loss at Stade Saputo last week to a Chicago Fire side that hadn't won on the road in over two years — looked to be the perfect fodder for TFC to bring its winning ways back to BMO Field in front of a raucous crowd. Instead, the Impact played the part of perfect villain by frustrating and pushing the home side around, ultimately claiming a 1-0 victory on a bit of Ignacio Piatti magic.
That's just a brilliant finish from Piatti. #IMFC https://t.co/QsbDPtAlsX

— Major League Soccer (@MLS) August 28, 2016
"The win is massive," Impact head coach Mauro Biello said. "Obviously [TFC] are a good team. They're probably the best team in the league. They've been on a very good run here. They're scoring goals, they're defending well. We did a good job — we were organized, we didn't give them much space to break us down, especially in the first half.
"And then we were clinical. Nacho [Piatti] again was clinical in the situation when we needed him, and he came out on top for us and scored a massive goal, and the effort that the players put in was exceptional."
To make matters worse, the Impact disposed of TFC while down a man, as Calum Mallace was given his marching orders near the end of the first half. It was another instance in what has become a disturbing trend for Toronto, as the club has lost twice and drawn once this season against teams who were down at least one man.
As good as TFC has been against opponents with a full complement of players, the team has struggled breaking down the inevitable bunker-and-counter tactics employed by sides forced to adjust to losing players mid-game.
"We've been on a good run and it was kind of — I don't know if ironic is the word — out of the last 12 games, the two games that we've dropped are two games that we've actually been up a man," Toronto boss Greg Vanney said, noting that his team needs to be more open to shooting from long range when opponents are packing the goalmouth.
And while losing in such fashion to its archrival is bad enough, it stings even more that TFC could not only have given itself a cushion at the top of the East with a win on Saturday, but also could have kept fifth-place Montreal three points closer to the playoff red line.
"As we've moved up the table that's been our motto in each of these games — make sure we keep those teams behind us as far behind us as possible," Vanney explained. "We put another team in the mix a little bit tonight, and we had the opportunity to create a fairly enormous, sizable gap between ourselves and some of the others."
#TFCLive shut out for the first time since the Copa break.

— Dan Riccio (@DanRiccio590) August 28, 2016
As bad as the loss felt for Vanney and his players, not to mention the 28,454 at BMO Field who greeted the final whistle with a chorus of boos, the coach stressed the importance of keeping things in perspective. After all, TFC is still coming off an unprecedented run during which the team collected 25 points since the beginning of July.
As of Saturday night, the team is still in first place in the Eastern Conference, with the best points-per-game and goals-against-average in the division.
A loss, Vanney said, is just one missed opportunity in a season that still has many more to come.
"If it's a big win or if it's a bad loss, context is it's one game and there's things that we have to clean up and get better at," Vanney said. "I just don't think you can ride the highs and lows of each game over a long season and let them affect you either way. You've got to stay consistent and you've got to stay honest with the things that you're doing well and not doing well, and keep trying to improve along the way.
"So while this one is, in it's way, embarrassing and it hurts in front of a sell out crowd to do that, we have to take that emotion and we have to use it as motivation to get better as we go down the stretch."