HARRISON, N.J. — When Mauro Biello and his Montreal Impact showed up at Red Bull Arena for Saturday's clash with the New York Red Bulls, there were plenty of Red Bulls players for them to worry about. Whether it be goal machine Bradley Wright-Phillips, or assist generator Sacha Kljestan, the tricky and tireless Mike Grella or fiery long-range threat Felipe.
One player who probably wasn't very high on Biello's list of opponents to be concerned about was Sean Davis, the second-year midfielder filling in for injured Red Bulls captain Dax McCarty. Sure, he was coming off just his fifth league start of the season, a match in which he scored a goal against the LA Galaxy, but the Impact couldn't have imagined just how much of an influence the 23-year-old would have on the match.
Davis helped set up each of the Red Bulls' first two goals, scored a goal of his own, then drew a red card on Impact defender Ambroise Oyongo, all while completing 44 of 48 passes and providing a team-high eight recoveries.
"He's got a lot of talent, he plays simple and reads the game well," Biello said of Davis. "The ball popped out to him for his goal, and he got it on target. In the end, it was way too easy for them to slip a ball through the middle of our defense right after we score. A simple little cross in the box on the second goal, to Wright-Phillips, and we should have done a better job on that also."
Davis has provided a perfect place holder for McCarty, who is sidelined with a broken leg that is expected to keep him out for several weeks. In his two starts since McCarty's injury, Davis has compiled two goals and two assists and completed 87 of 93 passes. His defensive work has also been effective in the Red Bulls' pressings system, but it has been his poise and ability to keep the ball moving that has helped the Red Bulls keep playing well despite missing their captain. In fact, on a team with several standout midfielders, it is Davis who leads the Red Bulls in every passing accuracy statistic, including accuracy into the final third and in the attacking half of the field.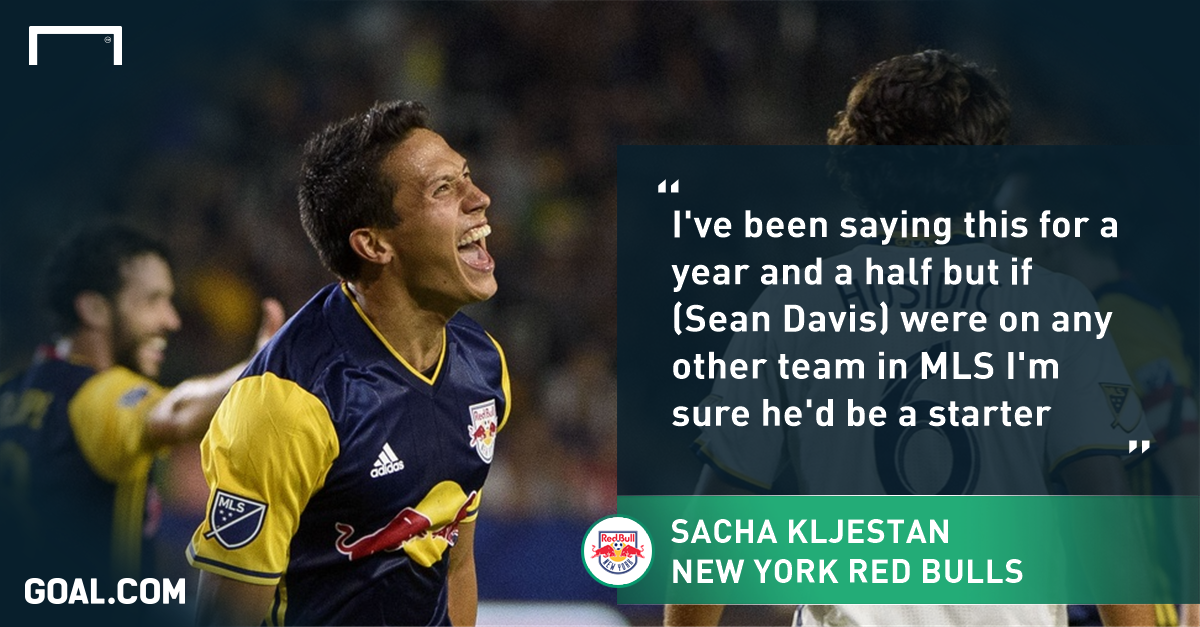 "From the first moment I met (Davis) he had this way of getting the ball and getting it to the next guy, and not dilly-dallying on the ball, not trying to do too much, while also finding a way to help his team win games," Kljestan told Goal USA. "I've been saying this for a year and a half but if he were on any other team in MLS I'm sure he'd be a starter."
Opportunities have been tough to come by for Davis, what with the Red Bulls boasting the central midfield trio of Kljestan, McCarty and Felipe, a triangle that helped lead the Red Bulls to a Supporters' Shield in 2015. Davis has made the most of his chances though, and now stands poised to play a key role in the Red Bulls' quest to move into first place in the East.
"I always like to think I have a quiet confidence about me, and that I believe in myself and I just need a few chances to show that," Davis told Goal USA on Saturday. "It's been tough because we have such a great midfield, with three of the best midfielders in the league on our team. Playing last week was great, and was probably the biggest game of my career to this point, just because we're at a point in the season now where we need points and I think that game really proved to me and to my teammates that I can get the job done, and that I'm confident and I want to make a difference."
"Even if you take away the goals he's scored, he's still done very well and still stood out to me, especially against the Galaxy," Kljestan said of Davis. "He's playing against DeJong, Larentowicz and Gerrard, older guys that are established good players and he still stood out."
Davis has drawn raves from teammates and coaches for his willingness to work hard in training and listen to the veterans on the team. The Duke University product has taken full advantage of being able to learn from some of the best midfielders in MLS, including McCarty, who has continued to coach him and help him even while sidelined with an injury.
"I remember in LA, at halftime I asked him, 'Dax, what do you see?' and he said 'Get forward more, be more aggressive'," Davis said. "That all came to light in scoring my goal. That's just a small example of how much he's been able to help me. He's always in my ear, and I've always watched him in training the past year and a half. I've learned so much from him and the other guys that I think now when I'm out there on the field you see a little bit of him in me. I'd like to think so at least."
If the Red Bulls are going to regain the top spot in the East, Davis will need to continue playing well, and as Biello put it, play simple. The description may not sound like a compliment, but as the great Johan Cruyff once said about the game, soccer is a simple game, but playing simple is the toughest thing there is.
"It's about making the game look simple, and it's not always easy and the coaches have been on me about getting forward more and being more aggressive," Davis told Goal USA. "I consider myself a guy who can keep possession in the toughest moments, and I'd like to think that makes me brave in a certain sense, but I have a long way to go. I'd like to add different layers to my game and continue to improve. I feel like this is a good starting spot."