WASHINGTON — Charlie Davies' laugh was tinged with palpable relief. For a player with a reputation for overcoming unthinkable obstacles, he could only smile as he reflected on what life has thrown his way in 2016.
It was in late April that a routine MRI to examine a groin injury discovered Davies had liposarcoma, a rare cancer. Stepping away from soccer for three months, Davies privately underwent treatment before taking his diagnosis public July 30 — and sharing the news that he's in remission.
Then came a curveball: With Davies back in the mix, the New England Revolution approached Davies and his family about a potential trade to the Philadelphia Union. As Revolution general manager Michael Burns said, "If it wasn't right for them, we wouldn't have considered it."
But the 30-year-old gave his blessing, and the clubs finalized the deal Wednesday night. On Saturday, Davies marked his Union debut with 10 minutes off the bench in a 2-2 draw against D.C. United.
"There's not many words that I can use to describe not only the past few weeks — the past four or five months," Davies told reporters postgame. "With that being said, I'm very thankful and grateful for where I am now. I feel that the worst is behind me. I have a very strong family, a very strong support system. I'm ready to take the next step in my life, and being here, you couldn't take a better step."
The cancer diagnosis hasn't been the only considerable hardship in Davies' life this year. In March, Davies and his wife, Nina, welcomed their now-healthy twin sons three months prematurely.
And nearly seven years have passed since Davies was involved in a fatal car accident near Washington, D.C., that left him with a series of major injuries. Sidelined for 17 months, he returned to the field in March 2011 and scored 11 goals for D.C. United that season while on loan from French club Sochaux.
"In terms of Charlie, you talk about character," Union coach Jim Curtin said last week. "We share a lot of mutual friends, and everything you hear about him is he's a very good guy, a high-character guy, a guy who's bounced back from adversity. He's a guy that's mentally tough."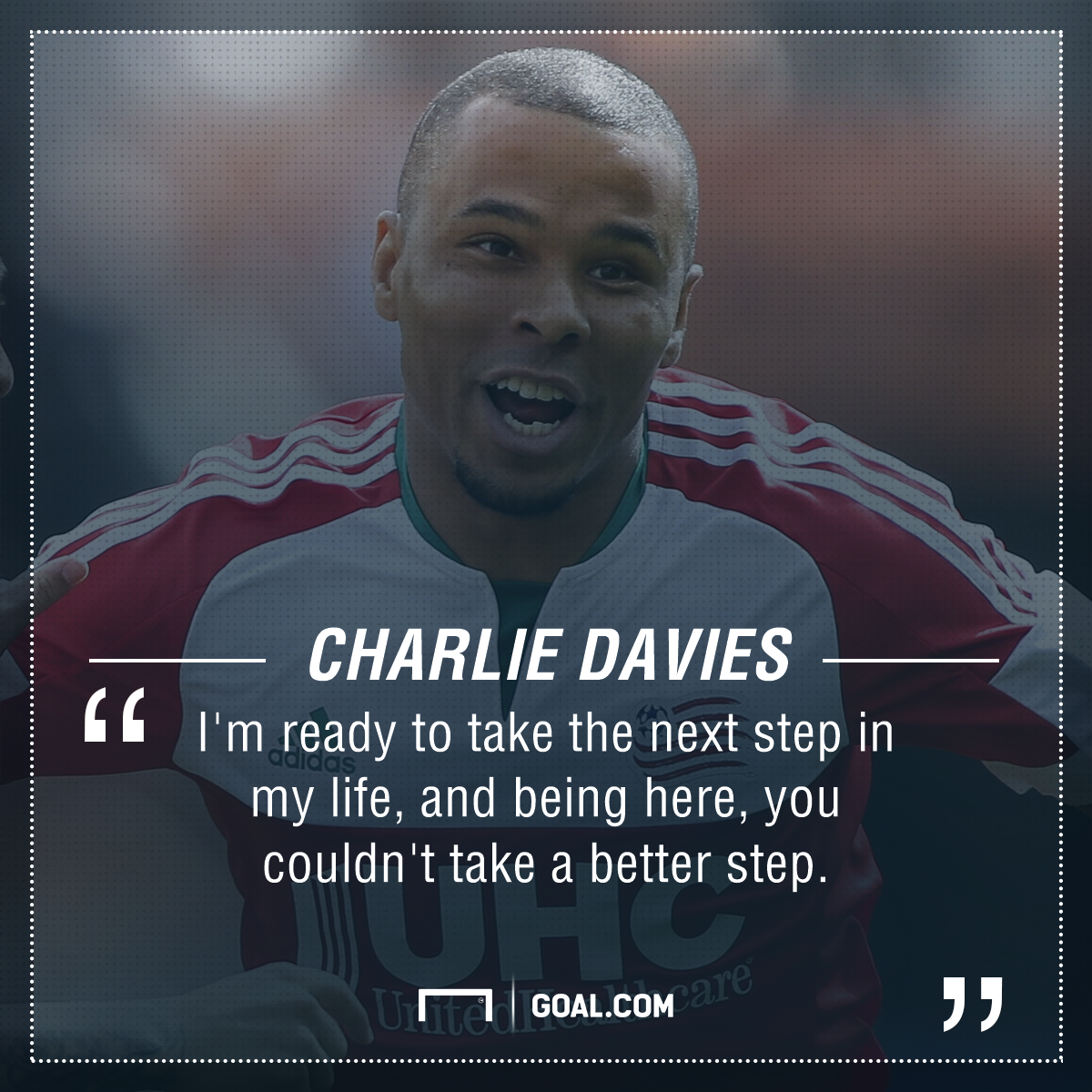 Although the Revolution gave Davies the option of declining last week's trade, the opportunity to join a locker room filled with familiar faces made for an enviable situation. Having played with Chris Pontius at United, Maurice Edu on the U.S. national team and fellow newcomer Alejandro Bedoya at Boston College, Davies made the move to Talen Energy Stadium with a built-in comfort level.
With the Union sitting fifth in the Eastern Conference at 8-8-7 but just six points out of first place, the idea of joining a potential MLS Cup contender also loomed large.
"Everything is very familiar," Davies said. "It's very easy to settle in. It's a great locker room, so I'm happy to be a part of it and now it's about getting results. This team hasn't seen the playoffs in a while. I have a lot of experience, and I'm happy to help this team get over the edge."
Goalkeeper Andre Blake added: "We're about teamwork and we welcome him into this team. We just want to help him make the transition because we know that he's a very good player, and the quicker he can adjust the better it'll be for us."
Davies, who scored 10 goals in 33 matches for the Revolution last season, figures to provide valuable depth for a Union team seeking its first playoff appearance since 2011. While All-Star striker C.J. Sapong is a physical target forward, Davies offers a speedy alternative up front.
Having missed 12 games because of his cancer treatment, Davies has relished the opportunity to regain fitness in recent weeks. As he turns the page on a trying chapter, his focus can shift back to winning games and scoring goals.
And that's certainly something worth smiling about.
"Obviously it's a quick transition joining a new club, but I'm very excited," Davies said. "Now it's just about building chemistry. I think my style of play is a little bit different than what they're used to, so I think come playoff time we'll be on the same page and we'll be looking sharp.
"I'm very, very thankful and fortunate that I would up in a team like this where there is so much potential, and now we just have to realize that potential."
PODCAST | Harry Shipp finally feeling like himself with Montreal Impact