HARRISON, N.J. — More than an hour after Sunday's derby loss to the New York Red Bulls, New York City FC coach Patrick Vieira could still be found shaking hands with friends and well-wishers in the bowels of Red Bull Arena. One person he wanted no part of a handshake with was Red Bulls coach Jesse Marsch, whom Vieira spent a large part of his postgame news conference bashing.
To Vieira, Marsch's comments in the middle of the week criticizing MLS referees for favoring star players wound up having an influence on Sunday's derby match, which the Red Bulls won easily. Referee Mark Geiger sent Vieira to the locker room in the first half for leaving his technical area on more than one occasion, but it was the rest of Geiger's performance that had Vieira convinced Marsch's perceived mind games had swayed the match in the Red Bulls' favor.
"When you taking in doubt the credibility of the referee, it happens that the referee sometimes makes the wrong decisions," Vieira said. "I think today he made more decisions in favor of the Red Bulls because the manager's been crying all the week. At the end he got what he wanted."
Vieira was sent to the stands around the 30th minute after leaving the technical area. Geiger sent him off, but Vieira stuck around and offered instructions to his players during a heat-related water break. Vieira's delay in exiting the field led to Marsch complaining to Geiger, which annoyed Vieira enough to prompt the former Arsenal star to walk over toward Marsch and send some words his way.
"The conversation to Jesse was just to stop crying and stop complaining," Vieira said. "I thought his team was playing pretty well, playing pretty good, but he was quite frustrated and I feel sorry for him."
Marsch drew a fine during the week after making critical comments about MLS referees, stating that he believes star players like NYCFC's David Villa, Andrea Pirlo and Frank Lampard are treated differently by MLS referees than other players.
"Going into New York City this weekend, I respect the way David Villa plays," Marsch told reporters Tuesday. "He's a great player but every game I watch he gets a piece of every defender before the ball comes. He fouls throughout the entire game. He hardly ever gets called for it.
"If he or Pirlo or Lampard get touched, they go down, they draw fouls, they draw yellow cards," Marsch added. "It's an epidemic, an epidemic across the league of these referees who want to give the benefit of the doubt to star players."
Vieira insisted that Geiger's calling of the match was influenced by Marsch's comments, and led to some calls going against NYCFC that shouldn't have.
"It can be the emotion, it can be the comment from Jesse during the week can influence the referee," Vieira said. "Everybody has to analyze the situation. When you put a question mark on the referee's credibility before a big game, that can have an impact and I think you will agree that had an impact on the referee's performance today."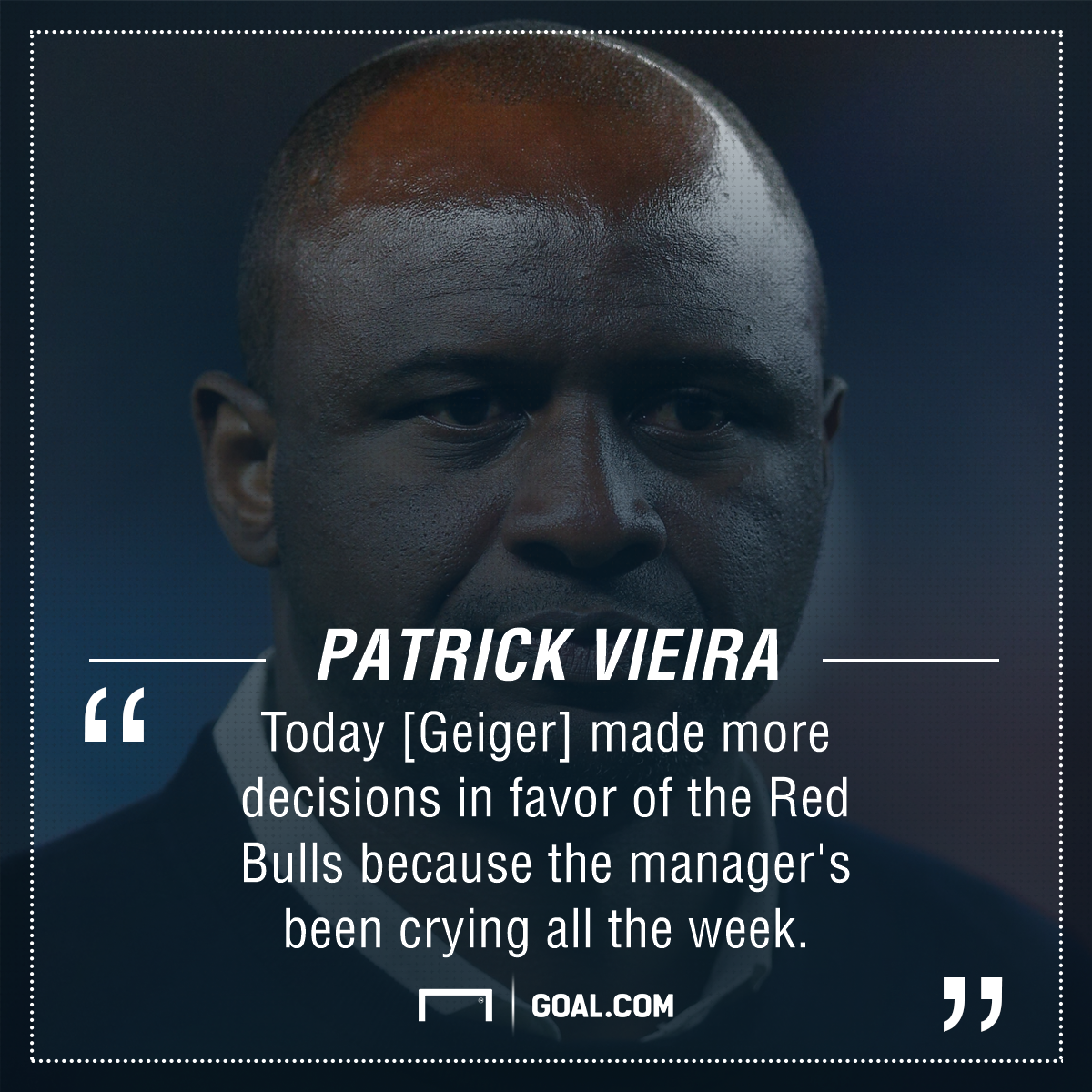 For his part, Marsch had high praise for Geiger, who has come under fire in the past year for high-profile mistakes in international matches, and a seeming penchant for losing control of MLS contests.
"I thought Geiger was fantastic," Marsch said. "This is not just because we won, or because I said something in the press. I think he had a very good, clean game, where there really weren't many mystery calls or doubts. There was one that maybe was deflected out for a corner, or maybe a ticky-tack foul here or there, but it's hard to argue with that performance. I think it's maybe the best that we've seen of the year.
"I know Mark's taken a lot of heat, and I think for him, in a big game where there were a lot of eyes on him, to be very poised and call the game the way he did I think he did a very good job."
Marsch scoffed at the notion that his comments about MLS referees helped his Red Bulls beat NYCFC. He chose instead to credit his team for delivering the fifth win in six meetings against its rival from across the Hudson River.
"The game was decided by players, and I think, in every way, our players put a big imprint on the game," Marsch said. "I thought from the first minute that they were very alert, tuned in, stuck to the game plan and deservedly got the result."
When pressed for examples of where match officials favored the Red Bulls, Vieira pointed to some calls early in the match he felt were missed.
"You have to look at it. You watch the game and if you look at the first three or four offside that we had. There's no way that was offside," Vieira said. "Look at the way the referee make the decisions on the field. You have the opinion, and some of you may think I'm wrong, and I fully accept that, This is my perception, the way I see it."
Vieira and Marsch have had run-ins before, and there is little hiding the fact the two men don't like each other.
"I think we are completely different as a person and as a character because he's acting one way and I'm acting in a different way," Vieira said of his relationship with Marsch. "But I think this is part of the derby. He wants to win, I want to win, and sometimes there's tension.
"We have the full respect of the referees," Vieira said. "We do understand that sometimes decisions are really difficult to make from the referee. One day he's for us, and one day he's against us. We understand it and we respect it, and some people don't, and they prefer to cry openly. It's good because it worked for them this time."
Red Bulls forward Bradley Wright-Phillips downplayed the budding feud between the coaches, chalking it up to the intensity of the growing rivalry.
"This is what happens. Alex Ferguson and Arsene Wenger didn't like each other when they used to play each other. That's just how it goes," Wright-Phillips told Goal USA. "When two big clubs are playing each other they're going to fight for every little inch. I'm sure later on in the years they'll have good conversations and a laugh over some red wine, but for now, we're at war."