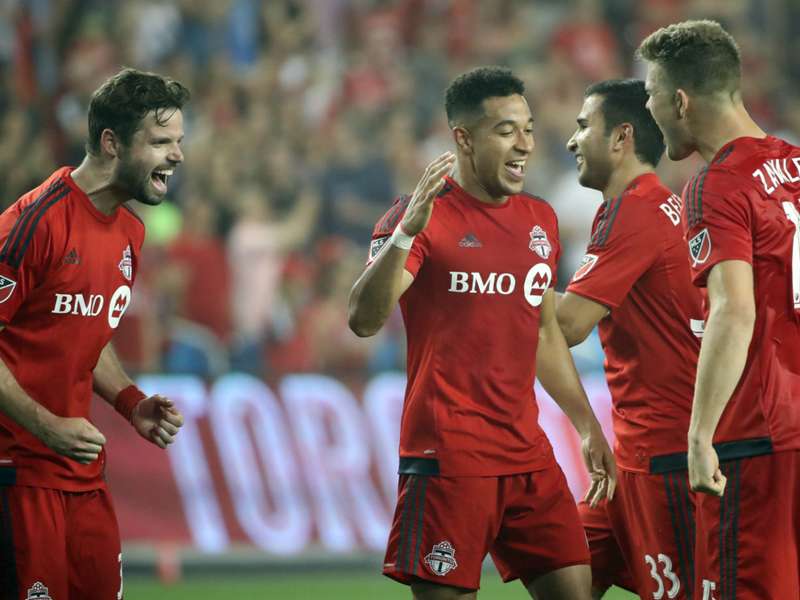 TORONTO — When your team has scored only one goal in the previous three MLS matches, you'll take them where you can get them.
That was certainly the case for Toronto FC on Saturday night, as the team rode a 76th-minute header from center back Drew Moor to a 1-0 victory over the LA Galaxy at BMO Field.
The win put to rest two dubious stretches for TFC — the aforementioned 304-minute goalless streak, and a 10-league match winless skid against the Galaxy that started way back in 2008. That it was orchestrated by a pair of central defenders — with Eriq Zavaleta nodding on the ball for Moor to head home — is a bit of icing on the cake for the goal-starved side.
"It's fun to have two center backs connect on a goal," Zavaleta said.
10 - @LAGalaxy is unbeaten in its last 10 @MLS meetings with Toronto FC (5W 5D); most recent loss came in May 2008 (0-2). Ownership.

— OptaJack (@OptaJack) June 18, 2016
The pair were also pleased by the clean sheet they contributed to, which was the second consecutive shutout by Toronto in all competitions. But the unique situation of having the team's central defenders combine on a run-of-play goal to seal the victory was special for Moor.
"I thought [Zavaltea] and I were on the same page all night, even in the attacking half," Moor said. "We were on the same page defensively [and] kept it very clean back there. But to go and do it in their box is pretty special."
#TFCLive Video: @drewmoor with the finish. pic.twitter.com/Z61JHhXiqo

— Toronto FC (@torontofc) June 19, 2016
Between the two-legged Canadian Championship final and MLS fixtures, Toronto has a busy slate ahead. With regular starter Damien Perquis on the bench on Saturday, Moor was pleased with the way he and Zavaleta — along with the rest of their teammates — held off an undermanned-but-experienced Galaxy side.
"It was a battle," Moor said. "By no means was it perfect, [and] by no means are we pleased with every aspect of the game but I think the way we battled and fought to the end, and even after we scored we had a lot of defending to do.
"It was just a great team effort and a well deserved three points."