HARRISON, N.J. — It may have taken eight games longer than head coach Jesse Marsch would have liked, but the New York Red Bulls have found the form that made them Supporters' Shield winners in 2015.
The Red Bulls played their best match of the season, overwhelming FC Dallas in a 4-0 thrashing on Friday night that served notice to the rest of the league that their early-season struggles are in the rear-view mirror.
Friday's win followed up last week's 3-2 victory against Orlando City, and now the same Red Bulls team that looked in danger of seeing its season spiral out of control is once again looking like a real force.
"How to be a good team, there's no manual, right?" Marsch said after Friday's win. "I mean, there's all kinds of leadership books and all kinds of tactical analysis and everything else, but in the end it's about how hard guys want to commit to being real, to playing for each other, to caring for each other.
"Sometimes it takes really, really hard moments to fully understand how much it means to you," Marsch continued. "I think this group is now in a place where they understand it, they get it, and they can't wait to, again, show it when the lights come on."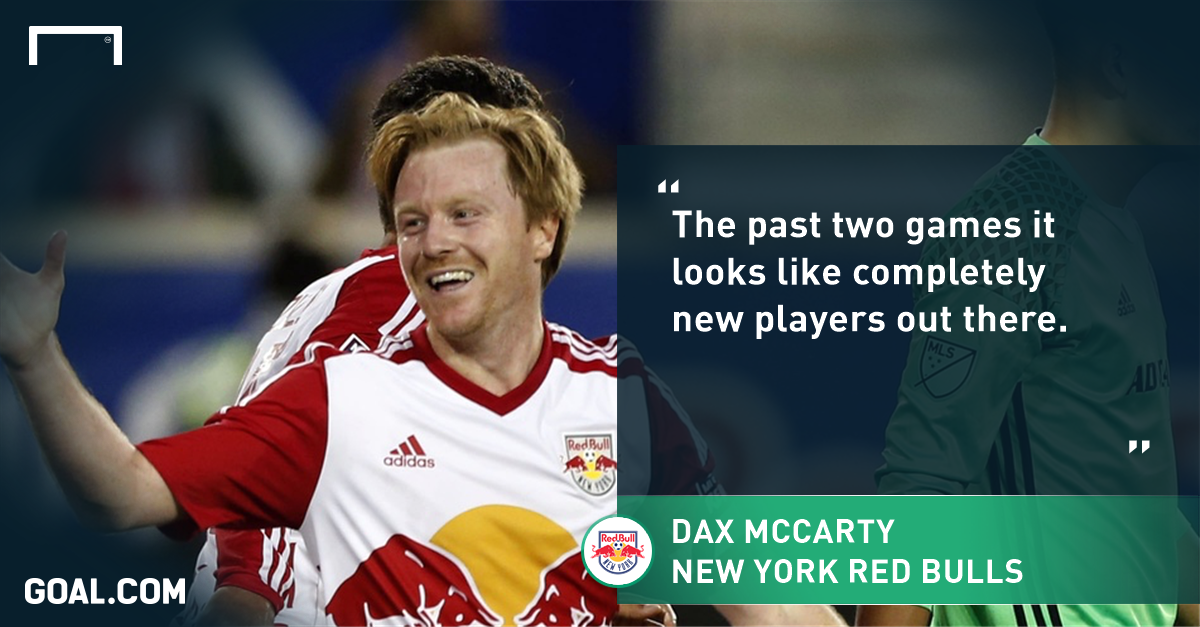 Unlike their previous wins this season, which required second-half surges after so-so first half performances, the Red Bulls delivered a complete 90 minutes on a night when Dallas just didn't look up for the fight.
The Red Bulls deserve some of the credit for that, pressuring Dallas all over the field and thoroughly outplaying the visiting side. The Red Bulls out-shot, out-passed and out-tackled the team they edged out for last year's Supporters' Shield.
"They were much better than us in every area. Every minute and every area tonight," Dallas coach Oscar Pareja said after Friday's loss. "I thought New York did a great job today, was superior in every sense of the game. We could not defend them. Since the first minute, they came at us."
FCD welcomed Mauro Diaz back to the starting lineup, but even his presence couldn't help the attack find its footing. Though both teams trotted out five-man midfields, it was the Red Bulls that dominated possession, 60 percent to 40 percent, on the strength of defensive pressure that smothered Dallas.
"We could not get the ball back," Pareja said. "When we got the ball back, eventually we were not fine with it, we lost it again. We couldn't explode. We couldn't hurt them at any point.
"They would get the ball back and would hurt us again. I mean, I could see they had a large amount of options, and they deserved it. It's one of those days where you find a team that is sharp and much, much better than us."
For the second straight match, it was the Red Bulls midfield leading the way, with the attacking trio of Mike Grella, Sacha Kljestan and Lloyd Sam proving too much for a Dallas midfield that just didn't have its usual energy and attacking prowess.
"The past two games it looks like completely new players out there," captain Dax McCarty said of the Red Bulls attack. "Those guys are refreshed, reinvigorated. Jesse does a great job of keeping those guys confident.
"We had faith in every guy on this team, and we knew the beginning of the season wasn't good enough," McCarty said. "Finishing, defensively, and I think tonight is the culmination of a lot of hard work, a lot of confidence being put back in the team. This team has a lot of belief."
As impressive as the attacking performance was, the Red Bulls took more pride in posting their first shutout of the season. No easy feat against a team as dangerous as FCD.
"The clean sheet is amazingly rewarding. I can't tell you guys how much that means to us," McCarty said. "I feel like we've really let Luis (Robles) down. With all the accolades that he's been getting the past couple of games, with his games played streak, he's deserved this shutout. We've been totally leaving him out to dry on some of these goals. We're never going to be a successful team if we can't defend properly."
While the Red Bulls celebrated what was easily their most complete performance of the year, FCD was left to pick up the pieces after a second straight blowout loss. Unlike last week's 3-0 loss to Vancouver, which saw Dallas create chances but not convert them, Friday night's match saw FCD resoundingly outplayed on both sides of the ball.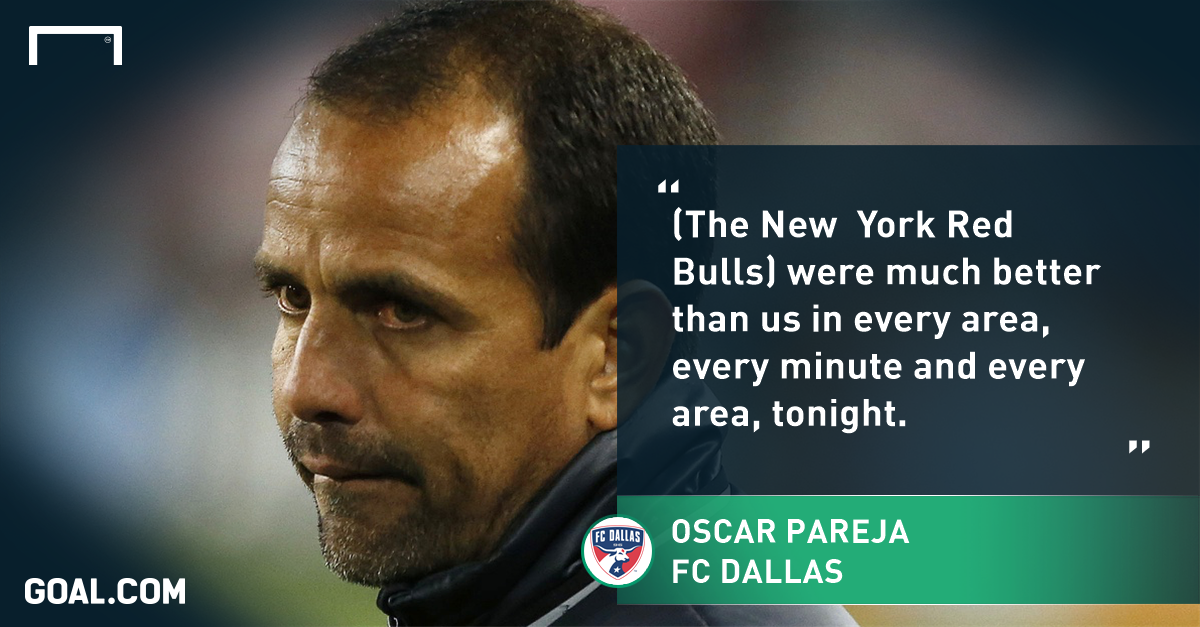 "Some days you're sharp, and some days you're not, and they were on completely," Dallas midfielder Victor Ulloa told Goal USA. "We knew they were coming from a good result, obviously they had momentum. We tried to come in and match their intensity and unfortunately we just didn't."
After the match, FCD players huddled on the field and listened to Ulloa, who urged his teammates to think about their latest setback, but also to continue believing in a talented group still fighting to find consistency in their play, but also a team that still ended Friday with the most points in MLS.
"This is the time for us to be united," Ulloa said. "We mentioned that we have to find a way to get a result away from home. There's been a couple of times that we've lost by multiple goals on the road and that's unacceptable. We're going to regroup this week and we can't let that happen again."
As Dallas looks to snap out of its sudden funk, the Red Bulls suddenly find themselves positioned for a big move in the standings. Their two recent wins have helped them jump from the Eastern Conference basement to fourth place, though this weekend's matches will almost certainly change that. The upcoming schedule is a favorable one, and though three of their next four matches are on the road, their next four matches are against teams currently behind them in the standings.
If the Red Bulls can ride their recent run of form, they very well could be closing the gap on East leaders Montreal and Philadelphia before long.
"We're a team that's got to slowly climb out of this hole we've dug for ourselves," McCarty said. "And now that we're picking up some confidence, I have full belief that we'll be able to get back to where we deserve to be, which is at the top of the conference."