Jermaine Jones loves playing in the snow.
The U.S. national team midfielder made his Colorado Rapids debut a special one, scoring a goal and setting up the match winner in the Rapids' 2-1 victory over the New York Red Bulls at a snow-covered Dick's Sporting Goods Park on Saturday.
Fresh off service a six-match suspension for his abuse of a referee during last year's MLS playoffs, Jones dominated the action as the Rapids and Red Bulls played through a snow storm that brought back memories of the U.S. World Cup qualifying victory against Costa Rica at the same stadium in 2013, a match made memorable by the blanket of snow it was played in.
Jones was one of the top players for the U.S. on that snowy day three years ago, and Saturday he once again stood out in blizzard-like conditions. He opened the scoring on Saturday night when he slotted home a Mekell Williams pass from 12 yards out in the 21st minute. He created several scoring chances, coming close to a second goal in the 34th minute when he blasted a shot at goal that Red Bulls goalkeeper Luis Robles kept out.
The Red Bulls threatened to spoil Jones' Rapids debut when Ronald Zubar equalized in the 60th minute by heading home a Sacha Kljestan pass, but Jones provided the perfect ending to his special night when he played a perfect ball to Dominique Badji who tucked his shot just inside the far post for an 82nd-minute goal that ultimately held up as the game-winner.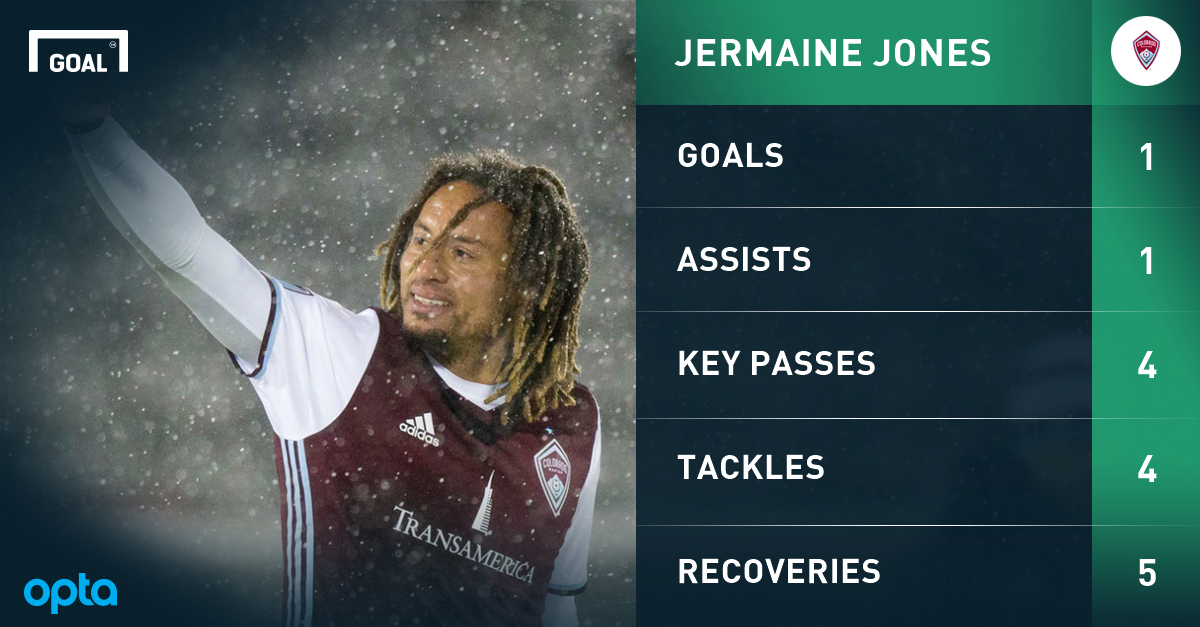 Rapids coach Pablo Mastroeni deployed Jones in what was essentially an attacking midfield role, giving the World Cup veteran the freedom to roam in front of the defensive midfield tandem of Sam Cronin and Michael Azira. Despite slippery conditions brought on by the snow, Jones moved around the field comfortable, contributing defensively and offensively in the kind of complete performance the Rapids will be banking on from the player they acquired from New England this winter.
Having parted ways with the Revolution after failing to reach an agreement on a new contract, Jones made the move to the Rapids, in part because of a desire to be closer to his family, which lives in Los Angeles. The Rapids pulled off the trade to land Jones despite the fact he was carrying a six-match suspension, and on Saturday he showed why the Rapids were so eager to add him.
The victory gives the Rapids four wins in seven matches to start the season. To put that start into perspective for the Rapids, it took them 19 matches to reach four wins in 2015.
With Tim Howard set to arrive this summer, the Rapids suddenly have the look of a serious playoff contender, and Jones' strong debut only adds to the feeling in Colorado that the Rapids could reach the MLS playoffs for the first time since 2013.