CHESTER, Pa. — C.J. Sapong had no shortage of difficulties to work through in 2015.
Dealt to the Philadelphia Union after four seasons with Sporting Kansas City, the striker suffered a concussion and facial fracture in the season opener. He returned to the field after sitting out three matches but made just two starts before a DUI arrest sent him to the sidelines for another three games.
While Sapong rallied to tie his career high with nine goals, the Union limped to a 10-17-7 record for ninth in the Eastern Conference — missing the postseason for a fourth-consecutive season.
"It's definitely been a tumultuous year, to say the least," Sapong told Goal USA. "But I prided myself in staying true to responding the best way I possibly could, no matter what came into my path. It kind of gives you a new way to look at life. I'm actually now enjoying the challenges and new obstacles because I'm looking for new ways to overcome them, and it's making me a better person on and off the field."
There have been no such hurdles for Sapong to kick off the 2016 campaign, with the 27-year-old notching three goals in five matches for a Union team tied for first in the East at 3-2-0. Although Sapong's goal-scoring exploits have grabbed the headlines, his work ethic, ball-winning ability and prowess on defensive set pieces have made him an irreplaceable piece.
"C.J. does a lot of the things that don't show up on the stat sheet," Union coach Jim Curtin said. "He's just such a special, versatile player who brings so many little things. Obviously it's great when he scores, but I think what goes unnoticed is a lot of the dirty work he does to create space for others."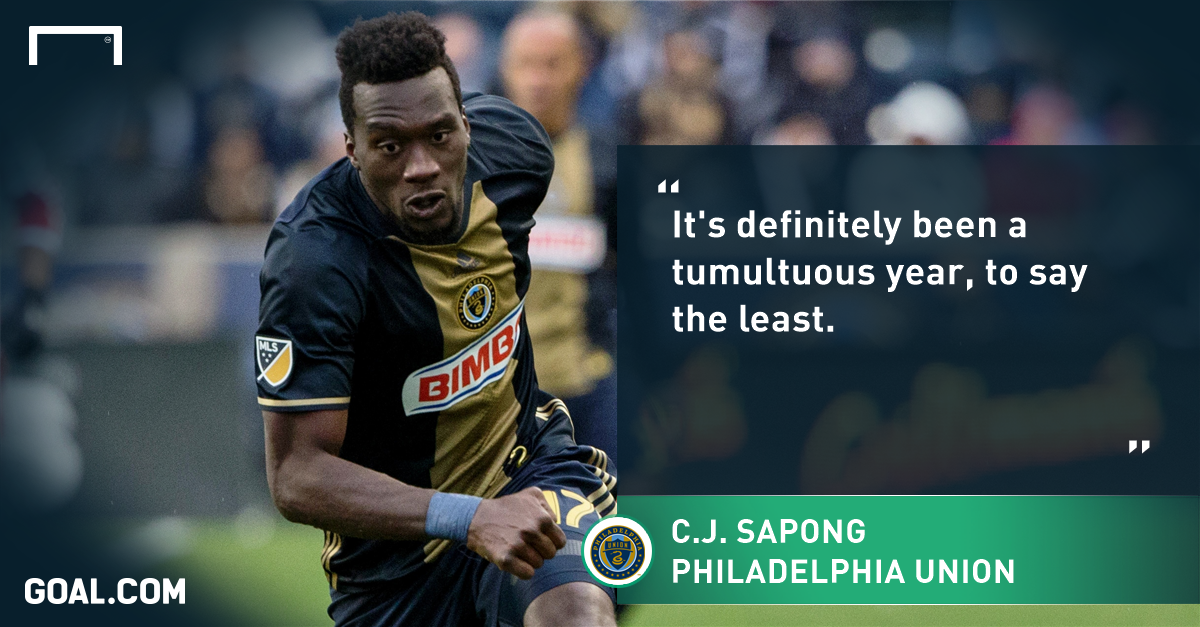 Sapong's all-around skill set was on display in the Union's 2-1 win over a previously unbeaten Orlando City club Friday at Talen Energy Stadium. The Virginia native opened the scoring with a second-minute strike, then drew the set piece that Tranquillo Barnetta curled home for a 90th-minute winner.
"He's a great guy and I think someone who deserves more credit than he has gotten," goalkeeper Andre Blake said. "He's definitely a little more smart with the ball — he's able to hold it up for other guys to get forward, he's able to win fouls in good spots, he's hot right now and he's been finishing."
Added defender Richie Marquez: "C.J. does not know 99 percent — it's always 100 percent in practice, and in the games he never stops."
After finishing last in the Eastern Conference last season with 42 goals scored, the Union bolstered their roster with attacking midfielders Chris Pontius, Roland Alberg and Ilsinho this past offseason. Although the current rate of seven goals through five matches is only marginally improved, Philadelphia's revamped squad also is enjoying more possession than in 2015 — taking the pressure off a young back line and creating more opportunities for Sapong to capitalize on.
"We have a lot of depth and we have a lot of creativity throughout the lineup, and it allows me to accentuate my abilities," Sapong said. "Right now, it's just a really perfect fit for all players involved. That's always a plus, and it provides a little more motivation and inspiration to keep getting better, taking my game to the next level."
It's perhaps no coincidence that Sapong's strong start comes after he inked a three-year contract extension with the Union in February. After a year of soul searching, Sapong finds himself playing with the freedom afforded by stability and self-belief.
"It's always good when faith is shown," Sapong said. "At the end of the day, you need that faith in yourself and sometimes that does count on external factors. ... Now that I know that I have three years with this organization — maybe more — it's easier to come in every day and put your full focus and everything you have into being a better player and teammate."
PODCAST | Sit-Down Special with Philadelphia Union midfielder Chris Pontius