Columbus Crew midfielder Wil Trapp wasn't the only player on the U.S. Under-23 national team to see the dream of competing in the Olympics come to an unfortunate end. Far from it — it was something Trapp believes he and his teammates collectively shared.
"Every guy, on the field and on the bench, dreamed about playing in the Olympics and when it doesn't happen it's disappointing," Trapp told Goal USA. "It was a great standard you can measure yourself against and, unfortunately, we fell a little short in that second game."
Trapp played every minute of the Americans' 3-2 aggregate loss to Colombia in March, a playoff that saw the U-23 squad he captained fall at the last hurdle of a potential qualifying run. It was a result that left dissatisfaction, but was an important one for growth, as Trapp continues his development on the international stage.
"I think I'll look back on it as a positive experience because of what I'll take from it," he said.
Trapp is no stranger to the U.S. setup — he's been capped numerous times at various youth levels, but each step brings higher expectations, more difficult opponents and a greater adjustment.
"Sometimes it's more tactical," said Crew coach Gregg Berhalter, a two-time World Cup veteran with the U.S. "It's a little bit more controlled and extremely high-level quality that you're playing against, and when you go into make a play, you need to be certain.
"So for (Wil), it's just getting used to that speed of play and speed of decision-making."
The technical ability is there. Trapp's strength, as the 23-year-old describes it, is reading the game and passing. He's responsible for a great deal defensively, almost always sitting as the team's deepest midfielder, in charge of, as he puts it, "maintaining shape and stopping counters before they begin."
It's a role that national team fans have seen Kyle Beckerman fill over the last two years. And Trapp admires how the Real Salt Lake veteran does his thing.
"I think Kyle does an excellent job at breaking play up and being a positive presence on the defensive side of the ball — reading the game and making it hard on the opponent's No. 10," Trapp said. "In attack, I think he does a good job of supporting and providing balance. That's what the No. 6 role in the current system asks for and what he does a very good job at providing.
"That's something I work on every day here in Columbus. So it's just continuing to have purposeful practices on improving those aspects."
Berhalter concurs with the idea of Trapp as an ideal No. 6 for the national team, noting that it allows the midfielder to play a key role defensively but also set the tempo in attack. And the coach has seen improvement in the individual aspects required from Trapp to thrive at the position.
"I think he looks more comfortable in his positioning and controlling the game from his position," Berhalter said. "He has good command of where other players are — the spacing — and a good ability to move it to the next line when it's appropriate — not too early or not too late."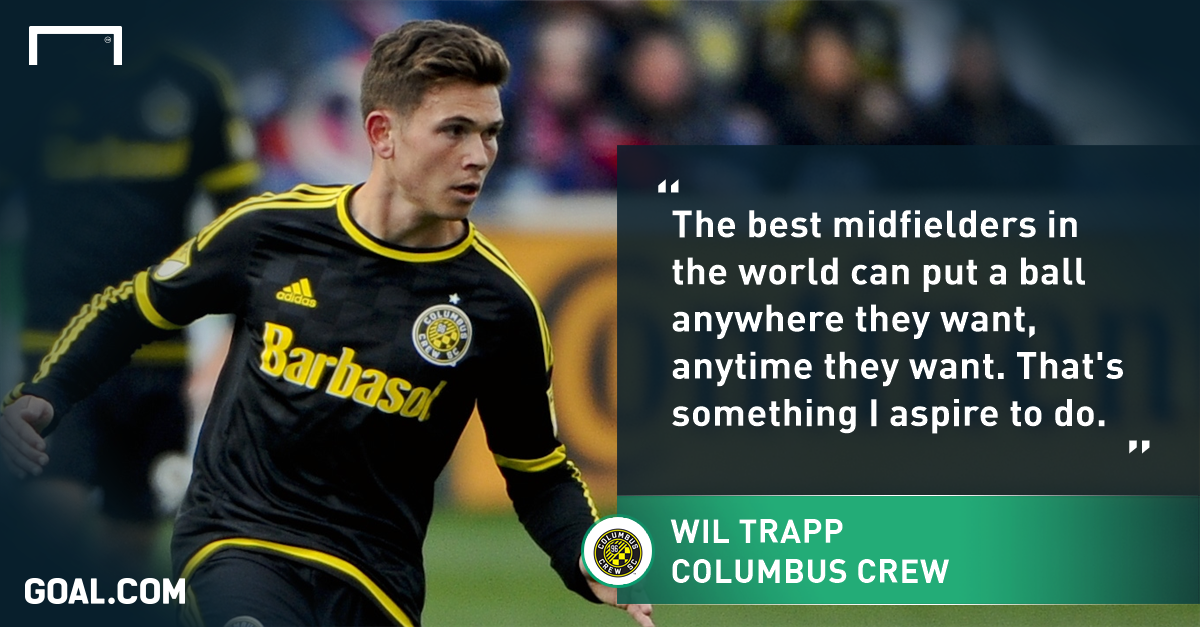 There is a reason Trapp has generated plenty of praise and hype in the league and as a senior national team prospect. But over the past year, there have been setbacks — most recently the Olympic qualifying loss and the Crew's MLS Cup final defeat to the Portland Timbers, along with Trapp's concussion that sidelined him for much of the 2015 season.
But no player will go through a career without some stumbles, on an individual and team level. The key is how he responds and, in Trapp's case, it's with renewed focus while maintaining perspective.
"Anytime you lose a final it's disappointing," Trapp said of December's loss to Portland. "You worked so hard to get there and a lot of things have to go your way to even make an appearance in the final.
"But I think at the end of it, stepping into the offseason, you first try to decompress, think about the season that was and then try to plan for what is coming in that next year. I think that for myself it was gaining a little more insight into where we were as a group mentally — we did pretty much return nearly the same team that went to the MLS Cup last year — and where we could improve because ultimately when you don't win the final — you've failed."
So far, a season that held a lot of promise has not yet yielded the results desired — the Crew are winless over their first four games with two losses and two draws. But results aren't everything — Trapp even dismissed the idea things have gone wrong thus far. Instead, he believes the process is there and the execution will soon follow.
"It's the early stages of the season and when you have to turn around from such a short offseason guys are just trying to re-acclimate as quickly as they can," he said. "Granted, we're lucky we have a group that's been there and been through some tough games together and know from day one what's expected. That's an advantage for us."
Despite his young age, Trapp is someone who Berhalter says leads in both the locker room and on the field.
"I think he knows the right time to put pressure on his teammates, put pressure on himself and when to relax and play," Berhalter said. "It's about finding a balance."
Trapp being in a leadership role is nothing new — he was named vice captain of the Crew ahead of the 2014 season. And such qualities are apparent to U.S. coach Jurgen Klinsmann, who spoke to Trapp at the start of the national team's January camp and requested that he be at the forefront of the Olympic qualifying squad.
"That portion of that journey is over," Trapp said. "So hopefully we can get to the next stage of my career where I'll be in the greater mix with the full team and move forward with that."
As for how can he move to the next stage, the midfielder already has specific additions he wants his game: shots from distance and improved accuracy on his long passes.
"The best midfielders in the world can put a ball anywhere they want, anytime they want," he said. "That's something I aspire to do."
While he hopes for more national team looks now that his time as a youth international is over, Trapp acknowledged he had not given a whole lot of thought toward this summer's Copa America Centenario, as he expected to be in Brazil instead.
Trapp, however, believes it's on him to show he deserves that spot.
"Most of the mental exasperation has been with the Under-23s, focusing on that campaign," he said. "Now that it's over, it would be wonderful for Jurgen to call me in, but you don't get that opportunity unless you're performing well with your club. So the biggest focus for me right now is in Columbus — to get started in a smart, right way to get extra points on the board."