Tim Howard has been a mentor to Zac MacMath​ in the past, but the current Colorado Rapids starter isn't exactly thrilled to be reviving that relationship this season.
The Rapids announced the signing of the 37-year-old U.S. international on Sunday, making it a near certainty that MacMath will become Colorado's backup goalkeeper when Howard arrives in July.
MacMath, 24, has proven a capable starter with plenty of room to grow in his MLS career. He's a former U.S. youth international and the youngest player in MLS history to log 100 matches.
He is also, for the second time in his career, about to be benched through no real fault of his own. And he didn't hide his dismay when speaking to Goal USA earlier in the week.
"The first thought is disappointment," MacMath said, "because obviously that means that they aren't seeing me as the goalkeeper in the foreseeable future.
"To work with a guy like Tim Howard would be a privilege, someone that I can learn from and get the chance to work with each day. But at the end of the day for me it's about playing and getting better each game and that obviously won't happen if Tim Howard is here."
There's a certain irony about Howard pending arrival in Colorado, as MacMath spent three consecutive offseasons between 2010 and 2012 training with Everton and learning all he could from Howard.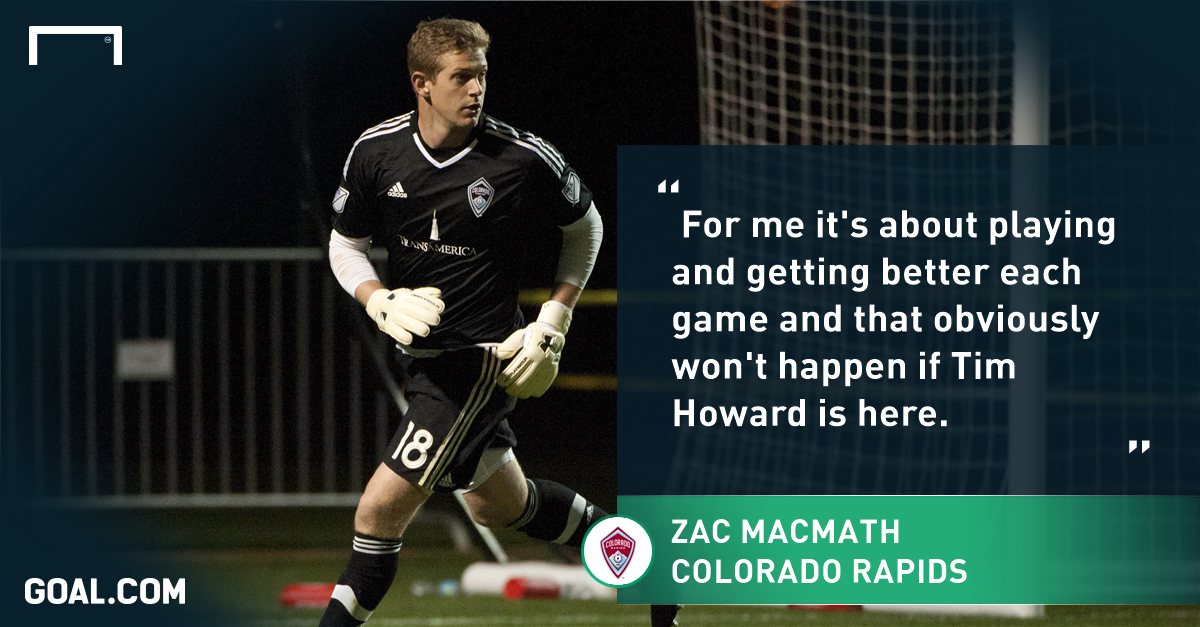 Not only did MacMath spend time with Howard during Everton training sessions, but he also stayed at Howard's home all three times he traveled to England.
"It was great. He was a very gracious host, getting to spend most of the day with him – before training, after training, during training ... I really enjoyed those three trips over there and brought a lot back with me and continue to use that stuff as a professional now," MacMath said.
Though MacMath will certainly continue to learn from Howard after his arrival in Colorado, the young goalkeeper isn't quite willing to fall back into the duo's old mentor-mentee relationship.
"There's obviously always going to be a positive to working with Tim Howard," MacMath said. "His experience at so many different levels will always be something I can take away from each day, but for me at my stage in my career, I've got to play games."
Part of MacMath's frustration with his current predicament likely stems from the fact that it must be conjuring up a sense of deja vu.
Prior to the 2014 season, MacMath was about to enter his third campaign as the Philadelphia Union's starter. After the usual growing pains a young professional experiences, he was showing real signs of improvement and appeared to be a part of the Union's foundation.
Then Philadelphia took goalkeeper Andre Blake with the first overall pick of the 2014 MLS SuperDraft. Several months later the club made the ill-fated decision to invest significant capital in Algerian goalkeeper Rais Mbolhi, who quickly displaced MacMath as the team's starter.
The two moves paved the way for MacMath's exit to Colorado in 2015. After getting a fresh start in the Rocky Mountains, history is now repeating itself for MacMath.
"It's almost like I just got off the roller coaster of two years and I'm now hopping on another one," he said.