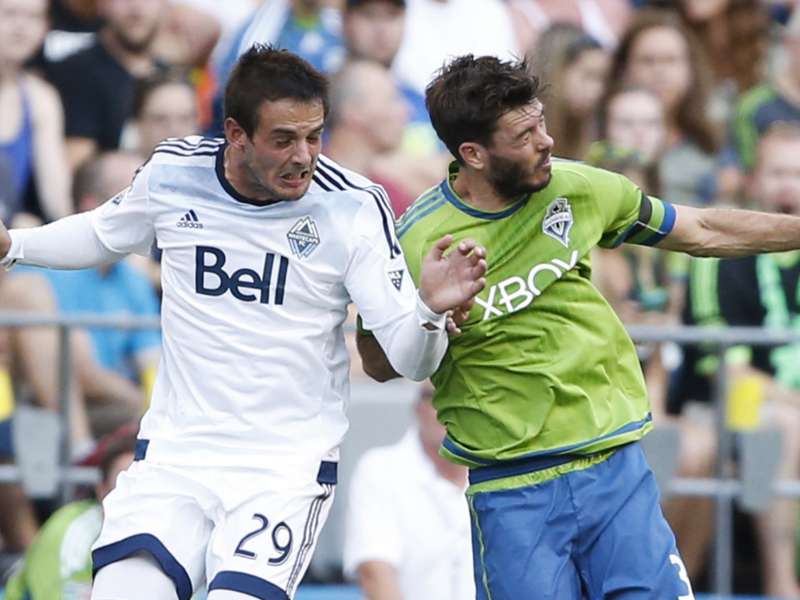 Major League Soccer's schedule makers didn't take long to give us a weekend filled with rivalry clashes, a potential MLS Cup preview and some star-filled encounters worth the price of admission.
Though it isn't officially one of the league's 'rivalry weeks', two of the league's best rivalries are on display on the West Coast, with the LA Galaxy meeting the 2-0 San Jose Earthquakes, and Cascadia combatants Seattle and Vancouver squaring off in a clash of surprising 0-2 starters.
Week 3 could also give us the return of Didier Drogba, who is set to make his 2016 debut after missing the Montreal Impact's first two matches in order to avoid playing on artificial turf. His absence didn't exactly hurt the Impact, who started 2-0 and have been, arguably, the most impressive team through the season's opening weeks.
While Drogba is expected to be in action this weekend, some of the league's other top stars likely won't be. Galaxy playmaker Giovani Dos Santos looks set to miss the 'California Clasico' while Brazilian star Kaka is prepared to miss Orlando City's trip to Yankee Stadium to face NYCFC on Friday night. NYCFC also will be without Frank Lampard, who is set to miss his third straight match with a calf injury.
Despite those missing stars, Week 3 has plenty of juicy matchups across the league. The Impact will put their perfect record on the line in Texas against an FC Dallas side that will be eager to erase the memories of last week's 5-0 thrashing by Houston. The Portland Timbers will look to overcome some key injuries when they visit familiar foe Real Salt Lake, which has been one of the surprising successes of the early MLS season. Then you have Sebastian Giovinco looking to help TFC earn another good road result by beating 2-0-0 Sporting Kansas City at Children's Mercy Park.
Here is Goal's guide to the major stories to watch for in MLS Week 3 ...
---
IT'S A BIG WEEKEND FOR ... 0-2 TEAMS
---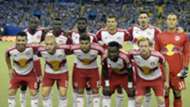 Two matches into the season isn't exactly enough time to write off any team's 2016 campaign, but for the four teams currently sitting at 0-2, avoiding a third straight loss will be paramount.
The New York Red Bulls, Columbus Crew, Seattle Sounders and Vancouver Whitecaps were all playoff teams in 2015, and all but Vancouver were considered legitimate title contenders before the 2016 season began. All four have suffered consecutive defeats, and avoiding 0-3 isn't exactly going to be easy.
The Red Bulls return home Saturday to take on an impressive-looking Houston Dynamo side that toasted FC Dallas a week ago. Jesse Marsch's men have yet to score a goal, which may be one of the early season's more shocking stats considering the Red Bulls boasted the highest-scoring attack in the league last season. Gonzalo Veron's return to health should earn him a place in the starting lineup, where the Red Bulls will be hoping he can cause problems for the Dynamo defense.
The bigger issue could be the Red Bulls defense slowing down a Dynamo attack that has compiled eight goals in two matches. Owen Coyle's revamped attack is a handful, but starters Giles Barnes and Cristian Maidana are expected to miss the match with injuries.
In Seattle, the Sounders and Whitecaps square off, ensuring that at least one of them will start the season without a victory in three matches. The Sounders started the season with a 1-0 loss at home to Sporting Kansas City, but that match came shortly after a CONCACAF Champions League defeat to Club America. It can be argued that the Sounders have looked the best of the remaining winless teams, but facing a fellow slow starter in Vancouver could make for desperate times at CenturyLink Field.
"We've been unfortunate in the first two weeks. I think we've played fairly well," Sounders coach Sigi Schmid told reporters earlier this week. "Do we deserve to be 0-2 right now? Probably not. Watching the game again on replay, even watching the game afterwards, it never felt like we were under siege or under threat. We just now need to complete final passes. We need to score some goals. The ice needs to break. We need to get some luck going our way."
The Crew have what is arguably the easiest assignment of the 0-2 teams this weekend, with a trip to Chicago to face the winless Fire. It's tough to take a win for granted for the Crew considering last week's home match against the Philadelphia Union was also supposed to be a gimme. There is also the looming reality that tougher challenges await, and if the Crew aren't careful, an 0-2 start could descend into a start few could have imagined for the MLS Cup finalists.
"We have a tough stretch coming up," Gregg Berhalter told reporters in Columbus earlier this week. "If you start saying at Chicago, Dallas and Montreal — on turf in the Big O (Olympic Stadium) — you could say it's going to be a daunting task. But you just focus on the next game."
---
DON'T MISS ... FC DALLAS vs. MONTREAL IMPACT
---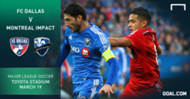 As many compelling matches as there are in Week 3, the one that could just wind up being an MLS Cup final preview will take place in Frisco, Texas, where FC Dallas meets the red-hot Montreal Impact.
FC Dallas is looking to bounce back after an embarrassing 5-0 thrashing in Houston, but that defeat doesn't change the fact FC Dallas is one of the top teams in the league, and a dangerous team capable of beating anyone in MLS. Montreal is fully aware of that, and Mauro Biello knows his Impact could be in for a long day if they don't stay focused and organized defensively.
The Impact attack has been particularly impressive in the early going of the season and should receive a boost from the arrival of Didier Drogba, who is expected to play. It remains unclear whether he will slot right into the starting lineup or come off the bench, but given the way Montreal's midfield is playing, it may not matter. Ignacio Piatti has been one of the league's best through two weeks, and Harrison Shipp has made his acquisition from Chicago look like even more of a steal than it was first perceived. Throw in speedster Dominic Oduro's good start, and it is fair to say the FC Dallas' defense will need to shake off last week's mistakes to avoid another big defeat.
No matter how much Drogba plays, he will be looking to test the confidence of an FC Dallas defense that endured its worst performance in the Oscar Pareja era on Saturday. Goalkeeper Jesse Gonzalez and all-star defender Matt Hedges were both awful against Houston, and a cagey veteran like Drogba will be eager to test them both.
FC Dallas must test Montreal's defense, particularly on the flanks, where Fabian Castillo and Michael Barrios will try to go at Impact fullbacks Donny Toia and Ambroise Oyongo. Callum Mallace did an excellent job playing in place of injured Marco Donadel for Montreal last week, but the Impact will want Donadel back to help deal with FC Dallas playmaker Mauro Diaz, who will be key to FC Dallas' chances of unlocking Montreal's tough defense.
The midfield battle will be key to determining the victor, and former FC Dallas midfielder Eric Alexander could play a very important role, as he looks to also help contain the ever-dangerous Diaz.
---
QUOTE OF THE WEEK ... JIM CURTIN
---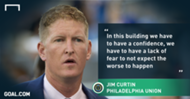 It is a new era in Philadelphia for the Union. The club boasts new senior management, and even a new name for its stadium, but the lingering memories of so many disappointing performances at the home venue formerly known as PPL Park has the Union heading into Sunday's home opener against the New England Revolution cautiously optimistic.
The Union are coming off a very impressive road win at Columbus, and making their 2016 home debut at the newly named Talen Energy Stadium has the Union feeling good. But you couldn't really blame Union fans if they are a bit wary of returning to a stadium that has been a house of horrors just as often as it has been home, sweet home.
"There's just been a lack of consistency here, I think that's something that's felt," Curtin told reporters Wednesday when asked about the team's poor history at home. "There's been games where we've gotten leads, early leads especially, and not hung on; maybe a lack of discipline, improvements that can be made from the technical side from the coaching staff to the players closing out games.
I think that's a critical thing. In this building we have to have a confidence, we have to have a lack of fear to not expect the worse to happen," Curtin said. "We have a great fan base that is behind us always from the start of the game and we need to feed off of that energy and be a little more aggressive when we do take a league and we are playing on the front foot to not be satisfied with one goal."
"I think getting the second goal has been an Achilles heel or problem for this team over its history. Having that killer instinct to get the second goal and kill off a game is something we'll work to this year."
As much as Union fans might be wary about returning to their home stadium, Curtin is confident that the influx of new blood on the Union roster should help keep his team from dwelling too much on past failures.
"There are lot of new faces that maybe aren't used to the past," Curtin said. "The past is gone, this is a new year for us, that needs to be our mindset moving forward. We have a lot of new players, we have a lot of new faces that the past doesn't mean anything to.
"So, again, we learn from different things that happened last year but it's a fresh start this Sunday and we have a real opportunity with a good New England team coming in to get three points and show that this year is different."
---
KEEP AN EYE OUT FOR ... DIDIER DROGBA
---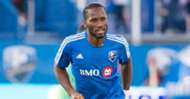 When Didier Drogba arrived in Montreal last year, it didn't take him very long to be a force, as his goal-scoring exploits helped the Impact storm into the playoffs. As he arrives into a new season in 2016, he will find a team much stronger than the one he joined last summer.
Drogba is expected to make his 2016 debut on Saturday against FC Dallas, and how he fits into the surging Impact lineup will provide an early look at what is shaping up to be a serious MLS Cup contender. If Montreal's 2-0 start has done anything, it has eased some of the pressure on Drogba to rush back and possibly changed his mind about playing in some of the early-season matches on artificial turf he was determined to avoid.
Saturday's match at FC Dallas is crucial to providing Drogba an opportunity to fit in with an Impact team that is different than last year's team. There are many of the same faces back, such as Piatti, Oduro, but there are also new attacking options such as Harrison Shipp and Lucas Ontivero. The sooner Drogba can develop a rapport with those players, the sooner the Impact can hit their stride and look to take control of an Eastern Conference that looks wide open now that the Columbus Crew and New York Red Bulls have stumbled out of the gate.
FC Dallas should provide a good test for Drogba to see how far along he is, and Impact coach Mauro Biello may look to use Drogba off the bench to give him the advantage of going at an FC Dallas defense that could be vulnerable after dealing with Montreal's speedy attack through the first 60 or 70 minutes on Saturday. Of course, that will require Drogba to be patient, and the Ivorian star may be too eager to get back on the field to keep out of Saturday's starting lineup.