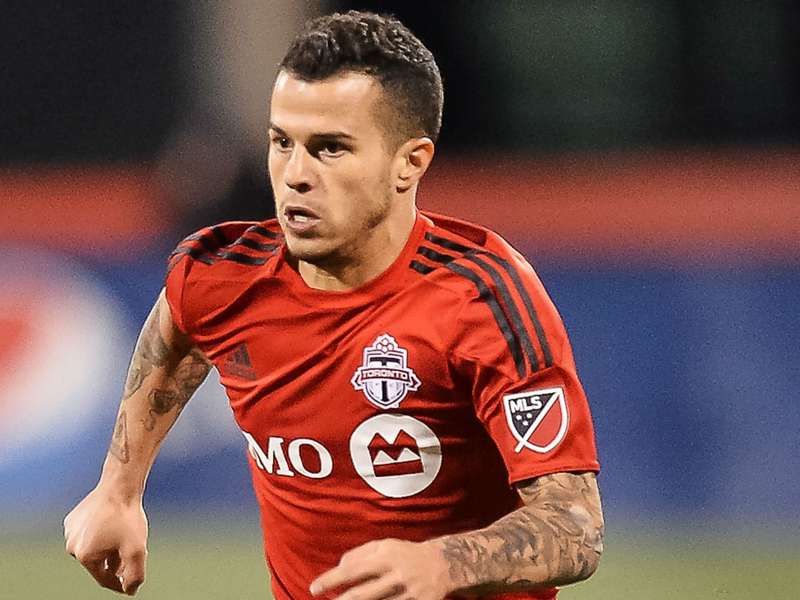 WASHINGTON — Last fall, Sebastian Giovinco made three appearances in the UEFA Champions League group stage as Juventus booked a place in the round of 16. But as the Serie A champions ended that run Saturday, the playmaker found himself preparing for an MLS match half a world away.
Hours after Juventus fell 3-1 to Barcelona in Berlin, Giovinco carried Toronto FC to a 2-1 win over D.C. United with a pair of stunning strikes.
"It's a shame for Juventus," Toronto striker Jozy Altidore told Goal USA. "I would imagine if you have a player like him coming on in the second half today or at some point to help you, he truly can make a difference. I'm just happy he's here with Toronto, and I'm delighted to be playing with him."
//

U.S. SOCCER LATEST
With seven goals and six assists in 12 matches since joining Toronto, the Italy international has played a part in more goals this season than any player other than Seattle Sounders forward Clint Dempsey, who also has contributed to 13 tallies.
It's production that could draw the attention of Italy manager Antonio Conte, who earlier Saturday omitted the 28-year-old from the Azzurri's roster for upcoming matches against Croatia and Portugal. Giovinco, who has 21 caps and played for Italy in Euro 2016 qualifiers last fall, hasn't received a call-up since leaving Juventus for MLS in early February.
"I would imagine he probably checks in on Seba," Toronto coach Greg Vanney said of Conte. "I think they have a very good relationship from their days at Juventus together. I imagine he's seeing week in, week out, the goals that he's scoring and the things that he's doing over the course of the match. My hope is that Sebastian will get another opportunity and get to prove that his form is where it needs to be.
"I think he's special. Every time he touches the ball, we get to the end of our seats and look forward to what could come out of that action. He's an exciting player — there isn't anyone like him in the league, and I'd venture to say there hasn't been anyone like him in the league. It's a joy to have him a part of our team, both as a person and a player."
Giovinco's two-goal performance Saturday snapped United's 20-game unbeaten streak at RFK Stadium and allowed TFC to jump to third in the Eastern Conference — nine points behind first-place DCU, but with four games in hand.
"We went into the game trying to limit Giovinco's influence, and that didn't go so well," United coach Ben Olsen said. "He's a special player. We're going to come up against very good players in this league, and he's certainly at the top of that list. On any given day, he can do what he did today."
The Italian netted the equalizer for TFC in the 34th minute, shaking Sean Franklin with a nifty move before blasting a tight-angled shot past Andrew Dykstra.
With seven minutes remaining, Giovinco delivered a spectacular strike to earn all three points. As Altidore dummied a pass from Benoit Cheyrou, Giovinco collected the ball, took a touch and fired a knuckling, 25-yard shot into the upper corner.
"I felt him there," Altidore said. "It's just one of those plays where you try to make another movement to open space. When you play with good players, it's easy."