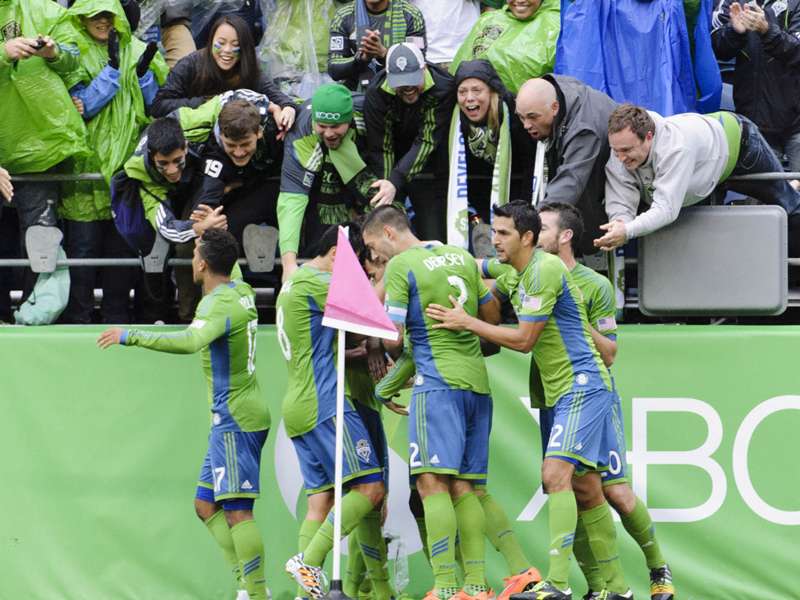 The Seattle Sounders had the best season in their history in 2014. The club lifted its first Supporters' Shield and won a fourth Lamar Hunt U.S. Open Cup in six years. Despite that success, there remains a tinge of incompleteness: At home, in the second leg of the Western Conference finals, the team was unable to overcome a 54th-minute goal from LA's Juninho that saw the Galaxy into the MLS Cup final and denied the Rave Green their shot at a first title and a historic triple crown.
For Sigi Schmid, the only head coach the MLS version of the Sounders have ever known, there's not much more he can do to put his team in a title-winning position. And while the MLS Cup remains the only domestic trophy he hasn't brought to the Emerald City, Schmid isn't looking to change his approach.
"At the end of the day, MLS Cup is a cup," Schmid told Goal USA. "If you have a good series of games, if you get the rub of the green at the right time of the year, that allows you to win championships. When you look at past championships, they've been won by teams who finished fourth or fifth in the regular season and had a good run at the end.
"We're always looking to be very very consistent, we're always looking to be as healthy as possible at the end of the year so that we can put forth our best effort and put ourselves in a position to win MLS Cup."
The 61-year-old is not looking to significantly overhaul his group. Explosive young fullback DeAndre Yedlin left for Tottenham Hotspur at the end of the season, replaced by veteran Tyrone Mears, but Sounders majority owner Joe Roth hasn't been called upon to match the investments made by several other clubs this winter.
"We were pretty active last offseason and we have a pretty good nucleus returning this year," Schmid said. "So like New England or LA, we didn't do a lot in comparison with some of the other teams who didn't make the playoffs or were really in a rebuilding mode. We have picked up a couple players in Tyrone Mears and Andres Correa, we're probably still not done, we're waiting a little bit to see what happens with the CBA, so we have some options there.
"So we're not done adding to our team, but we're also pretty happy with the nucleus of players we have."
Mears and Correa join a defensive unit that is the team's weak spot. While its talented midfield and top-class striker corps led it to plenty of glory last year, the defense was tied for most goals allowed by any playoff team. It's a group that's currently lacking depth after the exits of Yedlin, Djimi Traore and Jalil Anibaba, and one that's aging: Zach Scott and Leo Gonzalez are 34, while linchpin Chad Marshall is 32, the same age as Mears. The team's captain, midfielder Brad Evans, could be shifted back to add a body, and some of the younger squad members could see minutes, but the unit as a whole retains an ad hoc feel.
"There's always concerns when you start playing a new group together," Schmid said. "We feel we've covered some of that. Zach Scott and Chad Marshall were a very good defensive pair last year, and they were pretty steady at the end of the season. Our defense was definitely a lot more solid than it was earlier, and that was something we were working on.
"(Goalkeeper) Stefan Frei has got a year under his belt, I think that helps us defensively. We're looking at Brad Evans in the back as well. We also signed a young left back, because we know Leo Gonzalez is getting older. I think we've addressed some of those things. We've lost some of our depth at defense, but we also have some young defenders in Damion Lowe and Jimmy Ockford that we feel really good about."
And while young prospects like Lowe and Ockford could claim increased minutes, Schmid doesn't expect another Yedlin situation, where a youngster turns into a first-team star seemingly overnight.
"You never know exactly how it turns out, at the end of the day, but certainly we expect that one of our two young center backs will be able to step up and contribute. Correa, the Colombian, is only 21 years of age. He's somebody that definitely could contribute as we move forward. Michael Azira has a year under his belt in our league, he's not necessarily a young player, but he's a young player to our league. This could be a very big year for Andy Rose, for sure, as we move forward, and we've got Darwin Jones, who we signed, and Kovar, a couple of homegrowns who could make themselves more prominent this year.
"Do I see somebody stepping in and becoming a day-to-day starter, the way DeAndre was? Probably not, at this point, but that could all change in a month."
SEATTLE SOUNDERS SEASON PREVIEW
2014 FINISH: First in Western Conference (20-10-4), Supporters' Shield Winner, eliminated in conference finals
NOTABLE ADDITIONS: GK Troy Perkins, D Tyrone Mears, M Cristian Roldan, D Andres Correa
NOTABLE LOSSES: D Djimi Traore, D Jalil Anibaba, D DeAndre Yedlin
TOP NEWCOMER: Tyrone Mears. The veteran English fullback comes in to fill the spot vacated when fan favorite DeAndre Yedlin moved to Tottenham. While at 32 he's closer to the end of his career, Mears is hugely experienced as an attacking fullback and should slot right in.
"With Tyrone Mears, we think we have a very steady, stable right back that we were able to pick up, who I think is going to help us on the defensive end," Schmid told Goal USA. "There's not many people that have DeAndre Yedlin's speed and flair for going forward, but certainly Tyrone can go forward and he can also help us defend wide."
PLAYER TO WATCH: Obafemi Martins. While the Seattle defense continues to provoke questions, there are no such reservations about the Sounders attack. Martins was an MVP contender in 2014, forming the league's most dangerous offensive pairing with Clint Dempsey and elevating the play of Seattle's other offensive assets. Double-digit contributions for goals and assists are reasonable expectations.
2015 OUTLOOK: With a thin, aging defense shorn of its most dynamic player, Seattle could have trouble replicating last season's glorious form. But with their offensive capabilities, the Sounders should make the playoffs with little difficulty and will be in the fight for top seed. Whether they can match last season, much less improve on it, is far less certain.
Follow KEITH HICKEY on