TORONTO — It's been quite the 24 hours for Sebastian Giovinco.
A day after arriving at Toronto's Pearson International Airport to hundreds of adoring fans, the 28-year-old Italian was officially introduced to the media on Friday as Toronto FC's newest star player. It's a role that the diminutive attacker says he relishes.
"I said it before, I came here to win and to leave an important mark," Giovinco said through a translator. "I want to win with this jersey because I want to be part of the history of this organization and this team."
Giovinco, known in Italy as the "Atomic Ant" because of his 5-foot-4 frame, has already created some history before he has kicked a ball in MLS. According to some reports, he will become the highest paid Italian player on the planet thanks to his massive deal with TFC. In addition, Giovinco is the first European player to join an MLS side directly from a leading team in a top league while still under age 30.
The Turin native has come under some criticism for his choice to move to Toronto so early in his career, with some even going so far as to accuse him of throwing away his career, both as a professional and as an international.
Giovinco doesn't see it that way.
"In Italy, I had many problems," Giovinco said. "They were always talking about me as a player who could not play at very high levels. But I always demonstrated with facts that that was not correct. I wanted to find a city and a team that from the beginning welcomed me as this team has done. Therefore, my choice was the right choice."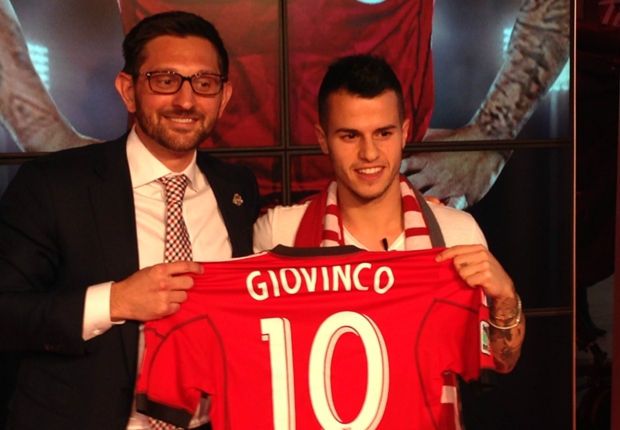 Even though Italy has traditionally shunned players who play outside of Serie A, Giovinco said he would still be willing and able to continue suiting up for the Azzurri if the national side would still have him.
"I spoke with [Italian national team head coach Antonio Conte]," Giovinco said. "I told him that I made this choice, and that anytime he needs me I would join the national team. I know that it's very difficult but difficulties are what bring the best out of me."
As for Major League Soccer, Giovinco stressed that he was aware of the unique challenges that the North American circuit presents. In a league known for grueling travel, varying playing surfaces and big climate changes, Giovinco said he sees an opportunity to test himself.
"The championship starts in March and I'm sure I will have time to adapt to these new conditions," he said. "I will be ready."