CARSON, Calif. — Upon taking the reins of the
New England Revolution
three years ago, Jay Heaps knew what his fans craved. But he couldn't oblige — not yet, at least.
The coach heard the cries for a big-name designated player. Yet the Revolution were aiming for a more methodic rebuild. No quick fixes. So the front office resisted the urge to splurge.
Then
Jermaine Jones
came along.
"We really wanted to build the foundation first and then be able to add someone like Jermaine, who really brought exactly what we were looking for, rather than go get something that we weren't exactly sure what to do with," Heaps said during a news conference Friday. "It was the perfect piece at the perfect time."
After the U.S. national team veteran joined the club in August, New England went 9-0-2 in matches started by Jones down the home stretch and through the Eastern Conference playoffs. Now the Revolution are looking to clear that final hurdle in Sunday's MLS Cup final against the LA Galaxy.
In addition to adding wisdom cultivated over 14 professional seasons in Germany, England and Turkey, Jones has bolstered the Revolution with a dynamic presence, winning tackles and distributing across the field. In fact, the 33-year-old won a battle for the ball once every 10.3 minutes in the regular season — better than the 10.9 posted by Darlington Nagbe, who led MLS in duels won.
"If anyone messes up, Jermaine is there to clean it up for us," midfielder Kelyn Rowe told
Goal USA
. "You see him up next to [forward Charlie Davies] sometimes and then see him all of sudden next to [defender Jose Goncalves] the next play. There are so many different changes."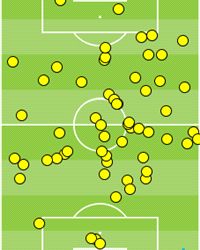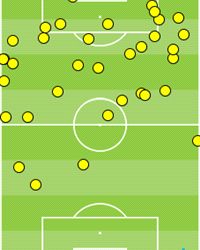 Touches by Jermaine Jones (left) and Lee Nguyen against the Columbus Crew on Nov. 1.
Prior to Jones' arrival, the Revolution typically deployed a 4-1-4-1 formation, with Scott Caldwell as the lone defensive midfielder in front of two playmakers. But Jones' box-to-box persona brought on the 4-2-3-1, giving New England more balance in the middle between Caldwell and attacking midfielder Lee Nguyen.
With Jones providing protection to the back line, Nguyen has more freedom to stay higher in certain situations — essentially playing as a second forward just underneath Davies. The result? Eleven goals and six assists for Nguyen in Jones' 14 matches.
"This is the guy I've always wanted to play alongside with, and I'm so glad we got him," Nguyen said. "He's helped the team out so much — obviously you can see, but in more ways than one. He's such a great teammate on and off the field. This locker room is so close, and when he came in he jelled right in right away. It feels like he's been here for three years."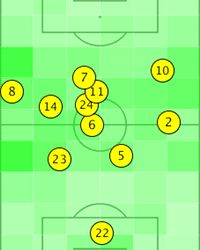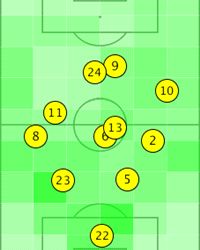 The Revolution's formation against Columbus on July 26 (before Jones' arrival) and Nov. 1 (with Jones, No. 13).
Note the position of playmaker Lee Nguyen (No. 24).
The move triggered a positive trickle-down effect for the Revolution. Often used in the middle, Rowe found himself invigorated on the left flank. With Rowe playing as an inverted winger, it created space on that wing for left back Chris Tierney to attack on the overlap.
But it all pivots on Jones' ability to cover acres of space and make intelligent decisions in midfield.
"We've really been able to adapt things with Jermaine because he's so smart tactically," Heaps said. "There are times in the game when we need to be a little more aggressive attack-wise, or there are times when we need him to close a gap defensively. He understands that better than most."
For Jones, the match represents a culmination to a unique campaign. He began the calendar year with German side Schalke, then completed a loan to Turkish club Besiktas before representing the United States at the World Cup.
Just three months after Jones signed with the Revolution, the club's hopes for a first MLS Cup largely hinge on the well-traveled midfielder.
"I feel the pressure," Jones said. "I know there are a lot of people looking. 'OK, can he make the difference?'"
That answer, based on recent evidence, could very well be "yes."