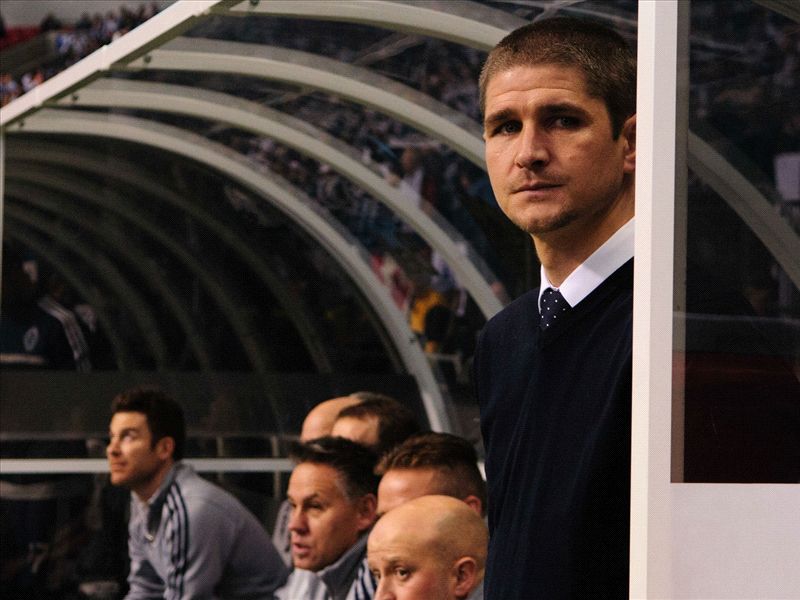 VANCOUVER — Vancouver Whitecaps FC head coach Carl Robinson stated Tuesday what his side is facing as it enters the MLS regular season stretch and in a battle for the last playoff spot in the Western Conference.
"We have five games left, five playoff games as far as I'm concerned, as we're only two points behind (the fifth-place Portland Timbers)," Robinson said. "It's five cups finals. We've got to turn it into five cup finals."
The Welshman's urgent tone comes after the Blue and White suffered another big blow to their postseason hopes with a very costly 3-0 defeat in Portland last Saturday. It was a second straight three-goal reverse to their Pacific Northwest rivals and to the side they are battling with for the final playoff berth in the West.
MORE: U.S. Soccer stands by Solo | Chicharito in photos | Soccer WAGs
Saturday's defeat, and the manner of it, drew more frustration and anger from sections of the Whitecaps fan base — some of whom went on social media to express their feelings at another damaging loss to one of Vancouver's arch-rivals.
"When we went a goal down (in Portland), our heads seemed to drop a little bit," Robinson said. "We didn't go down fighting the way I would have liked us to have gone down fighting, which is why it was disappointing. I can understand (the fans') disappointment, as I'm the most disappointed person there is.
"But as I said, we can only come out fighting, and I'll make sure that these guys are ready on Saturday because it's a massive game for us, one you class as a playoff game because if we're going to get to where we want to get, we're going to have to win on Saturday."
This weekend's opponent at BC Place is Real Salt Lake, which sits third in the Western Conference standings and is coming off a huge derby win over Colorado Rapids. That is followed by an equally difficult home clash versus FC Dallas — two matches that should shine a clearer picture on Vancouver's playoff aspirations.
"These are the times that are the most exciting because it's a big game for us against Salt Lake," said 'Caps midfielder Russell Teibert. "No matter what happened the week before, we're putting it past us, and we're looking forward to this weekend's game.
"Sometimes, the ball bounces for the other team, sometimes the ball bounces your way. Unfortunately, for the past couple of games, the ball hasn't bounced in our favor, but that's the way professional soccer is at times. You have to battle through it and this locker room has a lot of belief and a lot of character. We'll push through the tough times and we know we're going to make it out of it."
The loss in Portland further highlighted the Whitecaps' ongoing issues to score goals. It prompted some debate among local media members on Tuesday that Omar Salgado may be an option for Robinson versus Salt Lake.
Those chances, however, could be in doubt after Salgado was banished from Tuesday training after he responded to a challenge from youngster Mitch Piraux with a retaliatory tackle on the Whitecaps Residency graduate.
It was the latest incident of indiscipline from Salgado, with Robinson less than amused by the 21-year-old's actions. "I don't condone that, we won't condone that, and I'll deal with that internally today once I find out everything that's gone on," he said. "It's not acceptable."