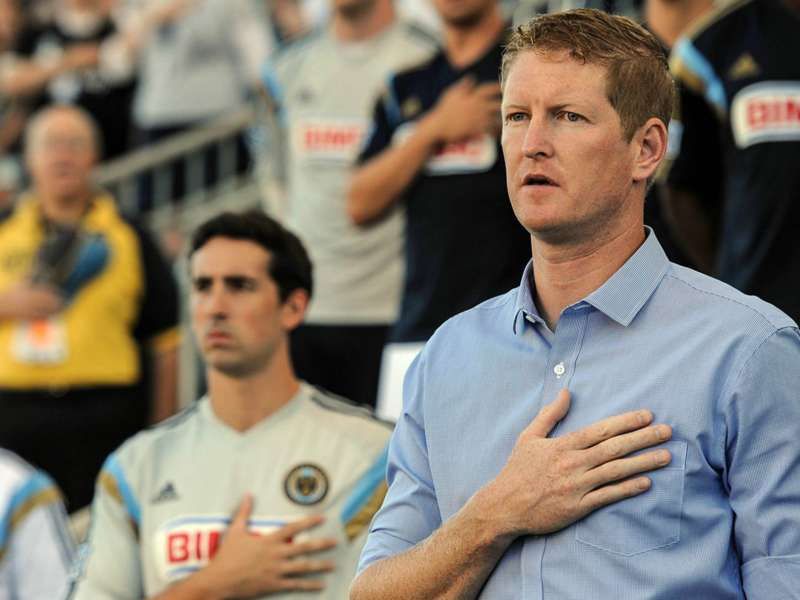 When the Philadelphia Union fell short in last week's U.S. Open Cup final, losing to the Seattle Sounders, there were questions about whether that might keep interim coach Jim Curtin from being given the Union job on a permanent basis.
It is now clear that it did not.
Sources within the Union have confirmed to Goal USA that the club has hired Curtin as the team's full-time head coach for the 2015 season, removing the interim tag after Curtin's impressive performance since replacing John Hackworth, who was fired in early June. The Union's decision to retain Curtin on a permanent basis was first reported by New York-based website Metro.
The Union have posted a 6-2-5 record in MLS play under Curtin, while also pulling off a surprise run to the U.S. Open Cup final, in which the Union suffered a 3-1 loss in extra time to the Sounders.
Curtin, 35, will now head into the stretch run of the season with job security as he tries to guide the Union to the playoffs for the first time since 2011.
MORE: U.S. Soccer stands by Solo | Chicharito in photos | Soccer WAGs
The Union currently sit in sixth place in the Eastern Conference, two points behind the Columbus Crew for the final playoff spot in the East. The Union play the Crew twice in the final three weeks of the regular season.
Philadelphia has climbed back into contention under Curtin after starting the season with a disappointing run of results and 3-7-6 record under Hackworth before he was fired.
A former standout defender for the Chicago Fire, and Chivas USA, Curtin spent two seasons as an assistant with the Union before stepping in as interim coach. He has helped turn the Union into a tough-defending side that has been competitive in every match since he took charge.
"(Curtin) has an understanding of the players," Union defender Ray Gaddis told Goal USA last week. "Whether it's physically maintaining us, or teaching us things because he's played at the highest level. He's seen it, and he's played with some of the best. He played on a great team in Chicago and I think that's paid a lot of dividends. He has the guys' respect. He's a no-nonsense guy, but he's fair at the same time and that pushes us to raise the bar."