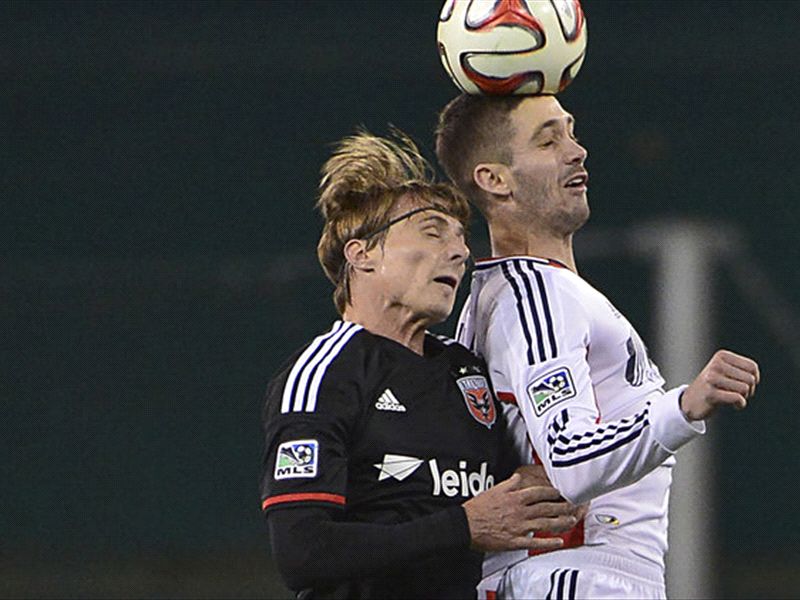 WASHINGTON —
Chris Rolfe
didn't dwell on leaving the only MLS club he's ever known. Didn't have time to, really. After being told Wednesday he had been traded from the Chicago Fire to
D.C. United
, he found himself on a plane to the nation's capital a few hours later.
Following two training sessions with his new team, Rolfe came on as a 63rd-minute substitute against the New England Revolution on Saturday at RFK Stadium — the same venue where he faced United as a member of the Fire seven days earlier — and scored the stoppage-time clincher in D.C.'s 2-0 triumph.
THE RIGHT COMBINATION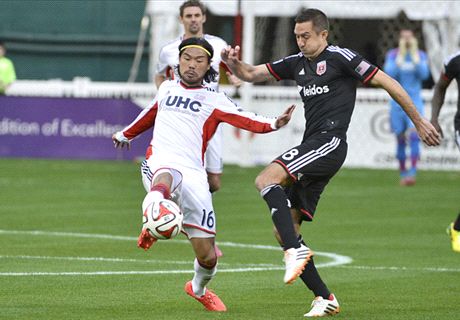 WASHINGTON — D.C. United finally won an MLS game Saturday night, and in the process it may have discovered a winning combination at central midfield.

Starting together in the middle for the first time, Perry Kitchen and Davy Arnaud combined to cover nearly every blade of grass as United defeated New England 2-0 at RFK Stadium on Saturday — the team's first league win since August.

"I thought they both had very good games. I think they're both warriors," United coach Ben Olsen said about the duo after the game.

READ MORE
"The most important thing was to just move on as fast as possible," Rolfe said. "As soon as I got here, the guys were great in helping me the focus. The staff has really done a great job reaching out to make me feel at home and really keep me low stress, and I think that helped me prepare for the game and keep my mind focused on the game."
Rolfe, 31, adds another veteran option to United's attack, which also acquired Eddie Johnson, Fabian Espindola and Davy Arnaud following the least-productive offensive season in MLS history in 2013. With his ability to play on either flank, beneath the striker or up top, Rolfe offers versatility that helps compensate for the indefinite absence of Chris Pontius (hamstring).
"He's probably one of the better soccer in minds in our country," said United captain Bobby Boswell, who has played with Rolfe on the U.S. national team. "He's a great reader of the game, and technically he can do some things that are pretty unorthodox that guys aren't used to, which is always a challenge when you're playing against someone like that."
Added coach Ben Olsen: "He's one of the best finishers in the league, and anybody with tell you that."
That prowess in front of goal was on display Saturday, when Rolfe iced United's first victory in league play since August. After Conor Doyle retained possession and found Espindola on the left flank, the Argentine striker hit a cross-field ball for the streaking Rolfe to volley home from 12 yards out.
"At first, I didn't know if I should go forward or not because I thought we needed to hold onto the ball," Rolfe said. "But Conor did an amazing job holding the ball up, found Fabi, and when Fabi had it I knew he saw me, so I took off running. The ball was perfect, and it was extremely easy for me."
Although Rolfe played with Chicago from 2005 to 2009 and again from 2012 to this season (with a stint in Denmark bridging the gap), he was deemed expendable following the early-season emergences of Quincy Amarikwa, Harrison Shipp and Benji Joya.
To Rolfe, his time with the Fire — for whom he scored 48 goals — is firmly in the past. He's already turned his mind to United, and what he needs to do to get the 1-2-1 club back to the postseason.
"Just finally winning, for these guys, I know they've been working hard," Rolfe said. "So for us to win, that's the best feeling. Of course, to be able to get a goal, that helped me with my confidence — and hopefully helped these guys with their belief in me."
Follow THOMAS FLOYD on