Can we talk about
Steven Caldwell
and
Doneil Henry
for a minute?
Jermain Defoe and Michael Bradley got all the headlines, and rightfully so, but the unsung heroes of
Toronto FC
's opening day win in Seattle were the hardy central defensive duo.
TFC spent much of Saturday's 2-1 match in its own half, as the Sounders pressed endlessly to salvage the match in front of 40,000 strong at CenturyLink Field. And yet for all of their possession, the hosts could only muster two total shots on Julio Cesar's goal.
Most of the credit for that has to go to 33-year-old Caldwell and his 20-year-old protégé Henry. While Bradley was wowing with his ability to be seemingly everywhere on the pitch at once, there were still times Seattle managed to get in behind the American midfielder. It was those instances when TFC's Caldwell-Henry foundation proved sturdiest, with both players literally throwing their bodies in front of shots and passes in order to maintain Toronto's defensive stance.
It wasn't perfect -- Caldwell got caught in no man's land on Clint Dempsey's second half goal -- but it held strong enough to secure a full three points at a venue where Toronto had never previously done better than a scoreless draw. And the partnership will have to maintain those high standards if TFC is going to have any shot at the playoffs this year.
For all the talk of Toronto's high-priced offseason acquisitions, there's an almost unspoken problem that has yet to be solved. If either Caldwell or Henry go down for a significantly long period of time, then TFC is in big trouble,
If they both go down, you can pretty much kiss the season goodbye.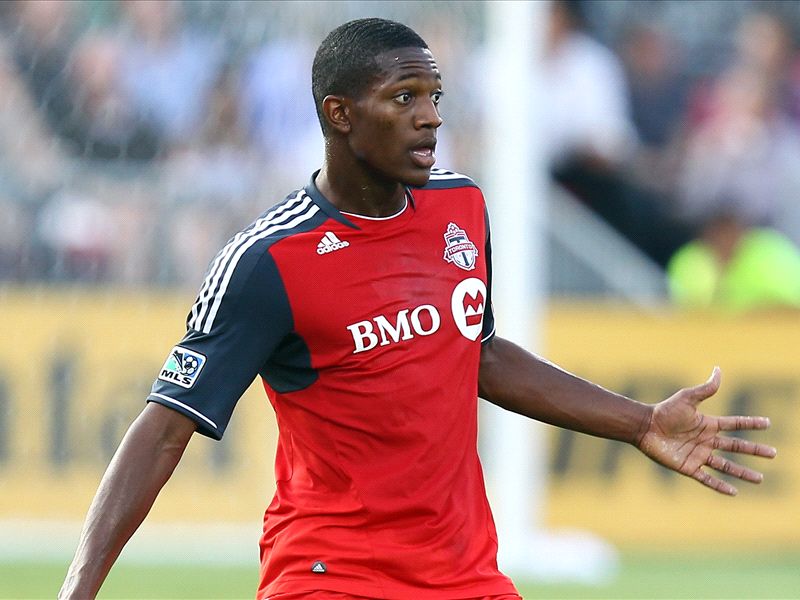 Doneil Henry has made 69 appearances for Toronto FC in all competitions.
That's not meant to be disrespectful to the rest of Toronto's central defenders, but as things stand right now the drop off in both quality and experience after the starting duo is stark. After Caldwell and Henry, the next most experienced player in line is Ryan Richter, a career right back who was converted to central defence in the preseason and whose next competitive game in the middle of the TFC back line will be his first.
Next after Richter is Gale Agbossoumonde, a physical specimen who at 22 years old is still trying to live up to his blue chip prospect status earned as a teenager in the U.S. youth system. Third in line is 2014 SuperDraftee Nick Hagglund, an eager rookie who showed lots of promise in the preseason -- at right back.
It all adds up to a depth problem that Tim Bezbatchenko, Toronto general manager, needs to address sooner rather than later. In the meantime, the Reds' defensive fate rests almost entirely on the capable shoulders of Caldwell and Henry.
Individually, the two players couldn't be any more different. Caldwell is the savvy Scottish veteran, hardened in the English leagues and unafraid to say what's what to both teammate and opponent alike. Henry is the fresh-faced, athletic youngster representing his hometown, one who has a seemingly unlimited ceiling in the sport.
Put the two of them together and you get a dynamic pairing that has gotten better with each outing since Caldwell joined TFC last year. For the sake of Toronto FC, let's hope that trend continues.
It has to.