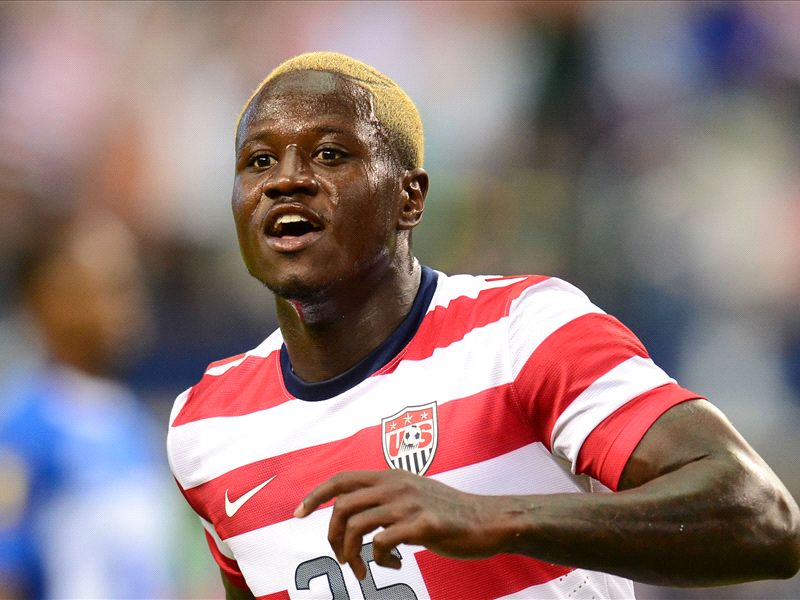 The busy offseason in Major League Soccer is already in full swing with teams parting with players and picking up options on other players, but there may be no bigger transaction this winter in MLS than the impending trade of Eddie Johnson from the Seattle Sounders.

No, there is no trade done just yet, but the Sounders have opened up a sweepstakes of sorts by discussing trade with more than a half dozen teams. As much as most teams in the league would be happy to have Johnson's services, dealing for the U.S. national team forward isn't quite that simple.

Any team hoping to deal for Johnson will have to meet a variety of requirements to make it work, such as having an available Designated Player slot (since Johnson isn't re-signing for less than DP money), salary cap space to fit a DP slot, a pressing need for a forward, and perhaps most importantly, the commodities necessary to make Seattle happy.

That won't be easy, with sources telling Goal USA that the Sounders are asking for a significant windfall in any deal. Seattle is in serious salary cap purgatory after making Osvaldo Alonso the team's third DP to go with Clint Dempsey and Obafemi Martins. The Sounders are also on the hook for a large contract for Shalrie Joseph in 2014. Parting ways with Mauro Rosales will help some, but Seattle will have to find a buyer for Johnson with allocation money and the willingness to part with that and more.

One thing is clear. Johnson won't wear a Sounders uniform again. Seattle made that a reality with Alonso's DP deal. Now the question is which team will meet Seattle's demands, if any (Seattle might have to wind up settling for much less than hoped for initially).

So which teams fall into the category of having interest in Johnson? Sources Goal USA that Seattle has had discussions with, among other teams, Philadelphia and FC Dallas. No deal is close at the moment, but the Sounders will be looking to move Johnson quickly, with the MLS Draft and January transfer window fast approaching.

Not all teams would be willing to take Johnson, even at a reasonable price. His "Show me the money" antics this season painted him in a bad light, raising questions about his maturity that plagued him during his first stint in MLS.

So who could be taking part in the Eddie Johnson sweepstakes? Here is a rundown of the teams that have the best chance of being Johnson's next destination:

FC DALLAS

With a new coach yet to be hired, it might seem strange for FC Dallas to move for Johnson, but it is clear the team needs another forward to go along witth Blas Perez. Eric Hassli didn't pan out and Kenny Cooper came back down to earth after his monster 2012 season in New York. FC Dallas just parted with David Ferreira and has the cap room and DP slot to make the deal happen. There's also the fact that Johnson started his pro career in Dallas, which could make it appealing for Johnson.

Something else to consider is potential FC Dallas coaching candidate Brian Haynes, who mentored Johnson when he was younger. The Atlanta Silverbacks coach has made it known he would love to have a chance to be the FC Dallas coach, and he told Goal USA that if he landed that job, the first thing he would try to do is trade for Johnson.

D.C. UNITED

When your teams scores more own goals than your leading scorer scores goals, you might need a new forward. D.C. United had a nightmare season, but it is as well-positioned as anybody for a turnaround. Allocation money for missing the playoffs and winning U.S. Open Cup, coupled with the No. 1 pick in the MLS draft, and the available cap space left open by the departure of Dwayne DeRosario and failed DP signing Rafael.

Would D.C. be interested? Olsen knows Johnson after having played with him on the national team, and Johnson would be the ideal type of forward to to complement the likes of Chris Pontius, Nick DeLeon and Luis Silva.

CHICAGO FIRE

New Fire head coach Frank Yallop knows how important good forwards are, and with Mike Magee already in the fold Chicago could become a real threat in the East with a dynamic Magee-Johnson tandem. The Fire have the available DP slot, the cap room and the allocation money that comes from missing the playoffs. If Chicago decides to unload current DP Juan Luis Anangono, then fitting Johnson on the cap and adding some other help (in defense) is completely reasonable. There is also the matter of signing Magee to a new deal, which won't come cheaply.

NEW ENGLAND REVOLUTION

The Revs enjoyed a strong season in 2013, and a key to that success was the work at forward of Juan Agudelo. With Agudelo heading to Europe (eventually), and Jerry Bengtson also on his way out the door, the Revs are in dire need of help at forward. What the Revs may have trouble doing is offering allocation money in a deal. The Revs might have to part with a quality player in a deal, along with absorbing some salary. Where the Revs might be able to make a deal happen is if none of the other suitors meet Seattle's lofty demands.

PHILADELPHIA UNION

You might not think the Union could use a player like Johnson, with Conor Casey having a big year and Jack McInerney being a promising young forward, but Johnson is a game-changer at forward and Union head coach John Hackworth has worked with him before during his time as a U.S. national team assistant. The Union don't have a designated player on the books and they have some pressing needs in midfield, but if the price is right, the Union could absolutely take part in the Johnson sweepstakes.