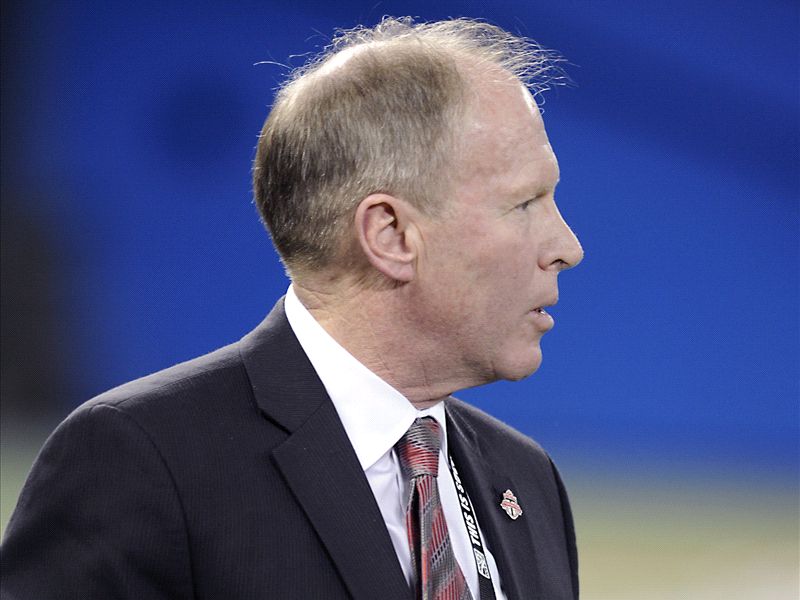 1. Leave it to Tim Leiweke to take decisive action: The former AEG and LA Galaxy honcho learned a thing or two about running an MLS club during his time out in California. He assumed control of MLSE earlier this year and surveyed the disastrous scene he inherited in Toronto. He gave president and general manager Kevin Payne some latitude to work and waited to make the inevitable assessment about his future with the club. He then decided the club needed to move in another direction to eliminate some of the high-profile missteps – the botched pursuit of Diego Forlan, for instance – that occurred under Payne's watch.
Leiweke's leadership offers some hope moving forward. His willingness to take responsibility supplies a welcome respite from the blame shifting of years past. Now he must find another executive to take Payne's place – he wants someone to focus on managing the club's usually dire salary budget situation – and provide Ryan Nelsen (a surprising holdover) with the squad required to make drastic strides next season.
2. Monitor the impact of the missing internationals: Suspensions stripped several teams of key components last week. International callups will exert a wider and deeper impact this weekend with many key contributors off with their national sides. The presence of a full round of fixtures during this pair of FIFA match dates piles significant pressure on clubs to compensate for their missing players and rely on their depth to snatch critical results.
3. Watch and see if Colorado grasps its opportunity: Sporting Kansas City ended the Rapids' club-record nine-match unbeaten run at Sporting Park last weekend, but Oscar Pareja's side possesses an ideal chance to return to those ways at Los Angeles on Saturday. Galaxy boss Bruce Arena must patch together a side without Designated Players Landon Donovan, Omar Gonzalez and Robbie Keane. The squad isn't barren by any stretch (Arena always accumulates plenty of depth), but it lacks the top-end quality to tear the Rapids apart. Colorado must find a way to emerge with a result in order to keep pace in the crowded Western Conference playoff race.
4. Hail the return of Will Johnson: The influential Canadian international expects to return from a shoulder injury in time for Toronto FC's visit on Saturday night. Portland's record without its captain – four missed games, four points accumulated – underscores his importance to the cause. Johnson returns at a critical juncture with the Timbers starting to wobble a bit. The once-certain playoff bid isn't in the bag yet. If Johnson can return to his usual form, then the Timbers should come out of this lull and find a way to book a postseason place.
5. Note the hamstring injury to Juan Agudelo: The future Stoke City striker – subject of a rejected, seven-figure bid for his immediate services prior to the close of the transfer window, according to league sources – picked up a hamstring injury in the New England Revolution's 1-1 draw at Toronto FC. His status for Montreal's visit remains uncertain, but the importance of his ability to feature remains quite clear indeed. New England looks like a potential playoff team with him. If he misses any length of time, then the goal of a first playoff berth since 2009 might just slip away entirely.
Last Forecast: 6/9 (67%)
This season: 98/218 (45%)
Saturday
Sporting Kansas City – Columbus (8:30 p.m.) – Goal.com preview
Overview: Brian Bliss enjoyed a victory to mark the start of his tenure as interim boss. His second match – a return to Kansas City – might not end as neatly.
Prediction: Sporting Kansas City win.
FC Dallas – Vancouver (10 p.m., Sportsnet One) – Goal.com preview
Overview: Expect a fairly open affair between two sides capable of finding the necessary gaps in the opposing defense. The reward for plundering on this evening: gained ground in the race to hop back into the playoff places.
Prediction: Draw.
Seattle – Chicago (10 p.m., NBCSN) – Goal.com preview
Overview: If Sounders FC maintains its current pace, then it could pose a significant threat to snatch the top seed in the Western Conference and win the Supporters' Shield.
Prediction: Seattle win.
Los Angeles – Colorado (10:30 p.m.) – Goal.com preview
Overview: Colorado's precarious position – a two-point edge over FC Dallas and Vancouver with one extra game played – needs some strengthening.
Prediction: Draw.
Portland – Toronto FC (11 p.m., TSN) – Goal.com preview
Overview: Johnson's return should spark the Timbers to a relatively straightforward win. The caveat: the home side cannot afford to allow TFC to disrupt its rhythm in possession or turn the game into a slog.
Prediction: Portland win.
Sunday
Houston – New York (5 p.m., UniMas) – Goal.com preview
Overview: The unexpected revival in Columbus cost the Dynamo a chance to pick up some precious away points in midweek. Houston cannot afford a similar fate when the Red Bulls – minus the injured Tim Cahill (ankle) – come calling on Sunday.
Prediction: Houston win.
New England – Montréal (7:30 p.m., TVA Sports) – Goal.com preview
Overview: Look for Charlie Davies or Dimitry Imbongo to shoulder the load up front if Agudelo isn't fit enough to feature against the Impact.
Prediction: Draw.
Chivas USA – D.C. United (9 p.m.) – Goal.com preview
Overview: Erick Torres certainly looks like a player capable of helping the parent club in Guadalajara at some point. His turn in Liga MX must wait until the Clausura, though. In the meantime, he might as well just keep scoring goals (six in Chivas USA's past nine games) and stating his case for inclusion next season.
Prediction: Chivas USA win.
San Jose – Philadelphia (11 p.m., ESPN2) – Goal.com preview
Overview: Philadelphia must retain its recent defensive solidity (five clean sheets in its past seven matches) and strike once or twice at the other end in order to ensure the necessary result.
Prediction: Draw.