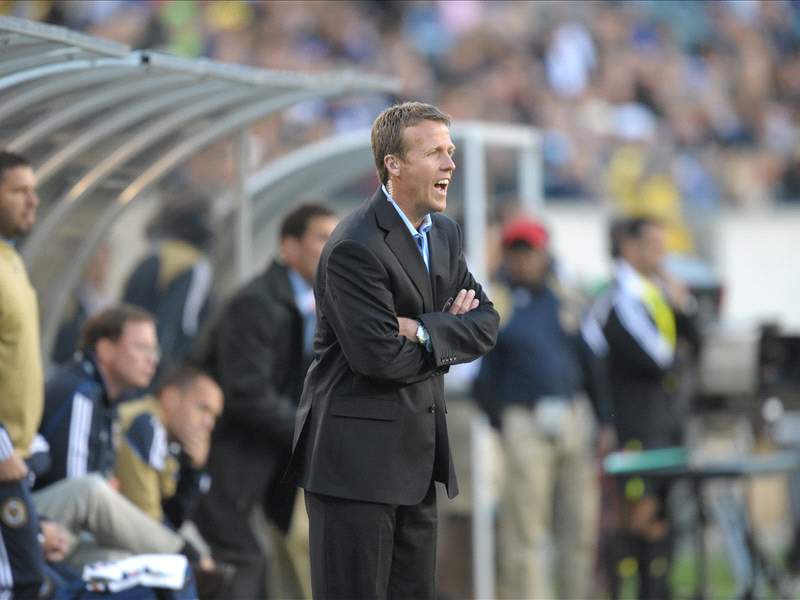 Before Sunday night, John Hackworth's Philadelphia Union team hadn't even taken a point off the New York Red Bulls since 2011. In five straight games, the North Jersey side enjoyed near-total dominance of its southern neighbor.

It's fair to say there was a bit of pressure on the head coach, in just his first full season leading the Union.

"I had a guy come up to me at Wawa this week," said Hackworth, referencing a chain of Philadelphia-area convenience stores. "He didn't say hello, he didn't introduce himself, he just grabbed me and said 'Hey, you better beat New York.'"

The Union did beat New York, 3-0, with Conor Casey grabbing the first two goals and Antoine Hoppenot icing the victory cake late on. New York's Lloyd Sam was red carded in the 28th minute, but by that time the Union were ahead and looking much stronger. After 90 minutes, the Red Bulls had failed to register a single shot on target.

"We expected it from ourselves," Jack McInerney told mlssoccer.com. "I think we sent a message around the league today - on ESPN, beating New York 3-0."

But more than a victory, the game was a symbol of how far Philadelphia has come in a year under Hackworth.

Having coached at collegiate and youth international levels, Hackworth was named the Union's first-ever assistant manager, under Peter Nowak, in 2010. When Nowak's popularity spiraled with fans early in 2012 after a series of unpopular trades and a run of poor results, it was Hackworth who was handed the task of rebuilding the Union on June 12, 2012.

One year and 10 days later, the Union, now unmistakeably Hackworth's, are second in the East. They not only overcame the bogey of the dominant Red Bulls and leapfrogged the north Jersey side in the standings, they finally stepped up against a top team, putting to bed the (admittedly accurate) assertion that the Union bullied weaker sides and failed to really trouble true MLS heavyweights.

Some other charges leveled at the Union in recent weeks took hits as well. A team often seen as overly reliant on the goals of McInerney scored three without the 20-year-old finding the net, the second game in a row that's happened. That defense - second-worst in the East - kept its second straight clean sheet, and hasn't given up a goal in 204 minutes of play.

While Hackworth can talk about tactics, they're not really his strong point. His team plays a nice enough, but simple game. A back four with fast full backs who sometimes get up. A combative defensive midfielder in captain Brian Carroll. Hard-working wingers who can whip in a cross or cut inside. A big target striker and a goalscorer playing off him and finding the gaps. Tiki-taka it isn't, but the side's strength lies not in tactical acuity and zonal domination, but in Hackworth's ability to get the best out of his players, trusting in a young core bolstered by a smattering of veteran leadership.

Just ask Casey. The 31-year-old striker joined the Union in the offseason and quickly blossomed into a fan favorite. He's returned that affection with five goals and two assists in 737 minutes of action.

"The atmosphere that's created here from John and his staff has been huge. It's a group of young guys, for the most part, that really are hungry and have a lot to prove," Casey said.

"I think I was received very warmly here and the atmosphere here was night and day, compared to what I came from, so it was really just a good boost."

But while Hackworth has helped rejuvenate the former U.S. international's career, it's his fostering of emerging talent, a watchful eye and a guiding hand honed by his time in charge of the U.S. U-17 program, where he has truly impressed. Of the 11 players who have played the most minutes for the Union this season, seven are 24 or younger. Defender Amobi Okugo, 22, and goalkeeper Zac MacMath, 21, have played every minute of every game.

Okugo, a U-17 residency graduate Hackworth helped bring to the Union in the 2010 draft, was practically chained to the bench under Nowak before Hackworth converted him from a defensive midfielder into a starting center back. He agrees that a positive team spirit has helped the Union.

"Yeah. I mean, we all get along," Okugo said. Even if we fight at practice or on the field, once we get back into the locker room we're all hanging out, we all go to dinner together. It's just a great locker room. I can't really compare it to other locker rooms, but when you talk to guys that have been in and around the league, they say this is one of the best."

Okugo reluctantly admitted that the locker room had come together after the removal of Nowak, a notorious disciplinarian who would make his team do extra running immediately after a poor performance and allegedly would refuse them water, a far different environment than Hackworth's constant mantras of toughness tempered by trust and recruiting soccer players who are also good people.

"I don't wanna say in the past, but you could tell there was a little bit of division with the way things were going," Okugo admitted. "Right now everyone gets along, whether it's the first guy on the team or the 18th guy, everyone gets along and you can tell after the game, everyone's cheering for each other."

Hackworth's magnum opus in player development, however, is McInerney. The worst-kept secret in Chester last year was the then-teenager's falling out with Nowak over his lack of first-team opportunities. Upon Hackworth's installation, McInerney was given his chance, and went on to be the Union's top scorer, with eight goals.

Now, he's bagged 10 in 16 games, landing him in a three-way tie in the Golden Boot race, a 20-year-old going up against former Italy international Marco Di Vaio and 11-year MLS veteran Mike Magee. General consensus says he's locked up a spot on the USA's Gold Cup roster.

Hackworth oversaw McInerney as a high-schooler at Bradenton, was instrumental in drafting him as a Union player in 2010, and has built a bond that has been rewarded on the field. The key to unlocking the potential of his star striker it seems, is trust.

"I think for me," said Hackworth on Wednesday. "When you talk about the word trust, especially between coaches and players, and being in the pressure and volatile situation that it is being a professional athlete, you need to have consistent communication, your actions need to be consistent, your support of those players in good times and bad, I think think that builds trust.

"Trust is not something you can develop with a conversation or in a short amount of time. It takes some time. I think there's a reason that some players on this team and our staff have that level of trust. It's because we, through different teams or situations, interacted with each other and had built up a lot of that trust... Jack is obviously an example of that and doing very well."

Hackworth may yet end up building something as enduring as he dreams. But for now, he's got a team in second place in the East, with the fifth-best record in Major League Soccer. He's got the league's top scorer, not yet old enough to drink. He's got the league's leading assist man. He's got a former U.S. national teamer leading the line and handful of future ones contributing to his cause. Perhaps most importantly for him, he has the trust of his team. And if results like the win over New York keep stacking up, he might have something special on his hands.