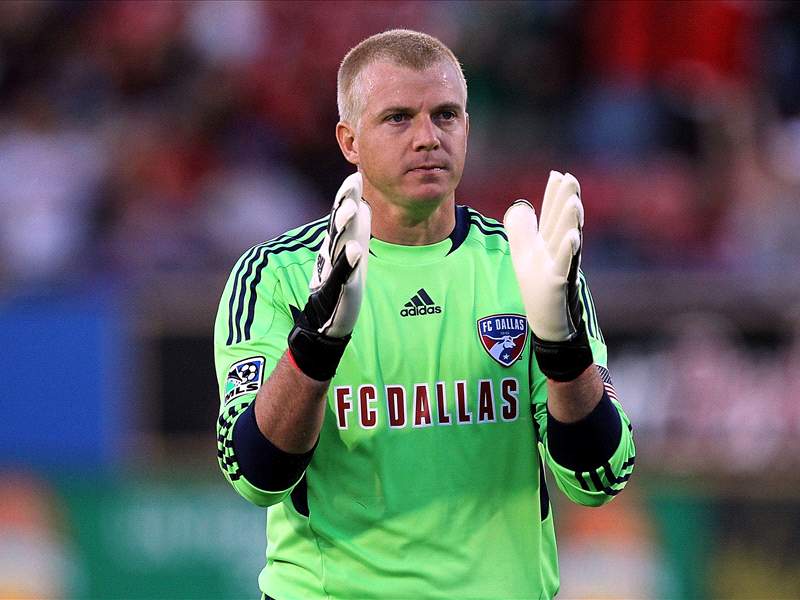 The second phase of the MLS Re-Entry Draft is slated for Friday afternoon, with a handful of big names still eligible to be picked up by teams looking to fill out their rosters with MLS-tested talent as the 2013 preseason approaches next month.
Veterans such as forwards Juan Pablo Angel and Conor Casey, Canadian international midfielder Julian de Guzman, defender Danny Califf and goalkeeper Kevin Hartman are the top names on the board for the player dispersal mechanism, which is in its third year of implementation. Players who are selected Friday must be given a genuine offer by the selecting teams within seven days. If the parties cannot come to an agreement, then the team will maintain the player's MLS rights.
Players who go unselected Friday will become free agents and can sign with any team on first-come, first-served basis.
Maicon Santos was the only player selected in the first phase of the Re-Entry Draft last Friday, when players had to be signed at their existing contract options, going to the Chicago Fire. A number of players on the initial eligibility list either withdrew, were traded or re-signed by their teams this week. Among them were Fire left back Gonzalo Segares and Montreal Impact winger Justin Mapp, who re-upped with their clubs, while 2012 U.S. Under-23 captain and center back Ike Opara was dealt from the San Jose Earthquakes to Sporting Kansas City.
Toronto FC holds the first selection in the draft, with the order determined by 2012 finish.
Here are all of the players available for selection in Friday afternoon's draft:
| | |
| --- | --- |
| Player Team | |
| | Nolly, Jay |
| | Gargan, Dan |
| CHV | Angel, Juan Pablo |
| CHV | Vagenas, Peter |
| | Califf, Danny |
| | Moreno, Alejandro |
| | Hesmer, Will |
| | James, Julius |
| | Marshall, Tyrone |
| | Palguta, Scott |
| | |
| | Freeman, Hunter |
| | Smith, Jamie |
| | Joyce, Ian |
| | Nane, Joseph |
| | Wahl, Tyson |
| | Chabala, Michael |
| | Guarda, Bruno |
| | Hartman, Kevin |
| | De Guzman, Julian |
| | Sealy, Scott |
| HOU | Clark, Colin |
| | Aiyegbusi, Olukorede |
| | Sassano, Luke |
| | Barrett, Chad |
| | Boyens, Andrew |
| | Jordan, Bryan |
| | Noonan, Pat |
| | |
| | Murray Tim |
| | Gavin, Blair |
| | Gaudette, Bill |
| | Keel, Stephen |
| | Harrison, Chase |
| | Palmer, Lovel |
| | Araujo, Paulo Jr. |
| | Reynish, Kyle |
| | |
| | |
| | Alexandre, Jean |
| | Ward, Tim |
| | Corrales, Ramiro |
| | Gjertsen, Joseph |
| | Stephenson, Khari |
| | Avila, Eric |
| | Cann, Adrian |
| | Harden, Ty |
| | Thorrington, John |