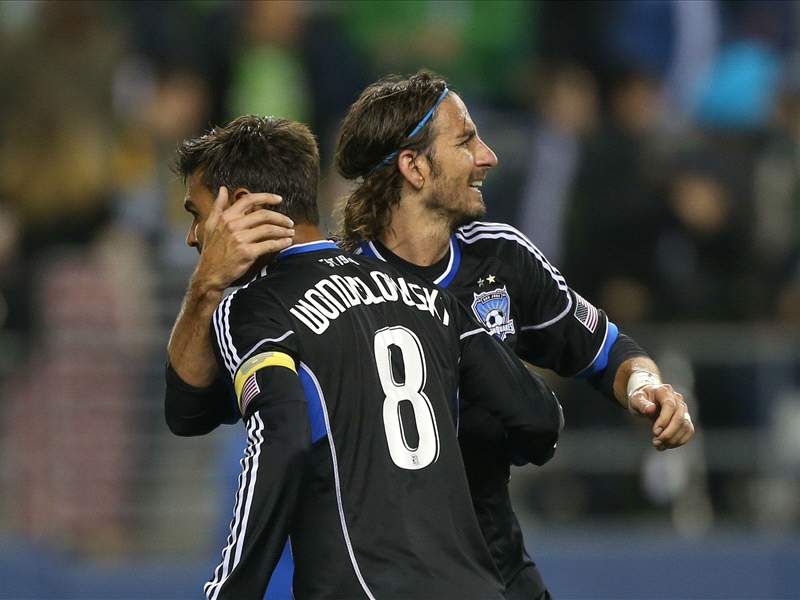 1. Wondo takes aim at 27...or 28...29:
San Jose striker Chris Wondolowski can tie Roy Lassiter's single-season goalscoring record of 27 by tallying once when the Earthquakes head to JELD-WEN Field on Saturday night. Two or more goals would place him atop the charts alone. Don't bet against Wondolowski grabbing at least one goal to confirm his place in history. His teammates will feed him at every possible opportunity and his opponents aren't known for their defensive resistance (12 goals allow in the six matches prior to last week's Cascadia Cup-winning shutout in Vancouver).
2. How will the Eastern Conference sort itself out?:
Sporting Kansas City claimed the top seed with a 2-1 victory over Philadelphia on Wednesday night. Everything else remains on the table. D.C. United holds the inside track to the second spot, but it can certainly veer off course during a difficult trip to Chicago on Saturday afternoon. New York probably needs to win at Philadelphia earlier in the day to maintain its chances of avoiding a Knockout Round affair on Wednesday. Houston will hope it still retains an outside shot of securing third or fourth spot when it takes the field in Colorado on Saturday night.
3. The race for second spot in the Western Conference continues:
Real Salt Lake and Seattle will meet for the second consecutive year in one of the Western Conference semifinals. Seattle currently holds the edge in the battle for second spot. Sigi Schmid's side can seal a second-leg date at CenturyLink Field with a victory over Los Angeles on Sunday night. Any other result could open the door for RSL to nip in with a victory over Vancouver. Last year's events – RSL advanced to the Western Conference final on the strength of a 3-0 home victory in the first leg – suggest the Claret-and-Cobalt would probably feel just fine if Sounders FC takes care of business on Sunday night.
4. The age-old question of resting players
: Some teams – Los Angeles and Vancouver, in particular – may want to sit a few of their stars with the postseason on the horizon. The congested schedule makes the idea even more tempting. But some bosses prefer to let things ride and try to generate or maintain some semblance of momentum heading into the playoffs. It is, on the whole, a trend worth watching on a weekend when more than a couple of the postseason clubs may have the opportunity to inject reserves into the mix without suffering any repercussions to their playoff predicaments.
5. Will Montréal or Vancouver secure the top spot in the Canadian table?:
The two teams enter the weekend tied on 42 points. The comparative fixtures – Montréal hosts New England, while Vancouver travels to Real Salt Lake – and the tiebreakers favor the Impact. If Jesse Marsch's side can pull off a victory against the Revolution, it will secure the top seed in next year's Canadian Championship. In a four-team tournament with three MLS sides and a NASL outfit, the difference is a significant one indeed. //
Last week
: 3/9 (33%)
This season
: 119/255 (47%)
Saturday

New York @ Philadelphia (1:30p.m., NBC/TSN 2)
–
Goal.com match preview
Overview
: New York must keep the tempo high and make the Union chase. It's hard enough to play two games in four days. The Red Bulls must turn it into an impossible task for a side that should be fatigued after a midweek affair at LIVESTRONG Sporting Park.
Prediction
: New York win.
New England @ Montréal (2:00p.m., TVA Sports)
–
Goal.com match preview
Overview
: There is only one proper way to send Eduardo Sebrango away from what is likely his last game as a member of the Impact.
Prediction
: Montréal win.
D.C. United @ Chicago (4:00p.m., NBC Sports Network/TSN 2)
–
Goal.com match preview
Overview
: Lineups are due for this game well before the proceedings will end in Chester. How much will each side risk in order to avoid dropping into that dreaded Knockout Round match in midweek?
Prediction
: Draw.
San Jose @ Portland (6:30p.m., NBC Sports Network/TSN 2)
–
Goal.com match preview
Overview
: Expect every Earthquake to spend 90 minutes feeding Chris Wondolowski the ball in dangerous areas. That course of action is no different than usual, but the stakes are much higher.
Prediction
: San Jose win.
Houston @ Colorado (9:00p.m.)
–
Goal.com match preview
Overview
: Houston will benefit from the kickoff time of this game. If a chance to snatch a home game at BBVA Compass Stadium is on the table (either with the third or the fourth seed in the Eastern Conference), then expect the Dynamo to grasp it. If not, then Dominic Kinnear can plan appropriately.
Prediction
: Houston win.
Vancouver @ Real Salt Lake (9:00p.m.)
–
Goal.com match preview
Overview
: How many starters will Martin Rennie send onto the field with a Knockout Round clash against Los Angeles looming on Thursday?
Prediction
: Real Salt Lake win.
Sunday

Toronto FC @ Columbus (4:00p.m., TSN/RDS 2)
–
Goal.com match preview
Overview
: Will the Crew throw caution to the wind and give its fans a wide open affair to close out the season?
Prediction
: Columbus win.
Chivas USA @ FC Dallas (7:00p.m., Galavision)
–
Goal.com match preview
Overview
: Robin Fraser will bounce back when he inevitably departs the club next week. It's tough to hold this spell with the Red-and-White against him too much given the perpetual state of chaos within this particular southern California club.
Prediction
: Vancouver win.
Seattle @ Los Angeles (9:00p.m., ESPN/ESPN Deportes/TSN 2)
–
Goal.com match preview
Overview
: Expect Sounders FC to take care of business against a Galaxy side that may consider resting a few of its experienced players ahead of the Knockout Round match against Vancouver on Thursday.
Prediction
: Seattle win.
Follow KYLE MCCARTHY on

or shoot him an

email