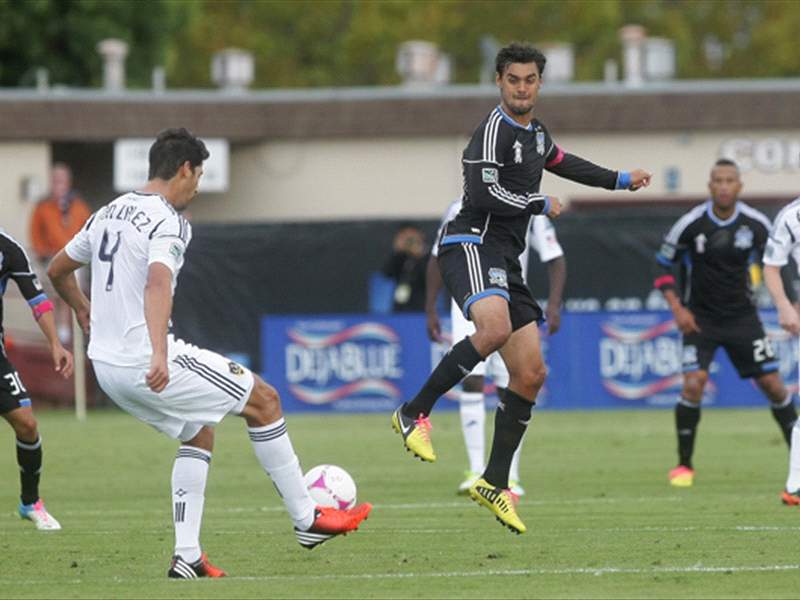 The usual drama and tension of the final weekend of the regular season seeped into the penultimate matchday.
Every game bar one offered something new to assess. Every hour brought a new moment to behold. By the time both days filled up late Sunday night, the league could pinpoint its 10 playoff teams and wonder whether a venerable league record would stand for yet another year.
There is only one place to start this review of the weekend: RFK Stadium.
D.C. United claims its first postseason berth since 2007: United coach Ben Olsen probably didn't sketch out a connection between Branko Bošković and Lewis Neal as a critical piece of the puzzle prior to the campaign. But those two midfielders somehow combined in second-half stoppage time to secure all three points in a 3-2 victory against Columbus and send the sellout crowd in the District into ecstasy.
The result vindicated the work Olsen and his players have done since Dwayne De Rosario sustained a knee sprain in mid-September. United has not lost in six outings (five wins and one draw) since De Rosario picked up his injury on international duty. It is a testament to the depth of character within the squad to transform from a De Rosario-fueled unit into a more compact group capable of conceding two goals in five matches prior to the shootout on Saturday night.
Whether that deportment will work in the postseason remains uncertain. For now, United should relish its long-awaited return to the playoffs.
Houston, New York and Vancouver complete the playoff field: All three sides clinched their postseason berths in rather disparate fashion. Houston went through the front gate with a 3-1 victory over Philadelphia. New York slipped in the side route with a 0-0 draw against Sporting Kansas City. And Vancouver tucked inside the back door after FC Dallas fell 3-1 at Seattle on Sunday night. At this stage of the season, none of the three teams will care how they got there. Now it's a matter of finding a way to take advantage of the opportunity presented by the fresh start.
Forget about trying to sort through the Eastern Conference picture before the final whistle blows: Sporting Kansas City can dispel any lingering doubts about the top seed by securing at least a point at home against Philadelphia on Wednesday. The other four spots remain uncertain with four points separating second-placed D.C. United and fifth-placed Houston. New York holds the edge on total goals and visits Philadelphia on Saturday afternoon, while United hosts Chicago and Houston heads to Colorado later in the day. How this bracket will sort itself out remains merely conjecture at best.
Order is the word of the day out West: San Jose claimed top spot long ago and supplemented that perch with the Supporters' Shield this weekend. Real Salt Lake and Seattle will meet for a second straight year in the two-versus-three matchup. The allocation of the fixtures remains uncertain with both teams currently tied on 56 points, but Sounders FC will finish second with a road victory over Los Angeles on Sunday night. Bruce Arena's side is locked into a knockout round affair against Vancouver next Thursday.
Chris Wondolowski caps a historic day in San Jose by drawing ever closer to his own mark: Wondolowski increased his haul on the season to 26 goals and secured a 2-2 draw with Los Angeles on Sunday night. The prolific striker now sits one goal behind Roy Lassiter for the single-season record. He – and Lassiter – will travel to JELD-WEN Field on Saturday with one eye on history. If Wondolowski can match or exceed that venerable mark, it would provide a wonderful cap to a season that included placing a nice piece of silverware on the mantle and sending more than 6,000 shovels into the ground in San Jose yesterday afternoon.
Need more proof that the postseason is quickly approaching? Just ask Omar Gonzalez: "To be honest, this game wasn't even fun," Gonzalez told MLSsoccer.com after the ill-tempered 2-2 draw at Buck Shaw Stadium. "I think those guys are a bunch of jokes, the way they play the game. It was just obnoxious. And, you know, it wasn't even fun out there. It was terrible."
Rest assured that Gonzalez's comments – a candid exchange that also included dubbing the Earthquakes' approach to the game "embarrassing" – will end up on a bulletin board somewhere in northern California if these two rivals meet again in a couple of weeks.
Five Points – Week 30
1. Goalkeeper of the year? Bet on Jimmy Nielsen: The Danish stopper pulled off a couple of fine saves at New York to ensure out-of-sorts Sporting Kansas City managed to emerge from Red Bull Arena with a 0-0 draw. Those highlight reel moments will play well as Nielsen attempts to claim the award at end of the season. Right now, he looks like the favorite in the race. Other players may have performed better at points this season (Andy Gruenebaum, Michael Gspurning, Dan Kennedy and Tally Hall can all raise a hand here), but Nielsen can point to his superior statistics (.79 GAA, .76 save percentage and 15 shutouts in 33 games started) as reason enough to hand him the award for his solid showings behind the league's stingiest defense.
(Note: It is fair to question how much of Nielsen's work should be attributed to Sporting Kansas City's overall defensive performance. Sporting suffocates opposing teams with its high pressure and limits the numbers of shots launched toward goal. Nielsen, as the save percentage suggests, does well with what he sees, but those stats and Sporting's overall displays still raise questions about the frequency and the quality of the shots he has had to stop during this campaign. Those deeper concerns won't affect his chances in this race. He will likely win the award and he probably deserves it for his contribution to the overall cause. But do they provide food for thought? Absolutely.)
2. Chicago coach Frank Klopas should hope potential playoff opponents weren't taking notes: New England ground its way to a 1-0 victory at Gillette Stadium on Saturday night by stifling Chris Rolfe for 90 minutes. Revolution coach Jay Heaps opted for a 4-1-4-1 formation and positioned Clyde Simms right in front of the back four to occupy the fertile space Rolfe usually mines for attacking opportunities. By placing Simms in the right spot and telling him to monitor Rolfe at all times, Heaps and the Revs managed to diminish Rolfe's usual influence on the counter (no time to collect, turn and run) and limit the supply to Sherjill MacDonald.
When MacDonald and Rolfe aren't involved in the game, the Fire looks like a mighty ordinary team as it tries to push into the attacking third. Klopas must hope his stout defense (shorn of Arne Friedrich on Saturday through a classic case of turfitis) and his tricky wingers (Alvaro Fernandez and Patrick Nyarko) will pick up the slack if a similar scenario occurs in the postseason.
3. No matter how bad it seems now, there's a decent chance someone has already suffered through worse: Chivas USA completed a truly abject slate set of home displays with a 2-0 defeat to Colorado at the Home Depot Center on Saturday night. The Red-and-White's home mark of 3-11-3 proved worse than every other team in the league by two matches (Toronto FC finished 3-9-5 at BMO Field) and sparked a question about where exactly this team fits in the sphere of home futility in the modern MLS era (2000-present).
Fear not, Chivas USA supporters: your side isn't the least successful in this department during this epoch. The worst home team in this era is the 2001 Tampa Bay Mutiny. The pre-contraction Mutiny posted a 2-10-2 record at Raymond James Stadium and stumbled to an average of .57 points per home match. Two other sides – Chivas USA in 2005 (3-11-2, .69 PPG) and D.C. United in 2010 (3-11-1, .67 PPG) – also failed to match the .71 points per game produced by Robin Fraser's side this year.
All of this data comes with one rather underwhelming and totally foreseeable caveat: no home side has scored fewer home goals in a season than the nine total goals tallied by Chivas USA at the Home Depot Center this year.
4. In a big game, Vancouver comes out totally flat: Martin Rennie's side has struggled for form since the Scottish revolution ushered a host of familiar faces out the door in midseason. Sunday night presented a chance to atone for those failures by securing a playoff berth in a home date against Portland. Instead of seizing the game by the scruff of the neck, the Whitecaps sputtered. The home side failed to pose serious questions to a Timbers outfit that looked all too comfortable even though Jack Jewsbury's wonderful, Cascadia Cup-winning strike six minutes before halftime separated the teams. It speaks volumes about the Whitecaps' insipid display that they never appeared likely to pull a goal back. One shot on goal won't get the job done in Carson in 10 days or so.
5. Same old factors submarine FC Dallas' playoff hopes in Seattle: This season served as an exercise in frustration for FCD boss Schellas Hyndman. He couldn't find a way to field his starting XI for any length of time. He couldn't keep his best players away from the training room. And, most critically on Sunday night, he couldn't stop his team from beating itself with its own missteps.
The turning point in Sunday's 3-1 defeat at Seattle came when Brad Evans scored his and Sounders FC's second goal. Evans' tally resulted from the following sequence: foul in the middle third near the touchline, quick free kick by Fredy Montero to catch FCD unaware, decent cross from Christian Tiffert and a cool finish.
When Hyndman flips on the game tape from this affair, he will look at that sequence and watch a rather avoidable goal unfold before his eyes. He'll probably feel the same way about Mauro Rosales' strike to finish matters, a play where two FCD players failed to recover into the vacated right back area and prompted the buildup to the tally.
Time and time again this year, FCD found itself undermined by a combinational of external (injury and selection concerns) and internal (inability to maintain attentiveness, composure or discipline) problems. Few teams could have overcome that potent mixture. Credit FCD for coming as close as it did. But Hyndman will likely spend the winter wondering how he can address those persistent and pressing issues in his transactions ahead of next season.
Kyle McCarthy writes the Monday MLS Breakdown and frequently writes opinion pieces during the week for Goal.com. He also covers the New England Revolution for the Boston Herald and MLSsoccer.com. Contact him with your questions or comments at kyle.mccarthy@goal.com and follow him on Twitter by clicking here.
Follow GOAL.COM USA on