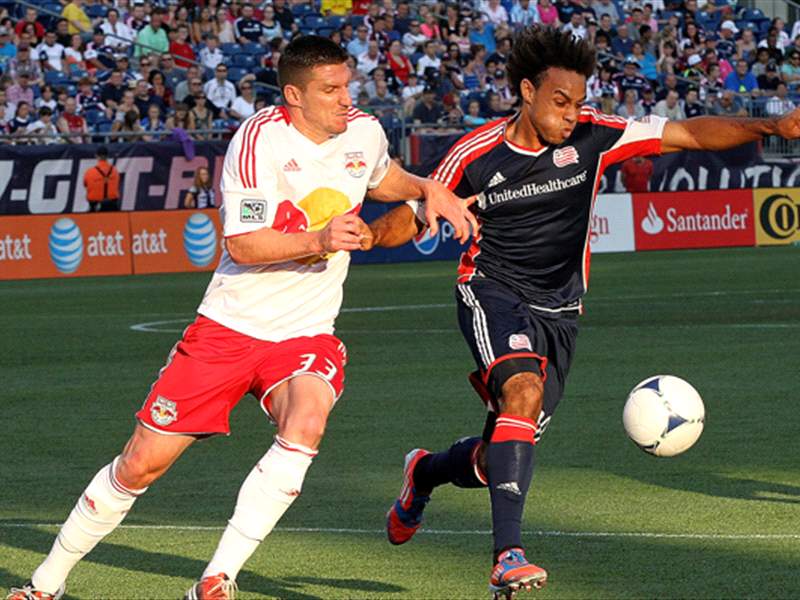 FOXBOROUGH, Mass. – The trying circumstances surrounding Sunday night's 2-0 defeat at New England looked all too familiar to New York coach Hans Backe.
For yet another game, Backe fielded a side stripped of several starters. The tattered group he selected offered up a poor first half in its conservative 4-1-4-1 setup, responded with an improved second stanza and ultimately struggled to conjure up the quality necessary to translate an ample amount of possession into the required end product.
On some nights (including a stretch of five straight victories in April and May), that formula has yielded three points through determination, grit and opportunism. More often than not during the last month or so (one win in six attempts), it has merely left Backe and his players wondering when the spate of injuries will conclude.
"It's annoying," Backe said after the match. "We haven't played two games in a row with a full strength team. If you look with guys like [Jan Gunnar] Solli out, [Markus] Holgersson out, [Heath] Pearce out, [Rafa] Márquez out, [Teemu] Tainio out and [Thierry] Henry out, that is six starters. In a way, you can say the depth this year is very good because these guys played quite good a month ago when we won five in a row almost with the same team. At the end of the day, you can't pick up wins as we did earlier."
It isn't for want of trying or for want of players able and willing to pick up the slack. Brandon Barklage scored twice against former club D.C. United on June 24 to attract some attention to his work with the Red Bulls, but he has established himself as a viable right back with consistent displays rather than flashy performances. Versatile rookie Connor Lade has stepped into the starting XI and provided energy and work rate on the left side of defense and in midfield. Tyler Ruthven enjoyed a decent run of games in central defense. Other familiar faces have featured in different spots (Dax McCarty in an All-Star caliber turn as a holding midfielder, Joel Lindpere in his preferred central midfield role and Dane Richards up front) or seen more time on the field than usual when available (Mehdi Ballouchy and Stephen Keel).
The collective effort has yielded a bevy of results (31 points in 18 games, two behind joint Eastern Conference leaders D.C. United and Sporting Kansas City) and a smattering of lost causes along the way. It is, as Seattle coach Sigi Schmid noted not too long ago, hard to produce results consistently when the starting XI regularly includes players previously expected to perform in ancillary roles.
"We are without six regulars," Backe said. "I can't expect much more from these guys. They did what they could do with the work rate and the energy they showed in the second half. We're too short-handed."
Two silver linings exists to make this regular dose of chopping and changing more tolerable: the available players have shown well enough for Backe to place some trust in them in the future and the absent stars are poised to return to the fold. Henry and Márquez missed out on the trip to New England primarily due to their aversion to artificial turf. Holgersson (left ankle sprain) could recover in time to face Seattle next Sunday, while Pearce (right hamstring injury) is only expected to miss a couple of weeks. Tainio hasn't featured since March, but even he could return in the next couple of months if his right knee cooperates.
If all of those players finally return (and, really, even if the influential Tainio falls short) and the Red Bulls add that oft-touted third Designated Player to bolster the attack in the summer transfer window, then Backe would have one of the league's deepest and most talented squads at his disposal. Distant dreams do not salve the wounds of recent defeats, but they do provide some hope that the constant turnover in team selection may stop in time for the Red Bulls to perform well at the business end of the campaign.
"Hopefully, when it comes into October, November and the playoffs, they have got good, competitive minutes in this league," Backe said. "And that will help us if we pick up injuries. Now, for us, it's about looking for three or four more weeks and probably all of those guys will be back."
Five Points – Week 16
1. A fitting end to a trying saga: Seattle midfielder Steve Zakuani made his first MLS appearance in 14 months as a late substitute in Sounders FC's 2-1 victory over Colorado on Saturday night. After Zakuani received a thunderous ovation upon replacing Mauro Rosales and the match finally concluded, he exchanged jerseys with Brian Mullan to bring the sordid affair between the two men to a close. It was, in its own way, a wonderful moment for the league and the two men involved.
2. Where were the goals on Saturday night?: Fans in search of well-crafted goals – or goals of any sort, really – found themselves without much to survey for most of Saturday night: three of the five matches ended nil-nil and the other two encounters yielded no first-half tallies.
3. Remember when MLS executives said they wanted to stamp out the harsh treatment doled out to skillful players?: Those words rang hollow in Real Salt Lake's 3-0 victory over Portland as the Timbers basically kicked Javier Morales around the park at Rio Tinto Stadium. In the wake of the first two goals of Álvaro Saborío's hat trick around the hour mark, referee Mark Geiger booked three different Timbers in four minutes for scything down Morales and waded through a scuffle prompted by the first of that series of tackles (a robust Diego Chará challenge from behind on the RSL playmaker). Portland's frustration over conceding twice in short order after a solid hour of defensive work and suffering yet another road defeat (0-6-2) hardly supply enough justification for the scenes that followed. It is, on the whole, not the type of fare MLS wants to offer on a regular basis.
4. Yet another example of youth being served in Philadelphia: The young guns in Chester just about ran knackered Toronto FC off the field in a 3-0 victory at PPL Park on Sunday afternoon. By keeping the ball and pushing the tempo at all times, John Hackworth's side showed how much freedom can help a side thrive. Philly isn't a finished product yet (for reasons discussed in the Musings a couple of weeks back), but this performance represents the latest in a series of signs that the stodgy old order has yielded to a more promising future.
5. Keep an eye on the Revolution: New England extended its unbeaten run to five games by dispatching the Red Bulls 2-0 at Gillette Stadium on Sunday night. The home side conceded plenty of possession to the visitors, but it also created several chances and scored two of them to win the game fairly comfortably. The most encouraging sign along the way: recent arrival Jerry Bengtson marked his debut with a goal. If the Honduran international can plunder goals on a regular basis when he returns from the Olympics, then the Revs can mount a playoff push if their defense performs as it did on Sunday night.
Kyle McCarthy writes the Monday MLS Breakdown and frequently writes opinion pieces during the week for Goal.com. He also covers the New England Revolution for the Boston Herald and MLSsoccer.com. Contact him with your questions or comments at kyle.mccarthy@goal.com and follow him on Twitter by clicking here.
Goal.com has a new podcast! Goal Daily Podcast is a MUST for all Soccer fans and discusses the very latest news and views. What's more when you sign up the service is FREE for the first month and you can cancel anytime.
Follow GOAL.COM USA on