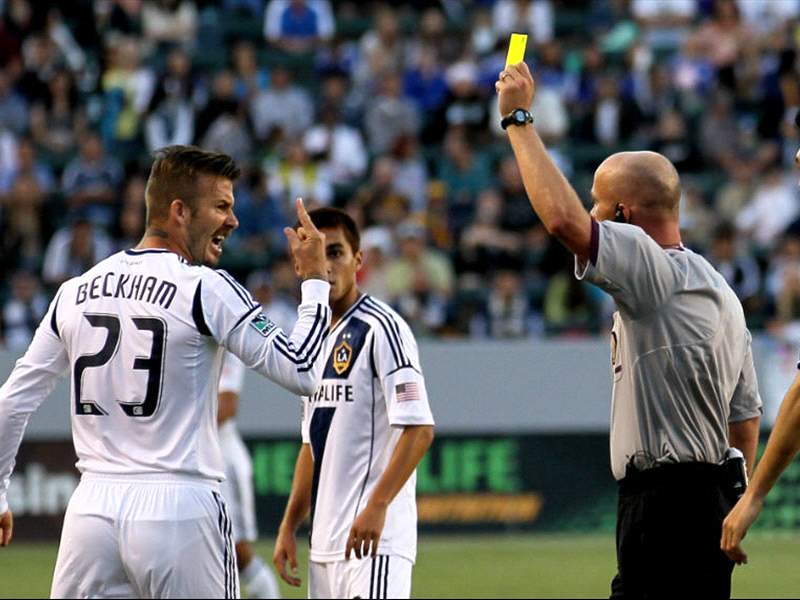 1. Disciplinary Committee shows too much deference to David Beckham … again:
FC Dallas midfielder Brek Shea garners three games for kicking the ball at an assistant referee in Columbus earlier this year. New York midfielder Rafa Marquez lands three games for throwing the ball at Landon Donovan and other general displays of post-game boorishness in last year's playoffs. And Beckham receives just one match for two accurate salvos from the sidelines toward the prone Sam Cronin in last Saturday's 4-3 defeat at San Jose?
This ruling just about buttresses every usual complaint and qualm – favoritism, inconsistency and ignorance of precedent rank atop the lengthy list – lodged against the Committee by a host of external and internal skeptics of the system. Beckham deserved another game for his petulance based on the previous suspensions. Instead of administering the proper punishment, the Committee either counted the automatic one-match ban triggered by the booking issued on the field in his favor or permitted Beckham to skate once again despite his rather lengthy record of poor behavior toward officials and opposing players. In the end, the final verdict undermines whatever good will and legitimacy the Committee had accrued during a fairly evenhanded start to the season and underscores the ongoing problems within the oft-criticized system.
(Note: The disheartening coda to this particular set of Committee rebukes: the undisclosed fines handed to Galaxy coach Bruce Arena and Montreal coach Jesse Marsch for public criticism of officials appear even more ridiculous than the Beckham ban. Did the Committee just start to read press clippings this week? Or did the panel members just randomly decide to admonish two coaches for voicing their displeasure with refereeing decisions after ignoring similar outbursts from several other coaches during the course of the campaign?)
2. What about Beckham's teammates?:
They will face a tricky task in his absence in Sunday's nationally televised matinee at Chicago. Los Angeles deserved at least a point in midweek, but Philadelphia seized upon the Galaxy's inability to convert numerous chances in front of goal and scampered away from the Home Depot Center with all three points. Such wastefulness won't go unpunished at Toyota Park either with the Fire poised to entice the Galaxy forward and push out quickly on the counter.
3. Alessandro Nesta should address Montreal's defensive concerns:
The skepticism surrounding Nesta's signing is somewhat incredible: the former Milan defender isn't at the peak of his career at age 36, but he enters the league with a pedigree matched only by Beckham and Thierry Henry. He will need a central defensive partner to do some of the running once he receives the necessary paperwork and slots into the squad, but his intelligence and his positioning will help an Impact back four that has conceded nine goals in its past three games with Matteo Ferrari (right quad strain) and Nelson Rivas (abdomen) sidelined. As a short-term signing, the Impact – or any other MLS team, really – could hardly hope to do much better.
4. New England finally enters the Designated Player market:
The previous two signings made under this moniker represented an educated gamble (Milton Caraglio) and a necessary reward for a veteran player (Shalrie Joseph). By sealing a deal for Honduran international striker Jerry Bengtson on Thursday, the Revs managed to secure a 25-year-old goalscorer with a proven pedigree. Bengtson could partner with Saër Sène to produce a steady stream of goals up front if he can transfer his pace and his prowess to MLS matches. Slowly but surely, the pieces are starting to come together in Foxborough. The next step (after the subsequent arrival of another player – likely a striker – in the coming days): figuring out what, if anything, to do in central defense during this window after the departure of John Lozano and the occurrence of several infuriating breakdowns over the past couple of matches.
5. Isn't it nice to a see a trade where both sides benefit immediately?:
Portland shipped an undisclosed amount of allocation money to Colorado for right back Kosuke Kimura on Thursday. The swap gives both teams something they need during the window: the Timbers now have a right back who can succeed within the demands of an English-style system, while the Rapids now possess some much needed flexibility under the salary budget after shedding a player that didn't fit neatly into Oscar Pareja's possession-oriented group. Consider this deal a win-win for now, but the potential fallout in Portland (where, if anywhere, does Jack Jewsbury play now?) bears watching as well.
Last week:
5/8 (63%)
This season:
59/131 (45%)
Saturday
Houston @ Sporting Kansas City (8:00p.m.)
–
Goal.com match preview
Overview
: The smash and grab at Stade Saputo won't mean much if Sporting can't find a way to emerge with all three points against the Dynamo.
Prediction
: Sporting Kansas City win.
Portland @ Real Salt Lake (9:00p.m.)
–
Goal.com match preview
Overview
: Consider the Timbers' trip to Colorado last weekend as an instructive lesson ahead of this game. Portland simply doesn't keep the ball very well. When the Timbers play at altitude, they are often reduced to chasing the game and expending significant amounts of energy to do it. In short, this particular affair offers a good opportunity for RSL (minus the suspended Fabian Espindola) to continue its growth from a 0-0 draw against Seattle in midweek.
Prediction
: Real Salt Lake win.
San Jose @ FC Dallas (9:00p.m.)
–
Goal.com match preview
Overview
: How ever will the Earthquakes survive if Tressor Moreno decides to return to South America? Don't expect the Colombian schemer to play a part in the Earthquakes' bid to prolong FCD's misery for another game. At least the home side can point to the rapidly decreasing injury list and the return of David Ferreira as signs of hope for the short- and medium-term.
Prediction
: San Jose win.
Vancouver @ Chivas USA (10:30p.m.)
–
Goal.com match preview
Overview
: The Red-and-White may enter this game with one eye on Tuesday's Lamar Hunt U.S. Open Cup semifinal at Seattle and without the services of influential midfielder Oswaldo Minda (one-game ban). The compressed schedule (and the state of Juan Agudelo's knee injury) will likely force Robin Fraser to mix-and-match against the Whitecaps. If Vancouver can replicate the dogged display from Wednesday's win at Colorado, then a victory isn't out of the question even with Darren Mattocks sidelined through suspension.
Prediction
: Vancouver win.
Colorado @ Seattle (11:00p.m., NBC Sports Network/TSN 2)
–
Goal.com match preview
Overview
: Sounders FC coach Sigi Schmid must weigh his priorities ahead of this match. The weight of the current nine-match winless streak in league play looms large, but the Lamar Hunt U.S. Open Cup semifinal against Chivas USA also merits significant attention. Sounders FC has leaned on its depth – somewhat to its detriment – over the past couple of months. This match (and the result against a Rapids side keen to atone for the midweek defeat to Vancouver) could offer yet another example of the detrimental impact of that necessary reliance on squad players.
Prediction
: Draw.
Sunday
Los Angeles @ Chicago (3:00p.m., ESPN/ESPN Deportes)
–
Goal.com match preview
Overview
: Beckham's omission likely won't alter the calculus too much in this affair. Both sides will exhibit plenty of caution and wait for the right time to strike. That particular approach favors the Fire.
Prediction
: Chicago win.
Toronto FC @ Philadelphia (4:00p.m., TSN/RDS 2)
–
Goal.com match preview
Overview
: Both sides have received a significant boost from their new bosses over the past few matches. The midweek fixtures – especially Philadelphia's three-point haul in Los Angeles – may influence the energy and the tempo of this match. With both of those qualities in some question, the conditions favor yet another draw for the visiting Reds.
Prediction
: Draw.
New York @ New England (7:00p.m., Galavision)
–
Goal.com match preview
Overview
: Jerry Bengtson probably won't feature (unless his paperwork magically arrives in short order, that is), but the Revs have proven they can score goals in recent weeks. Problems remain at the other end, however. New York's tendency to play through the wide areas could yield dividends against a side that has conceded its past four goals on crosses from the left flank.
Prediction
: Draw.
Columbus @ Montréal (7:30p.m., TVA Sports)
–
Goal.com match preview
Overview
: The absences of Davy Arnaud and Felipe through one-match bans will place additional pressure on the defense to stop leaking goals. It is a task that may prove beyond this current group even thought there were hints of misfortune about the goals conceded to Sporting Kansas City on Wednesday night.
Prediction
: Draw.
Follow KYLE MCCARTHY on

or shoot him an email.