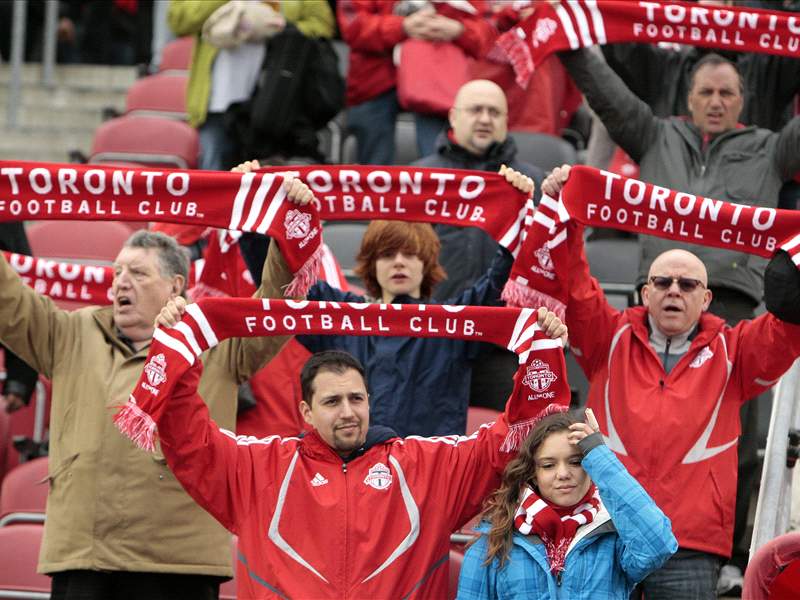 1. Toronto FC stares an unwanted record in the face
: The Reds will join the 1999 Kansas City Wizards as the only two sides to lose seven straight games to start a MLS season if they do not secure a result at Real Salt Lake on Saturday night. TFC boss Aron Winter offered plenty of defiant rhetoric during the week – he pledged to retain his system and promised a playoff berth to local reporters – but those confident statements likely won't hold much weight at Rio Tinto Stadium. RSL nabbed a 1-1 draw at FC Dallas in midweek, but the Claret-and-Cobalt played well enough without suspended duo Fabián Espíndola and Jamison Olave to suggest this weekend should provide a three-point haul at home.
2. Brad Davis returns for Houston's trip to Washington
: Davis hopes to return to the lineup after missing the past two matches with a left calf strain. Houston coach Dominic Kinnear told
MLSsoccer.com
that he planned to wait until today before making a decision about Davis' status for the weekend. It isn't much of a choice if Davis is ready to go. With D.C. United unbeaten in six, the Dynamo will need all hands on deck to sustain their own positive run of form at R.F.K. Stadium and thwart former midfielder Danny Cruz's new side.
3. Will a stinging rebuke impact Philadelphia's approach against San Jose?
: MLS commissioner Don Garber handed the Union a $5,000 fine and suspended coach Peter Nowak for two matches (and docked him $5,000, to boot) after the unseemly ruckus caused by a Gabriel Farfan tackle at Chivas USA last weekend. A course correction for Saturday's date with San Jose appears somewhat natural after two dismissals last weekend, but the Union hasn't cobbled together a 332-minute shutout streak by playing nicely with the opposition. If Philadelphia alters their mindset or shuts off for even a second, the Earthquakes – spurred onwards by the prolific Chris Wondolowski – could make them pay dearly for it.
4. A bright line for players to take from the Disciplinary Committee's work this week?
: While Garber spent his Thursday dishing out punishments (including a $2,500 levy on Chivas USA and a $500 tariff on Robin Fraser for their roles in the incident), the Disciplinary Committee watched intently after finishing up its work earlier in the week. For most players around the league, the take-home message comes from the treatment of similar, two-footed challenges by Espíndola and G. Farfan. Neither player received supplementary discipline after their dismissals last weekend. At this point, other players can now consider themselves duly warned about the ramifications of those two-footed challenges and weigh their actions appropriately.
5. Trio of signings foreshadows a busy summer transfer window
: Chicago (Brazilian midfielder Alex De Lima), Colorado (ex-Real Betis striker Edu) and Columbus (Deportivo Saprissa forward Jairo Arrieta) announced signings to bolster their attacking options on Thursday. Edu will join the Rapids as soon as his paperwork clears, but Arrieta and De Lima (the second FC Wohlen player to sign with MLS recently after Felipe Martins joined Montréal during the winter) will not link up with their new sides until the transfer window opens on June 27. Expect more than a few players to follow those three attackers through the door at a later date as European and South American teams sort through their squads and several enticing players hit the market. //
Last week:
3/8 (38%)
This season:
29/59 (49%)
Saturday
Montréal @ Portland (2p.m., TVA Sports)
–
Goal.com match preview
Overview
: If the Timbers want to build on that cathartic home victory over Sporting Kansas City, then they need to find a way to extract a result against the Impact.
Prediction
: Draw.
New England @ New York (3:30p.m., NBC Sports Network)
–
Goal.com match preview
Overview
: This match is just as much about Benny Feilhaber's return to the starting XI as it is about the significant group of Red Bulls poised to miss out through injury.
Prediction
: New England win.
San Jose @ Philadelphia (7:00p.m.)
–
Goal.com match preview
Overview
: It should go without saying that the Union's 332-minute shutout streak appears in some peril. But a result here? Not out of the question for the home side.
Prediction
: Draw.
Houston @ D.C. United (7:30p.m.)
–
Goal.com match preview
Overview
: Brad Davis' return should boost a Dynamo side already flying high. United's confident attacking movements, however, may separate the teams here.
Prediction
: D.C. United win.
Vancouver @ Columbus (7:30p.m.)
–
Goal.com match preview
Overview
: Does this match count as a home affair for the Whitecaps after Michael Nanchoff's family purchased a significant number of tickets for his return to Ohio?
Prediction
: Draw.
Seattle @ Chicago (8:30p.m.)
–
Goal.com match preview
Overview
: Caution represents the order of the day here for both sides. A point would represent good business for a Sounders FC side patiently waiting for Mauro Rosales' return.
Prediction
: Draw.
Toronto FC @ Real Salt Lake
(9:00p.m., GOL TV Canada)
–
Goal.com preview
Overview
: Good luck trying to secure a first win of the season in this particular venue.
Prediction
: Real Salt Lake win.
Chivas USA @ Colorado (9:00p.m.)
–
Goal.com preview
Overview
: Two of the league's most peculiar sides meet in Commerce City. If the Rapids play as they did for stretches against Los Angeles, then they should emerge with all three points.
Prediction
: Colorado win.
FC Dallas @ Los Angeles (10:30p.m.)
–
Goal.com preview
Overview
: FCD looks just a bit too tattered at this stage – even with Blas Pérez back from a one-match ban – to come into the Home Depot Center and emerge with a result.
Prediction
: Los Angeles win.
Follow KYLE MCCARTHY on

or shoot him an email.