Liverpool's Marc Pelosi and Villyan Bijev, Molde's Joshua Gatt and Hammarby IF's Billy Schuler.
These are just some of the exciting young American players who have turned down developing in Major League Soccer to head to clubs in Europe. Real Salt Lake head coach Jason Kreis has an innovative suggestion to keep young Americans in the domestic league.
"I would propose a very professional, organized and structured reserve league," Kreis explained to Goal.com. "Where we can increase our roster size and have a set reserve team that plays in a league like the USL, NASL or the PDL."
Ideally, Kreis would like to see MLS emulate the German Bundesliga and its club's reserve system. Bundesliga reserve sides, which primarily feature players under 23 years of age, play in the third division against teams that are vying for promotion. Having young players playing weekly against hungry senior players would be invaluable experience according to Kreis.
"Those teams play every single week, just like the first team does," Kreis said. "Not only are those guys playing regularly, they are playing meaningful games because they are competing against men who are trying to support their families and trying to get their club up another division."
Two years ago, RSL and MLS made major headlines when they persuaded promising young midfielder Luis Gil to decline interest from Arsenal and develop in the United States. Under Kreis' guidance, the 18-year-old has blossomed into one of the America's most gifted prospects, featuring over 35 times at the United States youth levels.
Part of what helped Gil's development was a loan to USL second division team AC St. Louis during his first year with RSL. Gil scored his first professional goal as a member of that club and that momentum carried into his second year. The California-native made his MLS debut and scored his first league goal in a 3-0 rout over the star-studded New York Red Bulls.
Without the first team experience that he gained playing in a lower division, Gil likely wouldn't have had the confidence to make the major strides he did in his first full year in MLS. On a perennial contender, it would have been very difficult for Kreis to throw in a then 16-year-old player into his rotation. Kreis admits it's a common problem for MLS coaches, which is why he'd like see a structured reserve league put in place.
"As a first team coach, you are hired and fired by whether or not you can get your team into the playoffs," the 39-year-old coach said. "You've got to win games and that can be very contradictory towards developing young players."
While Europe will always remain the ultimate destination for talented players wanting to prove themselves in the top levels, having young starlets develop in the United States is beneficial for both players and MLS. The league and its fans get to watch potential future national team stars and players can look for moves when they are ready to make the jump. It's worked for Brek Shea, who now has the attention of teams all over Europe.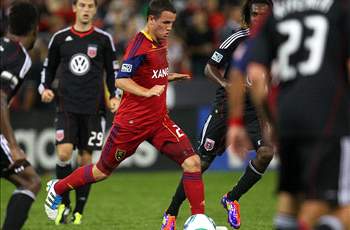 As for Gil, Kreis would like to see the midfielder take on a bigger role in his third season. With several veterans leaving RSL during the offseason, Gil has an opportunity to grab a larger spot in the club's rotation and potentially become a starter.
"I think Luis made a major step forward last year," Kreis said. "Probably, a step ahead of where I expected him to be. I want him to keep taking steps forward. I would like to see him playing more minutes this year and getting more opportunities to start this year."
He added, "I would like to see him contributing more on the statistical line. Goals and assists, it doesn't mean that I have expectations for him to do that and I don't think it's a failure if he doesn't. He's still a young player."
Pointing to Gil's strengths, Kreis likes his anticipation on the pitch. He also believes an underrated aspect of Gil's game is his speed. Kreis expects that opposing teams will learn just how quick the player is as he gets more playing time.
"When he develops that killer mentality, I think he can be very successful," Kreis said.
Free Kicks:
Kreis revealed that he would be more than happy to work with United States head coach Jurgen Klinsmann. The former striker is excited by the progress that the former Germany boss has made so far and remembered a conversation that the two had when Klinsmann was first hired.
"I've made it no secret to Jurgen right when he took the job and called me that I support him and that I'm really excited about this prospect," Kreis recalled. "I'm excited that Jurgen wants to communicate with MLS teams and I'd be willing to help him in any capacity."
Follow ALEX LABIDOU on