In the midst of the long dark maw that is Major League Soccer's offseason, the league sent three of its brightest stars on a diplomatic mission to England.
The LA Galaxy's Landon Donovan and Robbie Keane went to Everton and Aston Villa respectively, and the Red Bulls' Thierry Henry headed to former club Arsenal, all on short-term loans.
These loans were a win-win for the players and their Premier League clubs: The players got to stay in shape during the long MLS offseason and play against the world's best. The clubs got an injection of talent to help carry them through the grueling winter period, where fixtures tend to pile up high.
For MLS though, the rewards aren't quite as straightforward. Sending players over carries risk of injury, and the Galaxy and Red Bulls would likely prefer their players to rest, and then take part in a full preseason to better integrate with new teammates.
As the three loans wind to a close though, the reward for the league has come more into focus. With all three turning in admirable performances, they have been capable ambassadors for their league, and have quieted the overwrought criticism that MLS is a "retirement league".
Henry's loan at Arsenal came to an unceremonious end Wednesday after Milan delivered a 4-0 mauling in the first leg of the Champions League round of 16. After a season and-a-half in MLS though, Henry showed that playing stateside hadn't cost him the statue-earning goalscoring touch he demonstrated at Arsenal between 1999-2007.
In fact (small sample size alert!), Henry's strike rate during his loan at Arsenal (three goals in seven games: 43%) is exactly the same as his strike rate for Red Bulls (16 in 37 games: 43%). Not to mention he has started every game he's played with New York, while he came off the bench in every game at Arsenal.
Arsenal boss Arsene Wenger tried to extend Henry's loan. The Red Bulls refused.
Robbie Keane has scored goals at nearly every stop in his career, so it's no surprise he continued this trend at Aston Villa, scoring three in six games including a sensational double that clinched the West Midlands derby against Wolves in January.
Aston Villa boss Alex McLeish tried to extend Keane's loan. The Galaxy refused. Keane's last game with Villa will be at Wigan on Feb. 25.
Donovan's success at Everton is most significant for the league, because aside from David Beckham, there isn't a single figure more synonymous with MLS than the 29-year-old American midfielder. Because he's spent most of his career in MLS, his play in England is a direct reflection of the U.S. player development apparatus.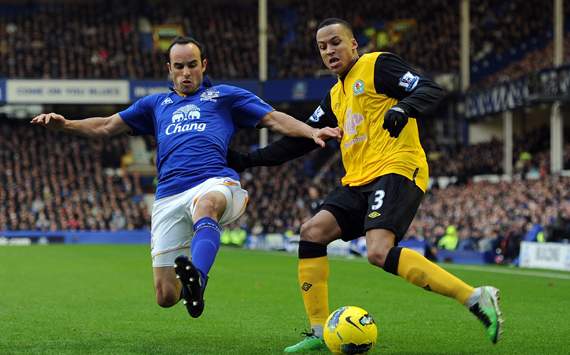 Donovan | Has impressed at Goodison Park
In his second temporary loan on Merseyside, LD has delivered again. As he was in January 2010, Donovan was named Everton's Player of the Month for January 2012. In nine games with the team, Donovan has six assists. When combined with his numbers from his last loan, he's totaled 19 Everton appearances, two goals, and nine assists.
Following Everton's 2-0 win against Chelsea last weekend (in which Donovan had an assist), Everton defender Phil Neville
tweeted
:
"I've played with some v good right wingers in my career and @landondonovan is up their (sic!) with the best!"
This is no faint praise, as Neville played at Manchester United from 1995-2005, meaning David Beckham in his prime and Cristiano Ronaldo were part of that comparison.
Donovan's loan will end this Saturday in a FA Cup fixture against Blackpool. Everton boss David Moyes didn't ask the Galaxy to extend Donovan's loan, but it wasn't for lack of desire.
"If we could have had him longer, we would have," Moyes said to
The Mirror
this week.
Donovan himself has already expressed his openness to another short-term loan next winter, but despite the mutual admiration, it appears unlikely that Donovan and Everton will be able to unite on a permanent basis until after the 2013 MLS season, when his contract is up.
Will that be too late though? Donovan turns 30 next month, and will be nearly 32 by the time his MLS deal expires. It's fair to wonder if he will still be at an EPL starting level in two years time.
But it's also fair to say that if the 31-year-old Keane and 34-year-old Henry could still cut it in the EPL, then a 32-year-old Donovan could probably do so as well.
While the league sometimes catches heat for providing an oasis for aging players leaving Europe, the winter of 2011-12 showed that sometimes, those roles can be reversed.
Follow SETH VERTELNEY on

or shoot him an

email