Hey Goal.com readers,
This is Jay DeMerit, center back for the Vancouver Whitecaps and the United States national team. Over the next few weeks, I will be sharing my experiences as a soccer player in this blog. Should be good times. Also be sure to follow me at (
@D6MERIT
) on Twitter.
While some have made the comparison, I would never claim to be the original Jeremy Lin.
I will say that our stories are similar and if you haven't had a chance to see
Rise and Shine
, definitely check that out. I am flattered to be mentioned along with him as an athlete who has gone against the odds and made it.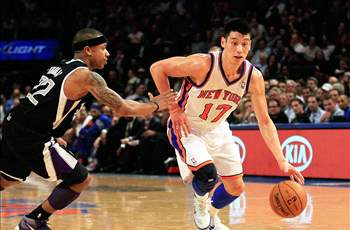 Even though Vancouver doesn't have a basketball team, you'd have to be living under a rock to not know about Linsanity!
I remember when Lin broke out a few weeks ago, one of our Whitecaps owners, NBA point guard Steve Nash, tweeted about it. Nash wrote you got to be happy about Lin rising to the occasion and I retweeted it and put the hashtag #RISEandSHINE.
For me, that's what it's all about. It's feel good stories like that which make sports what they are. Great for him, but now comes the hard part. Sometimes people think the hardest part is getting in the door, but for me it's staying there. Sometimes it's easy when there's no pressure, but what happens when people expect you to perform at the top level regularly? But from the looks of it, he really does seem like the kind of guy who would jump and grab the opportunity with both hands.
Again, it's a similar kind of scenario. For me to watch it and see those things transform is great. Does it bring an internal smile to me? Sure.
One thing that you always have to be mindful of is the people around you
. Hopefully nothing changes and your family and friends get to enjoy that side of life with you. Unfortunately that's not always the case. There's always people who are not going to enjoy your success. They look to bring you down. The key is to not surround yourself with those people. Surround yourself with the people who helped you to get to that point. You wouldn't have gotten to the next level without them giving you the belief that you could.
But of course you'll always find yourself in some situations where
acquaintances that you met along the way that suddenly feel entitled -- like you owe them something. Like a coach who didn't play a big part in your life but all of the sudden because he coached you before, he's calling you up asking for six signed jerseys and tickets to the playoff final or something. Let's just say you can't please everyone.
Vancouver has big ambitions this season.
I think after a season last year where things didn't go as hoped, having a fresh start has refreshed us. We're all trying to make amends for the last season.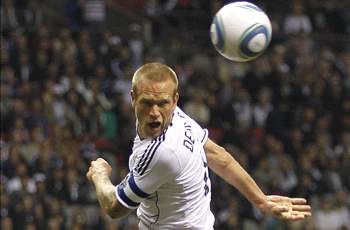 Not that the Whitecaps ownership wasn't ambitious last year, we just weren't consistent enough on all levels. Not necessarily because the players didn't work but maybe the combination didn't work.
Guys didn't play consistently because of injuries. I think last year would have been a lot different as far as the success of the club if key guys had been on the field. To have those key components still here and to build on that with the new additions Sebastien Le Toux, Young-Pyo Lee and Barry Robson is really exciting.
Hopefully, this year we can get the combination right.
There are a lot of rumors about Carlos Bocanegra possibly joining the team,
but I'm pretty sure they're just that: rumors.
I didn't speak with the team about it but I spoke briefly with Carlos. It doesn't sound like he is coming back to MLS, at least at this point. That goes against a lot of speculation that's out there. He did update me on Rangers and their finances. From a players perspective, it seems like all of the wages at Rangers are set so that's not something that they are worrying about right now.
Personally, I'd love to have him here. He's a fantastic player and I've played next to him for many years on the national team. Maybe next year.
People ask me about my thoughts on Jurgen Klinsmann.
It's hard for me to give a full assessment of his leadership so far without being fully involved as a one of his athletes.
What I can say is it's going to take a manager with a world-class pedigree --as a player-- like Klinsmann to try to really transform U.S. soccer. U.S. soccer had been taken as far as it could go with the type of manager who has good experience on a managerial level. What U.S. soccer needs is a manager who has that in addition to the attitude or swagger to get it to the next level. I think it's going to take someone like Jurgen, who has been there, that guys can walk in and look up to and say, "Ok, this is my leader and I want to work for him because I want to do what he did. I want to win World Cups like he did."
That really transforms the mentality of where we are.
The Bob Bradleys and the Bruce Arenas of the world have done a fantastic job in getting the U.S. soccer program to be one of the best in the world, but how are we going to beat the best in the world? Or really be competitive in making finals continuously?
I think it takes someone with experience not only on a managerial level but on a playing level to create a mentality for us to do those types of things. I think Jurgen is the first manager with a chance to do that in the U.S. Whether or not he's capable of doing that is to be seen, but I think he has the leadership qualities to get the team to where they need to be.
There are many factors that go into guys being called up. I have no problem with not being on the national team for the past eight months. All I can do is continue to work hard to be fit and healthy, play well for my club this season, and hope he recognizes it.
Keep on Rising and Shining,
Jay