It was just about the best the LA Galaxy could have hoped for.
Not long after Robbie Keane boarded a plane for a cross-continental journey that would see him play five games in three disparate locations in two weeks, Landon Donovan cancelled his own European plans, much to the relief of the Western Conference champs.
MLS Cup is Major League Soccer's equivalent to the Super Bowl. But while NFL players practice and study film in the two week build-up to their big game, Keane will fly halfway around the world to play in two of the most important matches his Ireland squad has faced in decades. Keane's excellent adventure is a textbook example of some of the unique challenges faced by North America's premier soccer league.
On Monday, Keane flew from Los Angeles to Dublin, a journey of over 5,000 miles. From Dublin, he'll head to Tallinn, Estonia (roughly 1,200 miles) with his Ireland teammates for Friday's first-leg playoff to qualify for Euro 2012. They return to Dublin for the second leg on Tuesday, Nov. 15, and finally, Keane goes back to Los Angeles for MLS Cup on Sunday, Nov. 20.
It should be noted that the 31-year-old forward only just came back from an Adductor injury that kept him out almost a month.
"I have two more games to look forward to with the Republic of Ireland," Keane said after the Galaxy's 3-1 win over Real Salt Lake in the Western Conference final. "That'll be five games in two weeks. It's going to be tough but I'm looking forward to it."
The Galaxy would never expect Keane to turn down his country's call to help qualify for its first major international competition since World Cup 2002. Donovan, on the other hand, was a different story.
Called up rather curiously by U.S. coach Jurgen Klinsmann in the first place, Donovan was set to make his own 5,000-mile jaunt from Los Angeles to Paris for the USA's friendly on Friday against France, before heading back to the States to rejoin his Galaxy teammates in preparation for MLS Cup.
Like Keane, Donovan has only recently returned from injury. Unlike Keane, his trip was highly unnecessary, no matter how much U.S. fans are dying to finally see him and Clint Dempsey on the pitch together on a Klinsmann-coached U.S. side.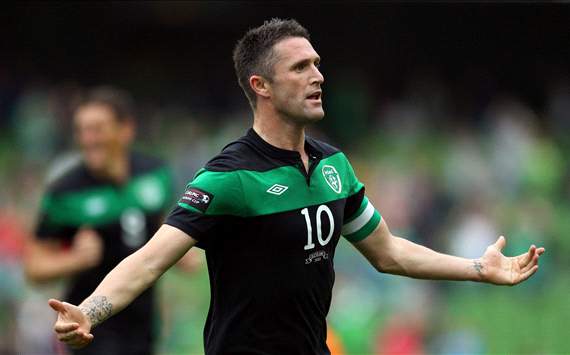 Keane | Looking to help qualify Ireland for its first European Championship finals since 1988
Eventually, Donovan made the right decision in bowing out of the friendly. The predicament faced by the Galaxy though, underscores a larger issue, and a unique challenge to Major League Soccer.
Namely, North America is rather big.
As the league looks to recruit more high-profile talent like Keane, the prospect of extended travel has to weigh heavily on the minds of players coming from the relatively cozy confines of European and South American countries.
In no other league worldwide, save for Australia's A-League, do teams face the prospect of the 2,000-plus mile journeys that coastal teams undertake when heading to the other side of the continent. (The only countries similar in size to the U.S. and Canada are Russia, China, Australia and Brazil. All first-division teams in those leagues are located much closer together, with the exception of the Perth Glory, located on the west coast of Australia).
Keane represents a growing number of MLS players who also play internationally for countries outside of North America. For this contingency, travel within North America only compounds the fatigue experienced when going back and forth to Europe, Africa or South America for international duty.
"It's definitely tiring," Real Salt Lake's Kyle Beckerman said, referring to the intercontinental expeditions he undertakes as a member of the U.S. national team.
"Crossing the country then going across the Atlantic, through different time zones. You definitely get off, your sleeping is off. You sleep when you're usually awake and you're awake when you usually sleep. It takes a lot out of you."
In the English Premier League, the biggest distance between any two teams is 250 miles, which separates Newcastle and Swansea. The Galaxy and Chivas USA travel farther when they face San Jose, which, by the way,
is in their own state
.
Galaxy head coach Bruce Arena knows that Keane, and Chris Birchall – in the Caribbean on international duty for Trinidad and Tobago - aren't in ideal situations for players preparing for the biggest game of the MLS season.
"The travel is difficult for these players. It's long travel, it's trying to get your body adjusted to different time zones, so it's going to be very challenging on any MLS players that are going to be participating in the MLS Cup," Arena said.
With this in mind, it's easy to see why MLS will move to an unbalanced schedule in 2012. The long-rumored change means that unlike the balanced schedule of 2011, MLS teams will have a disproportionate amount of games scheduled against regional opponents.
It's a move that teams on both coasts will surely welcome.
"For me, personally, my first year [in this league], the travel was really hard and different than in Europe," Vancouver Whitecaps midfielder Davide Chiumiento told
mlssoccer.com
last month. "From Vancouver, a lot of games are really far and I'm not used to it, so it was a bit difficult in this first year. So if we can fly a bit less and not as long, personally I would prefer it."
On a conference call Thursday, MLS commissioner Don Garber mentioned the Whitecaps logged over 60,000 miles in travel during the 2011 season, compared with around 5,000 miles an average European team travels in a season.
If the league hopes to attract more talent from overseas like Chumiento, decreasing travel is an intriguing option which could help grease the wheels of a potential transfer.
For Arena and the Galaxy, however, all they can do now is hope Keane and Birchall stay healthy, and be thankful Donovan is staying put.
Follow SETH VERTELNEY on

or shoot him an email