Just 18 months after the Philadelphia Union played their inaugural Major League Soccer match, they will take the field for another first on Sunday, making their MLS playoff debut in the first leg of the Eastern Conference Semifinals against the Houston Dynamo.
On the Union bench will be the man at the center of it all, head coach Peter Nowak. For the 47-year-old former Poland international, the word at the heart of his team's rise is also the word on the front of his team's jersey: Union.
As Nowak puts it, when he was given the keys to Philadelphia's expansion franchise, his job was not only to produce results on the field, but also to "create a culture."
And the kind of culture Nowak has created is one that especially resonates with Philadelphia fans, in its hard-working, whole-is-bigger-than-sum-of-its-parts, no-I-in-team, bring-your-lunchpail attitude.
If Rocky Balboa were a holding midfielder instead of a boxer, he'd play for the Union.
"If you leave everything on the field, that's where the Philadelphia public, the fans, everybody who is around us for the past 20 months, they can feel it, they can sense it, that the team is doing everything in their power to win the game," Nowak said.
Hallmarks of the Union's soccer culture are Nowak's no-nonsense approach, and his and the Union staff's soccer-obsessive lifestyle
"You live 24 hours soccer, you breathe and you live in soccer, you watch the games, you prepare yourself," Nowak said in a line that might as well be framed and hung up all over the Union's locker room and training facility.
To see some of the results of this approach, one only needs to look at the club's current starting lineup, which is dotted with key performers that arrived at the club in unheralded fashion. Like top-scorer Sebastien Le Toux, for example, who was plucked from Seattle after it left him unprotected in the expansion draft.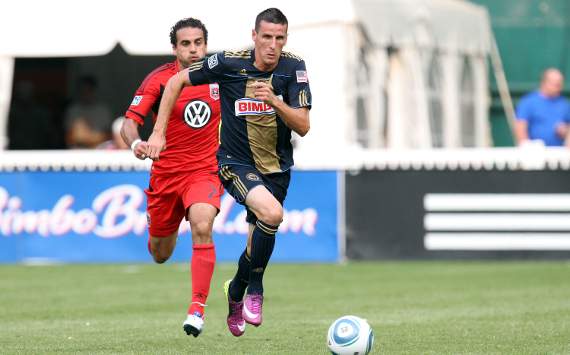 Le Toux | Has scored 25 goals in two seasons with Philadelphia
Midfielders Brian Carroll and Justin Mapp were acquired for combinations of allocation money and low draft picks. Defender Sheanon Williams, a former U.S. youth international, was in the wilderness of the United States' lower divisions before the Union signed him and he became one of the league's best right backs. His opposite number, left back Gabriel Farfan, was acquired in much the same fashion.
It's only fitting that the Union are one of just three of 10 MLS playoff teams – along with Kansas City and Colorado – to not employ the services of a Designated Player.
"I don't necessarily believe that one piece for 10 million dollars will change the team," Nowak said.
A textbook example of the Nowak standard can be seen in the tenure of Carlos Ruiz, an undeniably talented, but notoriously prickly character who's compiled a laundry list of clubs over his 15-year career.
Ruiz gave the Union what they needed in a proven goalscorer at the beginning of this season. He lasted all of five months before being shipped out of town.
If you don't buy in, you're going to be out.
"I recognize that it's not easy working with me and the coaching staff, because we demand a lot," Nowak said.
That Nowak is a coach who runs a tight ship is an undeniable fact, but then again, so are the results he's produced in Philadelphia.
After a competitive, but ultimately frustrating inaugural MLS season in 2010 which saw his club concede 49 goals - good for second-worst in the league - Nowak's side turned that record on its head in 2011, conceding just 36 goals for the league's second-best defensive record, and finishing third in the nine-team Eastern Conference.
"It was a good process for us to see how we needed to improve the team," Nowak said of the 2010 season.
First and foremost, the Union's leaky defense needed to be shored up, and two key offseason signings sparked the turnaround: Goalkeeper Faryd Mondragon and center back Carlos Valdes, who've slotted into a backline featuring former U.S. national team center back Danny Califf, and the aforementioned Farfan/Williams outside-back pairing.
"We all come from different parts and different teams and we created a culture that allowed us to be in the position we are," Nowak said.
It's a position that's bound to test the Union, as the Dynamo come into the two-leg series with momentum and experience on their side, having won four of five matches and facing the league's youngest team in Philadelphia.
Much of the Union's playoff experience comes from their coach, who won the 1998 MLS Cup as a player with the expansion Chicago Fire. Nowak says he'll instill upon his side the zen-like philosophy of "being simple, being efficient, being effective."
Nowak's culture has helped transform the Union from expansion also-ran to Eastern Conference power in just two seasons. Soon, we'll find out if it can make them an MLS Cup champion as well.
Follow SETH VERTELNEY on

or shoot him an email