KANSAS CITY, Kan. – Selling soccer in Kansas City isn't the easiest task in the world.
The locale provides the initial hurdle. Although residents on both sides of the border know that their region has plenty to offer outside of delectable barbeque joints and reasonable living costs, Kansas City doesn't necessarily carry the cachet of places like Los Angeles, New York and Toronto. Many foreign players haven't heard of it and many domestic players would rather skip it for a spot on either coast.
The difficulty of the pitch increases substantially when soccer is thrown into the mix. Kansas City cherishes its Chiefs, hopes its Royals might show a pulse sooner or later and picks sides when the Border War breaks out between Kansas and Missouri. Soccer – and, specifically, MLS – has yet to carve out a niche here as it has in Portland, Salt Lake City, Seattle and Vancouver.
Give the five ambitious and innovative owners of Sporting Club – the parent company that serves as the investor/operator for Sporting Kansas City – credit for comprehending and tackling the issue without reservation: they assessed the dynamic of their market and devised a way to change the calculus and potentially shift the thought process.
The proposed solution came in two steps: rebranding the club and opening LIVESTRONG Sporting Park to entice businesses, fans and players to it.
For a club without a permanent home, the stadium stands out as the most vital step forward. By any criteria used to measure soccer stadiums around the world, the state-of-the-art, $200 million facility in Kansas City, Kan. meets the world-class standard. Sporting Club spared no expense to tailor this venue to meet the needs of all three of its constituencies.
The amenities offered to players should rocket Kansas City up the list of enticing destinations within MLS and serve as a much-needed recruiting tool for the club and the market.
The enticing package starts with a palatial home locker room with several spaces designed to cater to the team's needs before, during and after the game. No corners exist in the locker room – a design feature nicked from Emirates Stadium to inspire a collective spirit within the squad, according to an informative tour guide yesterday – but it does boast cutting-edge technology to allow players to break down game film on iPads and permit the technical staff to pull highlights and supplement those plays with their own Xs and Os on the massive smartboard. Sporting players also consume specially designed recovery shakes, cool down (or heat up) in two whirlpools after matches, loiter in a pair of fashionably designed spaces and receive treatment in a training room larger than most MLS locker rooms.
(Note: Need proof of Sporting Club's desire to pamper its players? Each player sits in a $4,000 chair at his locker.)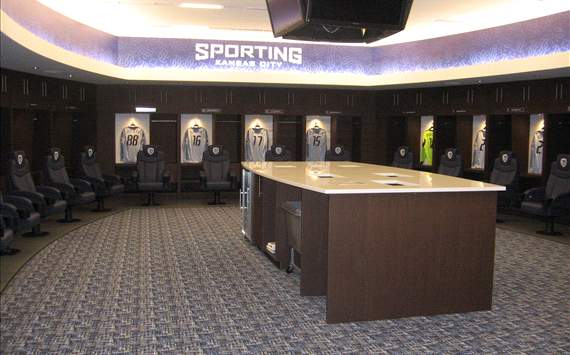 In addition to those creature comforts, the playing surface meets the highest standard: 120 x 75 yards with specially cultivated grass and a roof designed to keep it in the proper condition. It isn't necessarily easy to maintain a grass field in the searing Kansas sun during the middle of summer, but the club has taken all possible precautions to do so.
Fans can view that pristine surface from a variety of different viewpoints. Sporting Club limited seats in the corners – a study had found that MLS fans found them less desirable – to improve the overall experience, offered up protection from the elements with a roof that rings around the stadium and spurned the idea of a permanently exposed stage. Hardcore supporters assemble in their own bench-style seating, benefit from ticket price breaks and lounge in a club space to foster a sense of community within the club.
Well-heeled fans can purchase a spot in several different types of suite spaces at a significantly higher dollar amount. The high-roller fans can set up shop in field-level seats and watch the players file out onto the field, while more business-minded folk can pick from communal- or traditional-style suite options to network with others from around the region and wine and dine potential clients. Like the supporters in the stands, the business-oriented clientele can select the best option from different price points and use the stadium for more than 90 minutes of soccer and the occasional concert.
(Note: One jaunt through the various suites explains exactly why the Kansas City Wizards moniker had to go. This team needed an accessible and polished identity – even more than it needed a new stadium – to sell the brand and the ethos Sporting Club wanted to develop. And that statement says a lot considering the club spent the last three years playing in a cramped, independent-league bandbox it didn't own.)
All of these well-conceived amenities comprise perhaps the best recruiting tool outside of the major cities and the special case in Seattle. The landscape isn't perfect – the parking situation is a bit of a nightmare and Kansas City, Kan. isn't Kansas City, Mo. even if the stadium is located in the middle of a few highways, a large retail complex and a speedway – but Sporting Club went above and beyond the established MLS standard to carefully craft its home. LIVESTRONG Sporting Park is nothing short of a statement of intent to develop the brand and the club into one of the league's strongest members.
It still isn't straightforward to sell Kansas City as a destination or as a soccer hotbed to skeptics unwise to its charms, but the ambition showed by Sporting Club's investors and this gleaming new stadium should make the job considerably easier as the years progress.
Five Points – Week 20
1. A rare blip in an otherwise exemplary year for Nowak: Philadelphia manager Peter Nowak hadn't really put a foot wrong this year – the Union sits in second place after entering the year with modest expectations and despite its sometimes sketchy attacking production – until he decided to take the supporters to task for Carlos Ruiz's impending departure.
"We never had a problem finishing those chances with Carlos Ruiz," Nowak said after his side lost 2-1 to Colorado on Friday night. "We missed him greatly today, not only today but also in the (games) we've played without him. Whatever you (reporters) have said, whatever fans were pre-biased toward him, I think we were all getting tired of that after seeing what Carlos was bringing to the table."
It isn't usually wise to snipe at one of the more robust fanbases in the league. It makes even less sense when the diatribe only serves to obscure the competitive reasons why the Union plans to hawk an expensive ($306,670 in guaranteed compensation, according to MLS Players Union documents) and modestly productive (a haul of six goals tempered by his ill-fitting place in a team filled with quick slashers that combine well) forward for a transfer fee after signing him for free from Aris (Greece) in February.
2. Columbus exposes Real Salt Lake's defense en route to shocking victory at Rio Tinto Stadium: RSL coach Jason Kreis heaps responsibility on his fullbacks with the Claret-and-Cobalt's tactical approach – narrow through the diamond midfield, though usually with some defensive help in the wide areas – and the trio of regulars (Tony Beltran, Robbie Russell and Chris Wingert) usually carries it with aplomb. Crew wingers Eddie Gaven and Robbie Rogers made sure Saturday night's 2-0 victory in Utah counted as an exception to the rule.
Rogers knifed in behind Russell and pulled Chris Schuler out of position to collect a throw-in before delivering his cross on a platter for the unmarked Gaven – Wingert pulled inside to compensate after Schuler missed a tackle the injured Jamison Olave (out 2-4 weeks with a strained left MCL suffered in the MLS All-Star Game on Wednesday) probably would have made – to slot home at the far post to give the Crew a lead after just five minutes.
Tommy Heinemann doubled the lead five minutes later after another uncharacteristic breakdown. Rogers skinned Russell on the left flank before serving another enticing ball into the penalty area. Heinemann rose over Wingert at the far post to nod home the dream second and just about salt away a victory for a visiting side that has conceded two or more goals on just four occasions this season.
Two further notes worth mentioning: (1) Both Columbus goals started with RSL conceding possession a bit more easily than usual through poor and so-so clearances, respectively; and (2) the Crew scored a third of its total first-half haul on the season (six goals) in the first 45 minutes in Sandy.
3. Could a player traded twice in one season actually mount a MVP run?: D.C. United midfielder Dwayne De Rosario scored twice to hand United a 2-0 victory at San Jose and sustain his irresistible run of form (three goals in five matches) since joining Ben Olsen's side. De Rosario does not yet possess the credentials (six goals and six assists in 20 combined games) to mount a serious case to a statistically-inclined group of voters, but the problems encountered by Toronto FC and New York after his departure from both clubs could provide an intriguing, albeit somewhat flawed, supplement to his claims if he continues to produce for United during the second half of the campaign.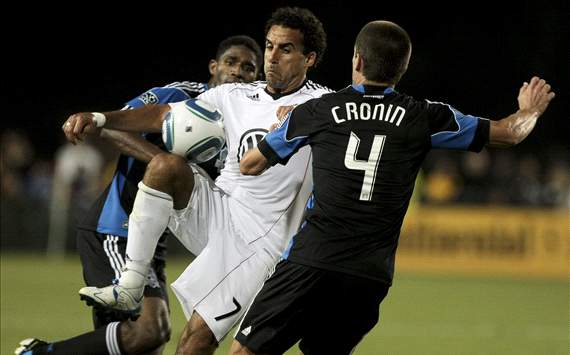 4. Forget about the so-called fortress in the Rose City: Toronto FC scored twice in the final 20 minutes to condemn Portland to a sixth straight match without a win at JELD-WEN Field (0-4-2) after a wild 2-2 draw on Saturday night.
5. The most underrated component of a very good team: FC Dallas posted its eighth shutout in its past nine home matches by blanking Chivas USA, 1-0, on a scorching Sunday night in Frisco. In the eight total games played since the calamitous exception to that home resolve (a 4-1 home defeat to Sporting Kansas City on June 12), FCD has conceded just five times.
Kyle McCarthy writes the Monday MLS Breakdown and frequently writes opinion pieces during the week for Goal.com. He also covers the New England Revolution for the Boston Herald and MLSsoccer.com. Contact him with your questions or comments at
kyle.mccarthy@goal.com
and follow him on Twitter by clicking
here
.