Independence Day weekend is about more than cold beverages and hot dogs.
The introduction to summer offers a long weekend's worth of time to rest and reflect upon the first six months of the year and prepare for the remainder of the year.

Most people in the United States will celebrate with fireworks and parades today, but the Breakdown will commemorate this celebration of freedom by reflecting on the efforts of each MLS side with a half season in the books.
It might not taste quite like apple pie or ice cream, but it should provide some context as each side prepares for the stretch run.
Top of the Pops
Los Angeles, FC Dallas, Real Salt Lake
All three sides have established their MLS Cup bona fides during the first half of the campaign. … Los Angeles knows how to win in the regular season – no club churns out results more reliably – but will all of its pieces hold up through the playoffs? … David Ferreira's absence should have killed FC Dallas' chances, but Schellas Hyndman has done a masterful job of keeping his speedy and talented group near the top of the Western Conference table. … It took Real Salt Lake a while to overcome its twin setbacks – losing the CONCACAF Champions League final to Monterrey in April and then watching Javier Morales suffer a broken ankle in May – earlier this year, but Jason Kreis' side has too much experience and has too many games in hand (three on the Galaxy and two on FCD after tonight's home date with New England) to not end up there or thereabouts by the end of the season.
Eastern powers, but are they Cup contenders?
New York, Philadelphia
At this point, both of these sides look odds-on to finish at the top of the Eastern Conference table. How far they will go in the playoffs will hinge on several factors. … New York possesses far more talent than its uneven start to the season suggests. Hans Backe should get matters sorted out on the field, but the Red Bulls probably need to sign a player between the sticks to mount a MLS Cup run. … Peter Nowak may just edge out Hyndman for the mid-season coach of the year gong by leading Philadelphia to the top of the East by July 4. Will the Union score enough against the better sides in the league to compete in the playoffs?
A piece here, a piece there
Seattle
Sigi Schmid found himself under pressure a month or two ago, but Sounders FC ripped off a six-match unbeaten streak to quell those rumors. It may take another player or two – a defender (either a left back or a center back) and a forward, perhaps – to make a concerted run during the second half.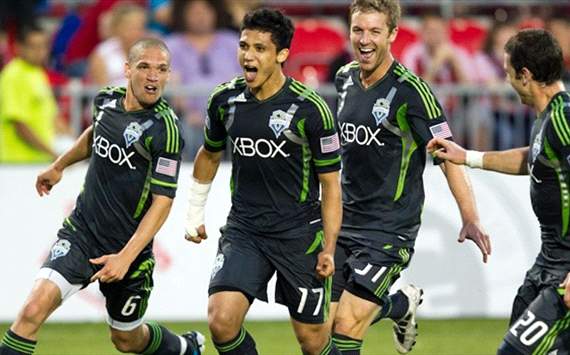 Coming up on the rail
Sporting Kansas City
Give Peter Vermes' side credit: it somehow managed to stay alive long enough to open LIVESTRONG Sporting Park in decent shape. An eight-match unbeaten run – including crucial away draws at Colorado and Toronto FC before the new palace opened – has placed Sporting in an enviable position heading into the second half. If Sporting cannot cobble together a series of results with 14 of its remaining 18 games at home, then it does not deserve a playoff berth.
Too tattered to tell
Colorado
Gary Smith has juggled his charges admirably during an injury-ravaged campaign to date. The key figures – especially the vital Omar Cummings – are starting to return to health. If the Rapids can find their stride, they should canter into the postseason and pose a serious threat to defend their crown.
Sending their thanks to the Board of Governors
Columbus, D.C. United, Houston, San Jose
The two extra playoff berths should keep all four of these teams in the thick of the playoff chase if current results hold. … Columbus can't engineer consistent performances from week-to-week, but it may just have enough in the tank to make its extra four points count at the end of the campaign. … Dwayne De Rosario's presence should keep D.C. United in the mix until the very end if that inexperienced back line holds up with Brandon McDonald to lend some extra steel in central defense. … Houston needs to do exactly what it hasn't been able to do in recent seasons: bring in quality reinforcements from abroad. … San Jose needs to bolster its right flank – Omar Daley, anyone? – to allow Chris Wondolowski to slide into a more advanced position.
Sorting through the mess
Chicago, Chivas USA, New England, Portland

A playoff push isn't out of the question for these four sides, but it may take a significant reversal of fortune in order to make it happen. … Frank Klopas has improved Chicago since he took over the Fire on an interim basis, but it remains to be seen whether his side possesses enough quality to turn all of those draws into victories. … The rebuilding effort is well and truly underway at Chivas USA. Another attacking piece or two and a central defender will push it even further forward. … New England has fallen into the Eastern basement after a barren stretch. It remains to be seen whether the Revs boast the necessary pieces – or plan to acquire them – to reverse their currently miserable situation. … Portland has cobbled together a nice expansion season, but the Timbers' inability to produce results on the road or retain possession when required may hamper its playoff chances.
North of the border, south in the standings
Toronto FC, Vancouver
Both Canadian sides will likely end up in the lower rungs of the table despite their best efforts to avoid such a fate. … Toronto FC signed Torsten Frings and Danny Koevermans to add some top-end quality, but the Reds need several upgrades across the park – particularly in central defense – in order to compete. … Vancouver needs several reinforcements as well, but it possesses more building blocks with the likes of Davide Chiumiento, Jay DeMerit and Eric Hassli already in the fold.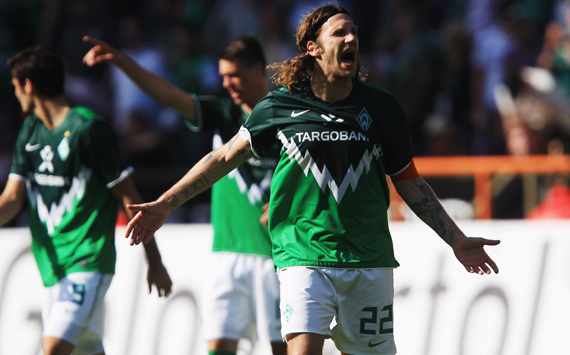 Five Points – Week 16
1. Independence Day weekend stands out as a potential boon for MLS: National television networks picked up three matches on Saturday (one each by FOX Soccer, Galavision and ESPN2), two on Monday (a doubleheader on ESPN2) and one on Sunday (one by ESPN2). While there are some downsides to the congested schedule (Colorado and Houston submitted a dud in Sunday night's 0-0 draw, while ESPN/ESPN2 aired 18 percent of its regular season slate in this one weekend), the positives of establishing a significant presence during the fairly open Independence Day weekend should serve as an inspiration for a similar approach in the future.
2. Oduro's honesty reveals untapped potential: "I want to say that I'm really disappointed in myself," Chicago forward Dominic Oduro told MLSsoccer.com after he scored once and spurned two further chances during the first half of the Fire's 1-1 draw at Chivas USA on Sunday night. "I created a lot of chances and I probably could've done more in terms of putting balls in the back of the net."
That quote essentially explains Oduro's career to date. If 25-year-old Oduro could ally a more predatory final touch with his blistering pace, he would ply his trade in Europe somewhere rather than for a draw-happy Chicago side.
3. San Jose's poor passing ultimately leads to uneven performance against New York: Place the 2-2 draw between San Jose and New York right into the topsy-turvy category. All things being equal, the Red Bulls probably should have put the game out of sight by halftime. Dax McCarty's influence in central midfield really perked up the Red Bulls' possession game, while the Earthquakes submitted a a very poor opening stanza. San Jose responded a bit in the second half by finding more success with its direct and streamlined approach, but it can't really have too many qualms about dropping two points at the end given its shoddy work in possession.
In order for San Jose to cement a playoff berth and challenge for a spot near the top of the West, it must improve its passing proficiency – the Earthquakes completed just 67% of their passes on the evening and the difference between the home side and the tidy visitors (78%) proved quite stark indeed – to find another way through when the direct route to Steven Lenhart falters.
4. Nagbe continues the trend of stunning goals with his classy volley: Darlington Nagbe waited 12 matches for his first goal, but he made his initial effort count in Portland's 2-1 home defeat to Sporting Kansas City. Nagbe found himself on the end of a Jimmy Nielsen punch at the edge of the Sporting penalty area and kept it in the air with a deft first touch, hit it with a second touch to put it in the right spot and then unleashed a thunderous volley into the the upper left corner with his third touch. "It's absolutely brilliant," gasped Timbers play-by-play voice John Strong. Not a soul could disagree after watching the replay.

5. Pair of intriguing games closes out holiday weekend: Real Salt Lake will retire Jason Kreis' number nine shirt as it welcomes New England to Rio Tinto Stadium, while Los Angeles hosts Seattle in a upper-crust Western Conference clash at the Home Depot Center.
Kyle McCarthy writes the Monday MLS Breakdown and frequently writes opinion pieces during the week for Goal.com. He also covers the New England Revolution for the Boston Herald and MLSsoccer.com. Contact him with your questions or comments at
kyle.mccarthy@goal.com
and follow him on Twitter


Follow Goal.com on

to get the latest soccer news directly. Check out Goal.com's

page; be part of the best soccer fan community in the world!