Exclusive
With his performance to start this year's Major League Soccer season, D.C. United forward Charlie Davies believes that if he continues to improve at his current pace - which he expects - the competitive player in him would like to return to Europe in the future.
"You are playing in Europe and that is a big deal. That would be ideal for me personally [to return to Europe] if I get back to the level I want to be at and I think that would be the best move for me to go back to Europe," says Davies told
Goal.com
.
Davies, who will start United's MLS game against Los Angeles Galaxy on Friday, has been impressive to his debut MLS season. Before he picked up the hamstring injury against the Colorado Rapids at home on, he had scored six goals to lead the league in scoring at that time.
He is excited to be back playing soccer. It shows and he is taking it one day at a time. His return after a ghastly accident in October 2009 has been miraculous. Ironically the accident was in Washington D.C. on the George Washington Parkway and this season he stars for the storied MLS franchise from the nation's capital.
The scars from the accident are visible on his head. He is not shy about them, but rather embraces it. Davies realizes it only makes him a better person and player. That's why the hamstring injury was disappointing but not a major setback.
Before he returned to competitive soccer with United, Davies had to go through rehabilitation and rejection from both club and country; his parent club Sochaux had no room for him and did not clear him for the 2010 World Cup and U.S. head coach Bob Bradley didn't want to take a risk in selecting him.
Davies admits that he was not at the level where he should be to make the team, but he knew from the moment he got out of hospital he would return to the game.
"I knew mentally that I would eventually play the game. There is no way I would end from the sport I played like this," Davies said referring to his accident.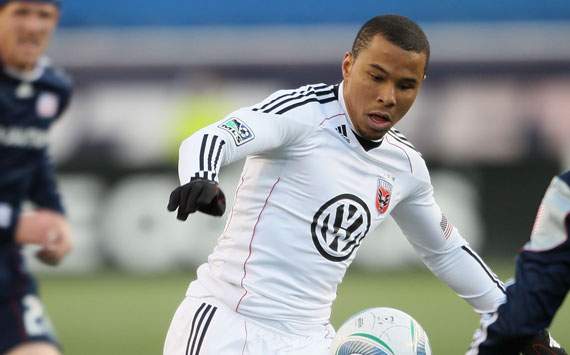 In Rare Form | Coming off a major set of injuries, Davies has scored six goals in eight games.
He wanted to get back to the quick, speedy forward American fans remembered; that same guy that started the tormenting of Egypt in the 2009 Confederations Cup. That return started when United gave him the chance he needed.
"In all seriousness, when I was back on the field playing, back in May [for United] is when it all clicked that I would at least get back to my previous level," He says.
He didn't expect to be playing for United but is glad he is playing under coach Ben Olsen and the team took him in.
"I'm extremely happy with D.C. United. To be serious, they brought me back to be the player that I want to be," Davies said. "They took a chance on me which a lot of teams were not sure coming back from an accident and the injuries that I had."
His United teammates and the organization have helped in his improvement. The club has given him the confidence he needs, so the tears on opening day against Columbus Crew were not for television. They were genuine.
His goals for this season are to score in double digits and to help United get to MLS Cup. He believes it is possible in his first season.
"Can I get better? Yes. That what I have to continue to do and help my teammates here win games," he said.
Teammates Dax McCarty and Santino Quaranta are not surprised with his recovery, but both have varying impressions on Davies quick return to the game and the way he has played in MLS if only just the beginning of the season.
"Seeing what he's been through its tough, I would have said not six goals in eight games," Quaranta said about Davies' performance so far in the league. "It's tough to score, I knew Charlie was going to come back and be great but I didn't think he would score as many goals as he has so far."
McCarty, the team captain, is not as surprised as his teammate though.
"I'm a little bit surprised that Charlie has adapted to the league so quickly. It's a very a physical and difficult league to come into for new players," McCarty said. "But I'm also not surprised at all that he's been able to put goals in the back of the net. He's always had a tremendous drive and fire about him and you can just tell from the first day you met him."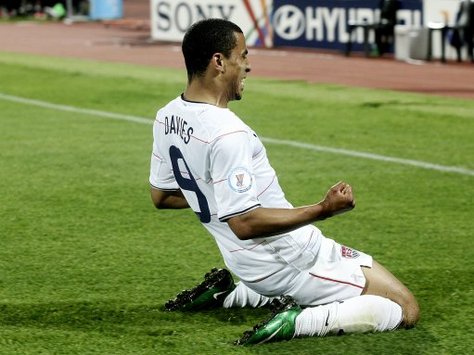 Returning To Glory | Davies hopes his MLS form brings him to back to France and USMNT
McCarty and Quaranta were the only players he truly knew on United when he arrived in Florida for preseason. They had all played on the national team before.
With his performance for United, no wonder he was excited that U.S. men's national team coach Bob Bradley was in the stands for his home game against the MLS champions from Colorado before the injury. But his positive approach after the accident displayed a renewed spirit in the player that says he is ready to play for the national team again.
"It was extremely disappointing. Of course I've had a few disappointments in the past couple of years. It didn't really affect me because I know that these things happen and everything that I've gone through I can't let this derail me from my improvements and steady progress," he says. "It was extremely difficult to handle at the time but in the grand scheme of things it's not that big of a deal if I continue to improve."
He wants to get back to the national team sooner than later, but that time will come. He notes he is not where he wants to be. He feels like he's gained everything he lost after the accident and he is happy with that development.
"I just have to keep progressing and eventually I will be better than I was before the accident," he says.
At the moment he sees himself with United, but Sochaux is obviously a call away. His parent club finished fifth in the French Ligue 1 and it will be playing in the Europa League playoff stage next season. Though current coach Francis Gillot has confirmed to be on the way out, Davies still has two years left on his contract. Sochaux has been watching his progress also.
"A lot of my teammates were calling me and messaging me saying how happy they were for me and that they were happy that I'm back and that I looked really good," he says. "That meant a lot to me. I know that all the coaches and manager there are also aware of how well I've done here and how I continue to get better. That's a good thing."
As respect to the league that he plays in currently and his teammates, Davies appreciates where he is with United. Yet, competitive players always have an itch to play in the best place in the world. Which player would not? At some point - if he hasn't already - he has to come to grips that his goal will be returning to France.
"That's a tough question. I'm a very competitive guy. That's like asking a question would you rather play in Champions league or would you rather play in an All-Star game," he says.
His United teammates would rather keep him but would not want to stop his growth.
"If it was up to me I'd definitely keep Charlie at DC for as long as possible, McCarty said. "But obviously Charlie has goals and dreams of his own and he started out in Europe and I'm sure eventually he would want to go back to Europe."
Follow Sulaiman Folarin on Twitter @sulaiman4real