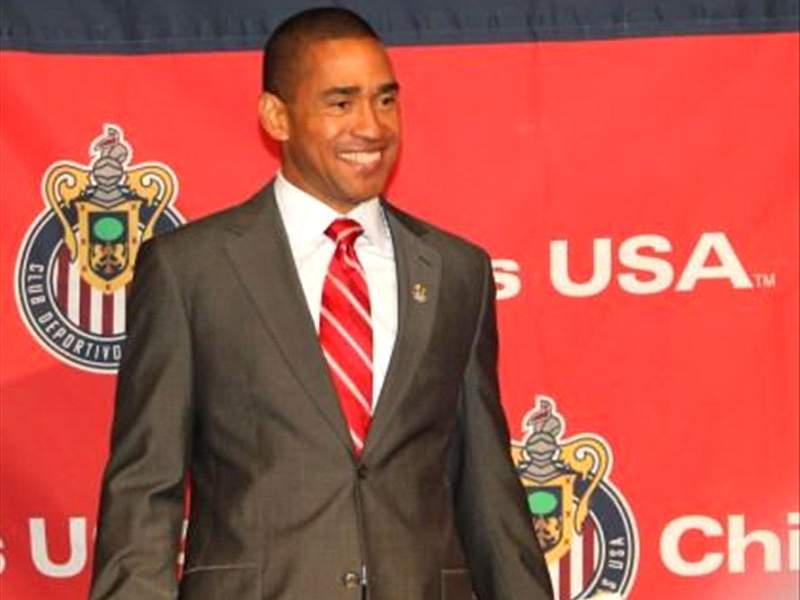 The Los Angeles Galaxy continued their dominance over crosstown rivals Chivas USA with a 1-0 victory Saturday in the SuperClasico at the Home Depot Center. Chivas had come in on a hot streak, with three wins out of its last four games, but a first half goal from Chad Barrett meant another defeat to its crosstown rivals. The loss extended Chivas's win-less streak versus the Galaxy to nine games, a streak dating back to 2007.
Chivas head coach Robin Fraser pointed to his team's inability to retain possession as a key factor in the loss.
"We need to possess the ball better and not turn it over as much," Fraser said. "When you turn the ball over, you put yourself under pressure, and a fair number of their dangerous opportunities in the first half came off our turnovers. At the end of the day, I think our lack of ability to possess was our undoing."
After going down in the first half, Fraser commended his players' effort in the second.
"In the second half we came out with a lot of spirit and we were a bit more on the front foot," he said. "I think certainly the effort and battling back and creating a few decent chances, it speaks volumes to the character of this team."
Chivas striker Alejandro Moreno rued a poor first half by his team.
"It was disappointing that we couldn't keep the ball in our attacking end during the first 45 minutes," Moreno said. "We take a goal on a set piece, that's always disappointing. It's just a lack of concentration at a key moment in the game.
"Second half we were a little bit better, our attitude was a little bit better on the field, and I think it showed, but it wasn't enough to get a result tonight," Moreno continued. "We have to be more consistent with our play throughout 90 minutes. What has made us successful over the course of the last month, month and a half, has been our consistency and our continuity throughout 90 minutes. Today was not an example of that."
Meanwhile, Galaxy head coach Bruce Arena celebrated a hard-fought victory and three points on a night when he said his team was not at its best.
"If it's a one goal difference in our favor, I'm going to take it every time," Arena said.
When asked if he had been worried about Chivas's strikers getting behind his defense, Arena said he wasn't and unwittingly echoed Fraser's comments about Chivas's problems with possession.
"The issue is were they going to be good enough putting together some passes and holding the ball up, being able to continually threaten us. I'm not sure they were able to accomplish that tonight," Arena said. "But our guys did a good job."
Both players and coaches downplayed the significance of the rivalry between the two clubs, which share The Home Depot Center.
"Three points is three points," said Galaxy striker Juan Pablo Angel. "At the end it was good to win this game, because derbies are important for the fans, for the confidence of the team and we got the job done today."
Chivas' manager echoed Angel.
"As far as the history of the rivalry, that's fairly irrelevant I think," Chivas coach Fraser said. "I think it's just about year by year, team by team."
After calling the game "another three points," Galaxy midfielder David Beckham called the game "important for the team, for the organization to show we're not messing around. We're serious about winning games and improving, and I think we did that."
Beckham also lauded the play of the goalscorer, Chad Barrett.
"I think tonight's definitely the best game Chad's had in a Galaxy shirt," Beckham said. "He's been good the last few games, getting in good goal scoring opportunities. He did the same tonight. But I think his all-around play tonight was exceptional, and it's fitting that he got the winning goal."
Keep updated with Major League Soccer by visiting Goal.com's MLS page and joining Goal.com's

page.