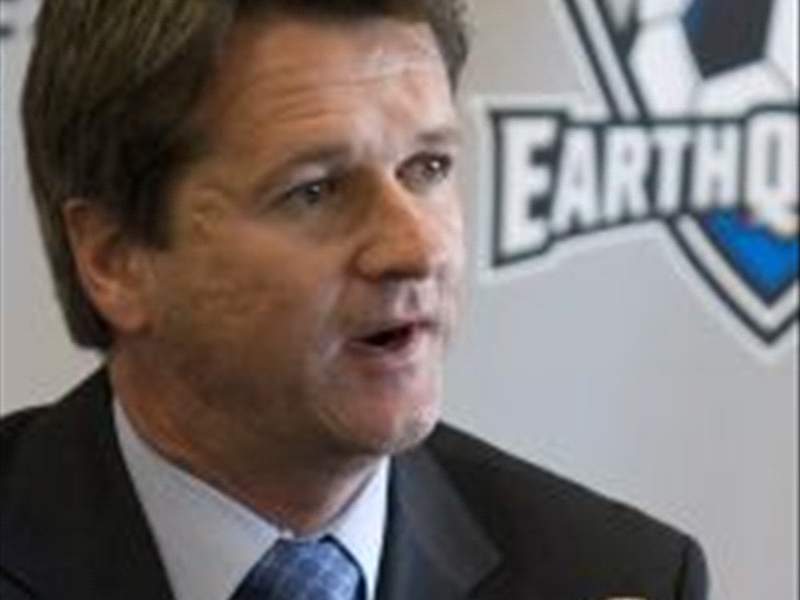 SANTA CLARA, Calif. -- The San Jose Earthquakes have rumbled to life in the past few weeks, collecting seven points out of the last available nine in MLS play and collecting a win in the U.S. Open Cup over Portland. While a switch from a 4-3-3 formation to a 4-4-2 in large part precipitated this turnaround, the tactical tweaks made by head coach Frank Yallop have allowed him to get the most out of his strike pair of Steven Lenhart and Chris Wondolowski.
In tonight's case, Yallop had the team's top scorer, Wondolowski, sit deeper than normal, turning the formation at times into a 4-4-1-1. While Wondolowski had fewer shots than he has enjoyed in previous games, he was able to put more pressure on the Revolution midfield and distribute more to his teammates.
"We dropped him back a bit because of the three in midfield. So I said once the ball goes beyond Lenny [Steven Lenhart] and Wondo, for him to try and drop down on the furthest defensive center midfielder they had, because they mixed it up," Yallop explained. "Whoever was there Wondo just tried to jump down a little bit, just to make the numbers up a little bit and when we won the ball, try to just break and run from there."
Wondolowski was also pleased to have more freedom to operate away from New England's strong center back pairing of Ryan Cochrane and A.J. Soares. He said of his withdrawn role, "It helps my game, I don't have two big center backs right up my back. It allows me to kind of find a little space underneath."
Wondolowski's creative influence was also visible in the team's opening goal, as he cut back on the right flank to deliver a sweeping cross in that missed Lenhart but found the diving Ellis McLoughlin, who made no mistake with his header.
"[Wondolowski] made a great run for the goal, terrific service and good players find spaces and do good things," said Yallop.
Another key to the Earthquakes' new-found offensive production has been the gradual rise of Steven Lenhart to full fitness. In the wins over Columbus and New England, Lenhart showed an uncanny ability to draw defenders onto him and win fouls, a trait that has helped the Earthquakes score each of the past five goals in league play.
"When you have a guy like Lenhart up there who can win those balls and knock them down to you, it creates a little more time and space for me and also allows me to make runs deeper into the box, which allows me to free up," Wondolowski said of Lenhart's play. "I didn't get a lot of crosses today, but we sure created some good opportunities."
On Saturday night, Lenhart was able to draw Kevin Alston away from the onrushing McLoughlin, allowing the former Hertha Berlin man to net his first MLS goal. Four minutes later, Lenhart earned the foul that set up Bobby Convey's winning free kick.
"That's his play," Yallop explained. "We had a chance to get him [from Columbus] and we decided we definitely wanted to get him once he'd come up and we pushed for it."
So far, the decision to trade a first round draft pick for Lenhart has proven fruitful, now that the burly striker has returned to the field of play after dealing with injury and off the field issues in the early stages of the season. While Lenhart undoubtedly has the soccer ability to allow him to succeed at the MLS level, Yallop also pointed out many of the character traits that allow Lenhart to play the role he does for his new team.
"Steven's got all these traits and good habits that kind of have nothing to do with soccer," Yallop explained. "They're about being a really honest person, works hard, tries to do the right things for the team. And he would be good in any sport, but he's talented in soccer and I think that his heart is huge and he tries every play and it's great to have him on the team."
Over the past few years, the Earthquakes have developed a reputation as a team that usually plays with plenty of heart and have continued to show that same quality in overcoming a less than ideal start of the season. Coupled with clever coaching, the Earthquakes have come into their own and look set to continue their climb up the Western Conference standings.
You can follow Nick Rosano on Twitter for more Earthquakes and MLS chatter @nicholasrosano.
Keep updated with Major League Soccer by visiting Goal.com's MLS page and joining Goal.com's

page.