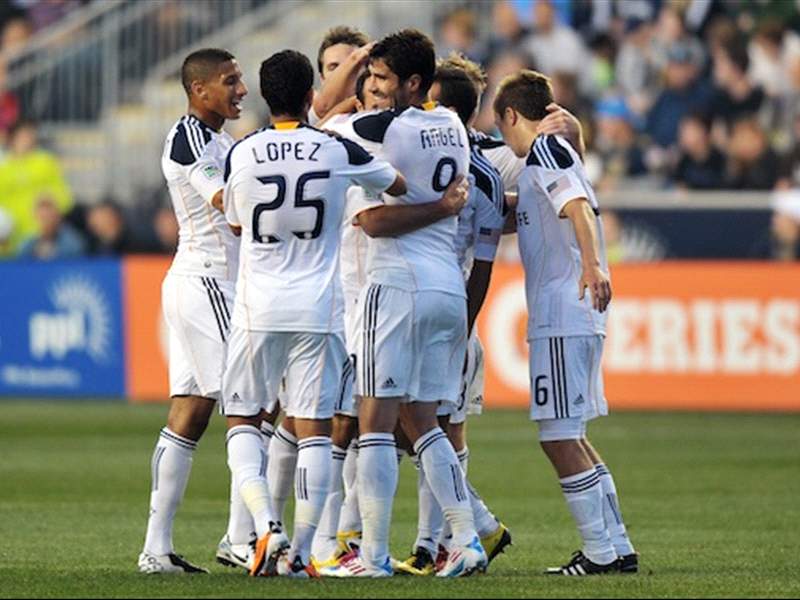 1. Los Angeles – While U.S. national team coach Bob Bradley didn't see what he hoped to see in Washington this weekend, he must be thrilled to watch the fire burning within Landon Donovan over the past few weeks. (3)
2. Real Salt Lake – Even the Claret-and-Cobalt needs a week or two to adjust to the loss of Javier Morales. (1)

3. New York – The Chivas USA hiccup could provide a useful wake-up call for the Eastern Conference champions-in-waiting. (2)
4. FC Dallas – Interest in the Ewing Theory has somewhat unexpectedly picked up over the past few weeks in Frisco. (9)

5. Seattle – If Sounders FC played as well as its fans made tifos, then Sigi Schmid's side would already have cinched MLS Cup. (5)

6. Colorado – Conor Casey's return off the pine in Saturday's 1-1 draw with D.C. United means better days are ahead for the Rapids. (6)
7. Philadelphia – Former Atlético Madrid striker Veljko Paunović turned out in the Union's 1-0 reserve defeat to D.C. United on Saturday. Paunović turned down a contract offer from New York in 2009 before apparently putting his career in mothballs. Is it fair to say there are some attacking concerns in Chester these days? (4)
8. Portland – No surprise that a set piece led to the Timbers' hard-earned draw in Seattle. (10)
9. Chivas USA – If only Justin Braun could replicate vast swaths of Sunday's performance on a week-to-week basis. (11)
10. Columbus – Do you think Steven Lenhart sent Robert Warzycha a message on Saturday night? (7)

11. Houston – A point at Rio Tinto Stadium means a job well done, but the Dynamo's surge appears over for the moment. (8)

12. New England – Well, the Revs did get three points, right? (12)
13. San Jose – Don't call it a comeback. Just dub it a nice resurgence that requires another few consistent efforts to continue the Earthquakes' climb up the Western Conference table. (18)
14. D.C. United – How exactly will United score goals with Charlie Davies hamstrung and Josh Wolff sidelined with a groin injury? (13)

15. Chicago – Picking up a point on the road counts as a bonus... (14)

16. Toronto FC – ...but how can a home team let a two-goal lead slip against the Fire? (15)
17. Vancouver – Kudos for a gritty performance by the reserves in New England, but the laudable effort does not alter the fact that the Whitecaps haven't won since opening day. (16)
18. Sporting Kansas City – Road stretch or no road stretch, it's time to do something about that ramshackle back four. (17)
Kyle McCarthy writes the Monday MLS Breakdown and frequently writes opinion pieces during the week for Goal.com. He also covers the New England Revolution for the Boston Herald and MLSsoccer.com. Contact him with your questions or comments at kyle.mccarthy@goal.comand follow him on Twitter by clicking here.
Follow Goal.com on

to get the latest soccer news directly. Check out Goal.com's

page; be part of the best soccer fan community in the world!