Goalkeeper:
Donovan Ricketts, Los Angeles Galaxy: While the Galaxy won 3-0, the big Jamaican also made three highlight-reel saves to keep the clean sheet and prevent any hope of a comeback from Portland.
Defenders:
Jan Gunnar Solli, New York Red Bulls: Solli put in a simply masterful performance for New York at D.C. United. He combined very well with Dane Richards up the right flank and terrorized United left back Mark Burch, notching three assists in the process.
Bobby Boswell, Houston Dynamo: Boswell capped off a no-nonsense performance against an improved looking Chicago side with a well headed equalizer.
George John, FC Dallas: Another goalscoring defender in the mix, though he is certainly being recognized for more than just his equalizer against Vancouver. Throughout the game he was a consistent presence in Dallas' backine against a Vancouver side tied for the lead in goals scored.
Heath Peace, Chivas USA: The former FC Dallas man played arguably his best game in a Chivas USA shirt against San Jose on Saturday and got a win to show for it. His free kick late in first half stoppage time was glanced in by Alejandro Moreno, representing Pearce's first assist for his new club and was a deserved reward for his hard work throughout the game.
Midfielders
Landon Donovan, Los Angeles Galaxy:
Donovan may certainly have had his doubters, especially when he missed the Galaxy's recent three-game road trip through injury, but he showed on Saturday he is as hungry as ever. He set up Chad Barrett's opener with an impeccable through pass, drew and scored a penalty, then finally capped everything off with an accurate header to lead the Galaxy to a 3-0 win.
Teemu Tainio, New York Red Bulls: Almost as important as Solli in New York's supporting cast in Thursday night's win was former Spurs man Teemu Tainio. The Finn showed great poise and positioning, making a number of important interceptions and distributing with ease.
Julian De Guzman, Toronto FC: In Saturday's 1-1 draw, Toronto finally began to see why De Guzman was considered worthy of DP money. He continued his positive play under new coach Aron Winter, moving the ball well, making the defensive stops when he needed to, and provided a sumptuous pass for Tony Tchani's opener.
Marco Pappa, Chicago Fire: Pappa continued to show why he could be integral to any possible success for the Chicago Fire as he troubled Corey Ashe all day long and showed great industry and persistence to set up Diego Chaves' goal.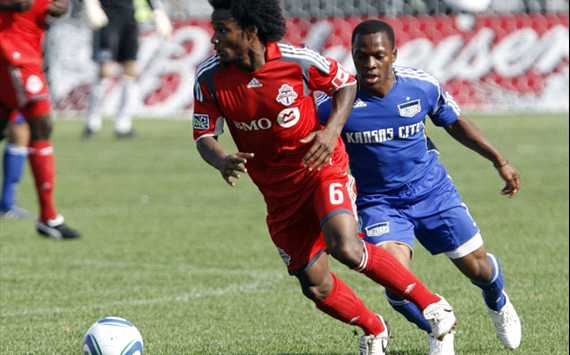 Revitalized De Guzman
| Finally showing DP value under new coach Winter.
Forwards
Thierry Henry, New York Red Bulls: When it rains, it pours. After finally getting his first goal of the season against San Jose las week, Henry went one better on Thursday night, netting the opening two goals against D.C. United and setting up Joel Lindpere's third as MLS fans saw the true threat an in-form Henry can pose.
Diego Chaves, Chicago Fire: Along with Pappa, Chaves is quickly becoming the Fire's offensive talisman, and he netted his fourth goal of the season with a well-taken strike. While it wouldn't stand up as the winner, that goal, plus his hard work and intelligent play throughout the game, earn him a place in this week's best XI.
Formation (4-4-2):
Ricketts
Solli-Boswell-John-Pearce
Donovan-Tainio-De Guzman-Pappa
Henry-Chaves
Bench: Jon Busch (San Jose Earthquakes), Kosuke Kimura (Colorado Rapids), Alain Rochat (Vancouver Whitecaps FC), Benny Feilhaber (New England Revolution), Mauro Rosales (Seattle Sounders FC), Kei Kamara (Sporting Kansas City), Rajko Lekic (New England Revolution)
Coach
Hans Backe, New York Red Bulls: Backe may have been correct in saying D.C. United were the best team New York has faced all season, and either way, the 4-0 thrashing of United at RFK Stadium was a sight to behold. The Swede seemed to have D.C. counterpart Ben Olsen's number from the get-go, while New York's much-talked about possession game is finally beginning to reap some rewards.
You can follow Nick Rosano on Twitter for more Earthquakes and MLS chatter @nicholasrosano.
For more on Major League Soccer, visit Goal.com's MLS page and join Goal.com USA's Facebook fan page!