Imagine the first time Timber Joey tried to bring his chainsaw to a match, explaining to the security guard how this will really take on, serious, and also do you happen to have any logs handy?
He's come a long way since any initial logistical and permission struggles. Now Timber Joey is the centerpiece of one of MLS' most iconic support systems, the cornerstone to a fully-formed Portland Timbers home atmosphere which was birthed into MLS this year.
After Portland limped through three away games and collected one point, JELD-WEN Field hosted its first MLS match. Portland scored four, doubling its season tally to date. A shiver-inducing video of the crowd singing the national anthem made the rounds on the Internet. ESPN's "Pardon the Interruption" showed clips of the fans and gave the atmosphere an A+. And Timber Joey, as he had done in the USL days, sliced off a wedge of a log every time the Timbers scored.
No, really. On the sideline, a bearded man wielded a chainsaw and hacked up a sizable dead tree as 18,000 plus fans screamed wildly. Where else are you going to see something like that?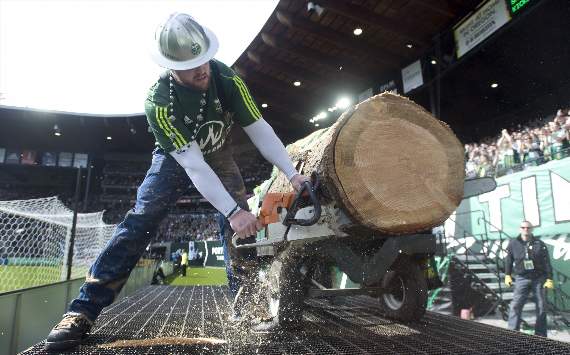 "I don't think you see an atmosphere like that in American soccer history – ever," Timbers coach John Spencer said after the match. "I think it was tremendous. I thought it was electrifying when the first goal went in, it was pretty incredible. Me and the staff were talking and just saying this doesn't feel like the U.S. – no disrespect to anybody. This feels like a Champions League game."
Of course, Seattle Sounders FC fans, who set a record two years running for North American attendance, will feel disrespected by that. Ditto Vancouver Whitecaps fans, one of only four fanbases to average over 20,000 per home match in 2011.
With less than three years of MLS experience between the three teams, the area is already easily the standard bearer for soccer support in the United States and Canada.
Sounders FC general manager Adrian Hanauer claims the off-the-field success of the area is a combination of variables.
"This probably goes back as far as the immigration patterns into the Northwest and the fact that the Northwest has always been a bit counter-cultural to the rest of the United States and Canada," Hanauer told Goal.com via email. "Layer on successful NASL franchises, thriving youth soccer, successful USL teams, good MLS ownership and management, great venues, good use of technology, good communication with fans, and great launch planning and execution."
Though the away form of Vancouver and Portland hints at the sporting failures expansion clubs traditionally endure in the early years (Seattle, with two playoff berths and two U.S. Open Cup trophies remains the exception which highlights the rule), all four expansion clubs of the last three years have been successes as far as fandom goes.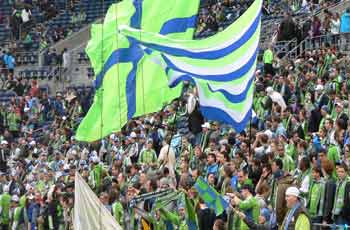 The Philadelphia Union, 2010's offering, with no NASL or USL tradition, enjoys one of the more rowdy home environments, including an incessantly catchy "Doop" song that accompanies goals. Montreal, set to become the 19th franchise in 2012, promises a similar boost in overall MLS support.
Hanauer knows these recent successes didn't burst out of nowhere. "All of this, [was] built on the foundation and momentum that so many of our MLS partners created over the first 10 years of Major League Soccer," he said.
After over a decade of clawing and biting and publicity stunts, MLS has started carving out and fostering genuine soccer fanbases. It's now to the point where Hanauer believes the Cascadia rivalries can match those in any sport, anywhere.
"Vancouver, Seattle and Portland have a unique competitiveness," he explained. "We are fairly isolated up here in the Northwest, so in some ways, we work together for the overall benefit of the region. But when competition between cities is involved, there are serious rivalries.
"Part of the reason is that Vancouver, Seattle, and Portland are really the only major cities within our region. There is no one else to compete with in a regional way. So all of our attention becomes focused on each other.
"Sprinkle in friendly completion between Canada and the United States, and I believe that you have the foundation for rivalries. Add the NASL and USL histories, and the soccer rivalries in the Northwest will rival any in professional sports."
For more on Major League Soccer, visit Goal.com's MLS page and join Goal.com USA's Facebook fan page!