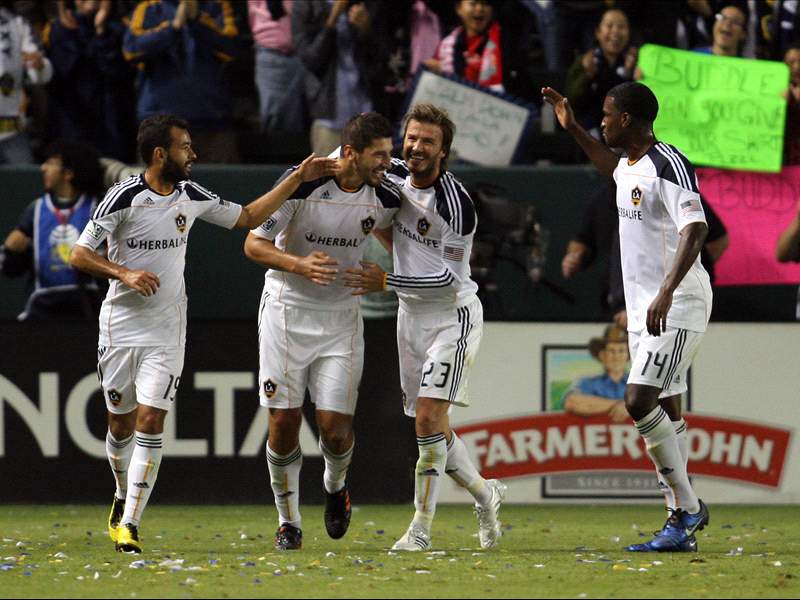 Social media is an invaluable resource that businesses are better utilizing to connect with fans and customers. As our own lives become less personal through websites such as Facebook and Twitter, the information we are willing to share has inevitably developed into a free commodity that businesses should be vying for. Few teams in Major League Soccer have done this well and it appears that as with society today, the younger generation of teams better understand how to do so.
In June 2010, Meet The Boss published an article and graphic on the social side of football. The piece took a global approach, which typically does not include Major League Soccer, to compare the world's top clubs' use of social media websites. As a follow-up, Goal.com breaks down the use of Facebook, Twitter and YouTube among teams in MLS. The most noticeable part of the study was how apparent it was which teams best understand social media and which do not. However, there was no specific case, for example, of one team dominating with its number of fans on Facebook while failing to take advantage of the benefits provided by a site such as Twitter.
Several factors should be taken into consideration when analyzing the social media statistics. As pointed out by Jeff Crandall of the Chicago Fire there are two items, which play a significant role - 1) having high profile players on the club's roster (i.e. New York Red Bull's signing of Henry and Marquez dramatically increased the club's followers) and 2) success on the pitch (e.g. Real Salt Lake is part of one of the league's smallest markets yet it comes in fifth in terms of Facebook fans). An important aspect of these factors is that having one without the other will limit the potential for connecting with fans. Any club that is not playing well despite having one or two designated players is not going to draw attention from the team's own market nonetheless the rest of the league.
The majority of MLS takes advantage of YouTube, Facebook and Twitter, and, as previously mentioned, few do it well. Goal.com highlights compares the top eight teams using Facebook and narrowing the list based on their use of Twitter and then YouTube. Despite the Seattle Sounders overwhelming lead in Facebook fans with over 173,000, it is the Los Angeles Galaxy who led the league in both YouTube and Twitter followers. The Galaxy's 32,272 Twitter followers was well much more than MLS' own 20,511. Additionally, despite leading 1,194 YouTube subscribers, the Los Angeles-based club was able to garner more nearly 650,000 views.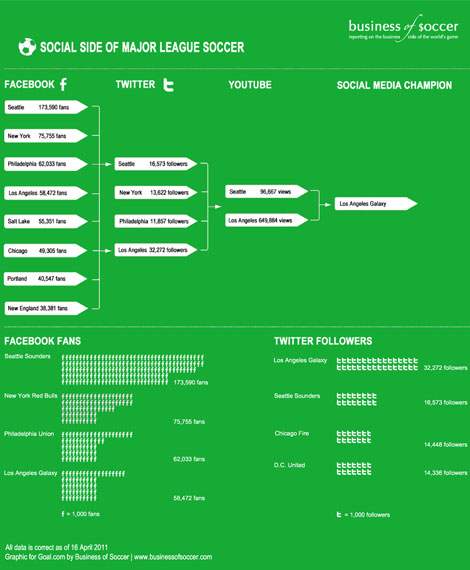 MLS and Social Media
| A full-size version of this infographic can be found
here
.
Goal.com discussed with Chicago Fire writer, Jeff Crandall, on his team's use of social media:
Goal.com
: Can you brielfy describe the Chicago Fire's overall experience using social media (i.e. facebook, twitter, etc.)? Has it been positive or negative?
Chicago Fire: The overall experience has been very positive. It's allowed us to keep fans much more aware of what's going on with the first team and the club as a whole. I would attribute the time commitment put into both Facebook and Twitter since the beginning of 2010 to us having a more knowledgeable fan base and one that is much more engaged with our brand on an everyday basis.

Though things have improved a great deal over the last 15 years, the sport is still fighting for media coverage in this country and here in Chicago. Soccer fans in this country are already used to getting a lot of their news online and given the time many spend on both Facebook and Twitter, the two tools serve as great outlets to get our message out on a consistent basis.

There are a few small negatives with social media, just as one example, given the club's subpar performance in 2010, our Facebook page wasn't always the friendliest of places last season. Teams need to take the good with the bad in those cases. Fans will be fans and when things aren't going well that's where a lot of the venting ends up because at the end of the day there's that connection with the front office and that people at the club are reading what they're saying. As long as things are kept clean and civil, fans need to be able to say what they want – social media in sports can't be viewed purely as a marketing tool.
Goal.com
: On ChicagoFire.com, it appears that only Facebook and Twitter are currently in use, but I noticed this is also a YouTube channel. Are there any other social media sites and resources that the Chicago Fire take advantage of?
Chicago Fire: The Fire do have a YouTube channel that we are starting to use again this season. We don't use other forms of social media currently.
Goal.com
: The Facebook site has gathered over 49,000 fans (and counting), while Twitter has nearly 15,000. From your experience, can you briefly explain the different ways which you are able to interact with fans on each?
Chicago Fire: We try not to be too direct with our posts on Facebook or Twitter with the view of creating a two-way conversation between ourselves and our fan base.

On Facebook we've done well in this area utilizing things such as caption contests, photo galleries (where fans can tag themselves) and also trying to capitalize on the game day experience which is consistently a team's biggest asset in terms of gaining followers. We'll post photos or video that are relevant on game days in order to get more likes and also use Facebook as a customer service tool for fan's questions about tailgating, traffic and other things that pop up before a game.


"

It's allowed us to keep fans much more aware of what's going on with the first team and the club as a whole.

"




- Jeff Crandall, ChicagoFire.com

On Twitter our engagement usually works in a similar customer service fashion answering questions about game day, merchandise and ticketing. In a more organic style of engagement we also utilize retweet and trivia contests for tickets and have players do Twitter takeovers of our account.

Goal.com
: Do you notice a difference between the type of fans on Twitter versus Facebook?
Chicago Fire: I do. I would say Twitter followers that interact with us the most are much more "super fan" if that makes sense. They're much more in the loop on things it seems that those on Facebook. Facebook still serves as a great tool to inform but the understanding has to be that a lot of the interaction done through your Facebook page is done by people that don't visit the page on a daily basis but comment based on what they saw on the news feed. This isn't everyone, but a great many fans stay engaged with the brand in that fashion.
Goal.com:
Are there plans to expand social media offerings for fans to sites such as FourSquare?
Chicago Fire: We used FourSquare last season and offered fans a free t-shirt upon three check-ins at Toyota Park but we've gotten away from it this year because of the launch of Facebook Places. Now with Deals working hand in hand with Places on Facebook, we're able to set limits and times on check-ins for prizes. For Sunday's game against the Galaxy we've offered a free seat upgrade for the first ten people that check-in to our page beginning as soon as gate open at Toyota Park. This works for us on a few levels because it gives people incentive to frequent our page but also the check-in shows up in all their friend's newsfeeds so more people are seeing our name, making a connection and hopefully becoming a fan via Facebook.
-------------
Christopher Savino is a columnist for Goal.com. His feature, "Business Off The Pitch" appears every Monday. Contact Chris at csavino@businessofsoccer.com with questions, comments and concerns or follow him on Twitter at twitter.com/chrissavino
Follow Goal.com on

to get the latest soccer news directly. Check out Goal.com's

page; be part of the best soccer fan community in the world!