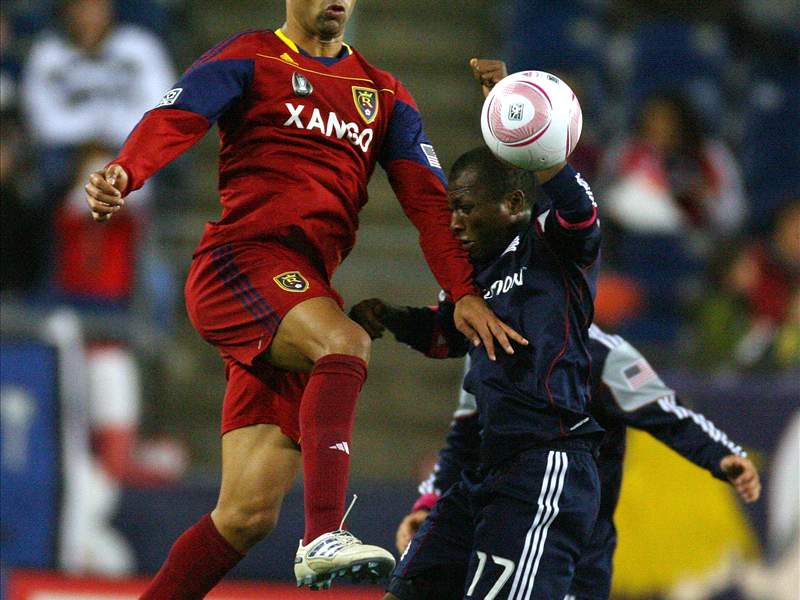 Álvaro Saborío didn't score this week. I know, shocking. After tallying goals against both an MLS side – the Columbus Crew – and a continental opponent – Deportivo Saprissa – in the CONCACAF Champions League as well as against China in an international friendly for Costa Rica, what defense could contain this perpetual threat?
None. Just a bye week.
Since arriving from FC Sion of Switzerland, Saborío has turned heads for Real Salt Lake, finishing his inaugural campaign in Utah with a combined 18 goals in league and cup competition. A myriad of exalted strikers have arrived in MLS over the last few years - Thierry Henry, Nery Castillo, Claudio López, etc. – and most of these players have not repaid their contracts. Should it be any surprise that this relative unknown has flourished for RSL?
The first two seasons of Salt Lake's history were completely forgettable. But in 2007 the franchise began its course towards becoming MLS's most formidable club. The moves that got RSL to its current state were initially questioned. Some doubted the decision for Jason Kreis to retire and become head coach, while many thought dealing essentially a major allocation for Freddy Adu and Nick Rimando was considered dubious at the time. Of course, subsequent moves for Kyle Beckerman, Javi Morales, and Jámison Olave, just to name a few, have all turned out tremendously.
Purchasing Saborío after an initial loan and upgrading the star to a Designated Player contract will be no different. The last instance of a veteran striker becoming a DP was Luciano Emilio, who followed a league MVP season with two half-decent campaigns. The difference here is Salt Lake's environment, arguably the best in the league and one filled with veterans. The scoring burden will not solely rest on the shoulders of the Costa Rican (see: Morales' two goals against Los Angeles earlier in the month).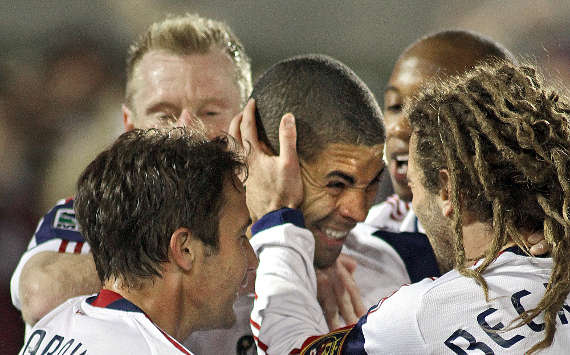 So with its week off, how did RSL spend its time? Priming for the return leg against Saprissa – Saborío's former club – and possibly advancing to the CONCACAF Champions League finals. At home Salt Lake defeated the perennial club power of Costa Rica 2-0 – unsurprisingly on the back of a Saborío winner. The match in San Jose, however, will be an entirely different beast.
A victory by RSL would be momentous for not only the club, but also MLS as a whole. No American side has reached the finals of the tournament in its current format. Progression to the championship round would mean the intelligent franchise would be tremendously close to qualifying for the FIFA World Cup.
The effect this dream result would have on MLS goes without saying. The reputation of the league has only increased as marketable names from South America and Europe have inundated the States. But while this type of players will advance MLS's esteem, Saborío and Real Salt Lake are the ones who undoubtedly provide the highest product.
Tune into Fox Soccer Channel tonight at 8 p.m. ET to see Real Salt Lake, led by the exhilarating Saborío, take on Deportivo Saprissa in one of the most important matches in MLS history.
Juan Pablo Ángel (Los Angeles Galaxy)

Started, played 89 minutes in 1-0 victory against the Philadelphia Union
Finding space in the Union's penalty area, Ángel had the opportunity to ice L.A.'s victory, but his header barely eluded the far post of fellow Colombian and friend, Faryd Mondragón.
David Beckham (Los Angeles Galaxy)

Started, played 89 minutes in 1-0 victory against the Philadelphia Union, assisted on Leonardo's 33rd minute goal, and received a yellow for delaying a restart in the 89th minute

Beckham put in one of his best performances for the Galaxy while manning a deep central midfield position for Bruce Arena. The megastar committed himself into important tackles while also serving a usual swerving free kick that met Leonardo's head before entering the Union goal.
Beckham has also apparently taken over the role of the departed Dema Kovalenko as he was cautioned for the third consecutive match.
Landon Donovan (Los Angeles Galaxy)

Started, played 90 minutes in 1-0 victory against the Philadelphia Union, and received a yellow for a reckless foul in stoppage time

In the early parts of this season, most questions to Donovan have been posed about his U.S. teammates – Juan Agudelo, for example – rather than the DP. While the American hasn't been up to his usual standards as of late, I'm sure that he'll be satisfied with the Galaxy's 7 points.
Henry (New York Red Bulls)

Started, played 90 minutes in 1-1 draw against the Houston Dynamo

Henry completed a full match and came out unscathed. That's where the good news ends. It's one thing to be unable to finish and it's another to look completely blunted as Henry did on Saturday.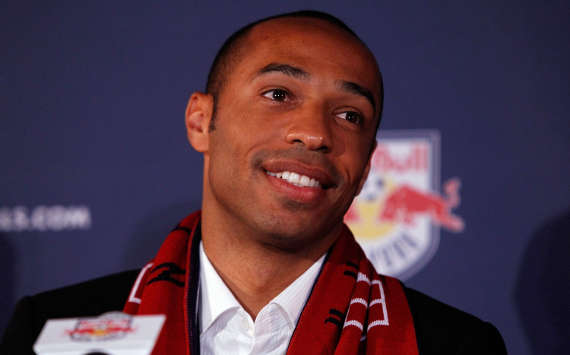 Rafael Márquez (New York Red Bulls)

Started, played 90 minutes in 1-1 draw against the Houston Dynamo

Confusion between Márquez and goalkeeper Bouna Coundoul allowed the Dynamo to equalize moments after Dane Richards took the lead for the Red Bulls. Interestingly, disagreement over the event spilled somewhat into the post-match interviews. Coundoul stated that he had shouted out to the centerback who has subsequently said that he heard nothing.
Álvaro Fernandez (Seattle Sounders)

Did not start, played the final 45 minutes in 2-2 draw against the San Jose Earthquakes

While Fernandez got off the bench this week, the Uruguayan's playing time may have taken another dent after a great performance by Mauro Rosales. Friberg and the two aforementioned South Americans will compete for the right midfield spot.
Fredy Montero (Seattle Sounders)

Was not a member of Seattle's squad due to his recent wrist surgery

Did you miss Fredy Montero? You can catch him and a few other Sounder teammates in this XBOX commercial (
http://vimeo.com/21668087
). Don't worry he should be back next week.
Andrés Mendoza (Columbus Crew)

Started, played 61 minutes in 2-0 victory against FC Dallas, and scored in the 54th minute on a penalty kick
The often-criticized striker scored his first of the season and the night's winner after Emmanuel Ekpo drew a penalty. Mendoza did well in the buildup to the goal as he drew two defenders, opening a vacuum for Ekpo when the Peruvian checked into the midfield and laid off a pass.
Branko Bošković (D.C. United)

Started, played 54 minutes in 4-1 defeat against the Colorado Rapids

Making his season debut, the Montenegrin stepped into the starting lineup well against the defending MLS Cup champions. Whether Bošković will be able to retain his position behind the forwards will be interesting to watch in the coming weeks.
Fabián Castillo (FC Dallas)

Started, played 78 minutes in 2-0 defeat against the Columbus Crew

Castillo made his first MLS start on Saturday as Schellas Hyndman placed the 18-year-old at left midfield. The youngest ever DP showed off his explosiveness once again when he jettisoned from inside his own half down the left flank before firing wide of net. The Colombian's speed will be lethal this season.
Saborío (Real Salt Lake)

Real Salt Lake was off this week

Do I have to reiterate the important of the Saprissa match? Show support for your league and catch – or even DVR – the game.
Omar Bravo (Sporting Kansas City)

Was not a part of Kansas City's 3-3 draw against the Vancouver Whitecaps due to last week's red card

Teal Bunbury more than made up for Bravo's absence by scoring a mesmerizing brace. Peter Vermes will have a selection headache as he will likely have to leave out C.J. Sapong or Kei Kamara to accommodate Bravo's reintroduction.
Julian de Guzman (Toronto FC)

Did not start, played the final 45 minutes in 1-1 tie against Chivas USA

Returning from an extended injury, De Guzman finally made his debut under new head coach Aron Winter.
"There were a couple of early runs in the game where I felt the physical side of things needed to be worked on but that will come naturally," De Guzman said. "But I was very pleased to have 45 minutes with no pain, and the knee feels great."
Eric Hassli (Vancouver Whitecaps)

Was not a part of Vancouver's 3-3 draw against Sporting Kansas City dude to last week's red card

Teitur Thordarson will have similar troubles as Vermes after Camilo Sanvezzo salvaged a tie with two stoppage time goals. Hassli, Camilo, and Atiba Harris have all scored twice this year.
For wry non sequiturs follow Goal.com correspondent Avery Raimondo on Twitter @averyraimondo.

Follow Goal.com on

to get the latest soccer news directly. Check out Goal.com's

page; be part of the best soccer fan community in the world!