FOXBOROUGH, Mass. – A quick survey of the Designated Players scattered across MLS reveals one significant point.
At this stage of its existence, the DP mechanism is not the same structure devised to bring David Beckham to the league back in 2007.
While the likes of Beckham, Omar Bravo, Landon Donovan, Thierry Henry and Rafa Márquez still uphold the original intent of the DP idea, the introduction of a new wave of more frugal and more practical DPs such as Fabián Castillo, Eric Hassli and Andrés Mendoza has shown that clubs now employ the option in different ways.
"I think the Designated Player model is still evolving," MLS commissioner Don Garber said during an interview on Monday afternoon. "It was put into place to drive the overall awareness and recognition of Major League Soccer. It was conceived – and I believe it still exists as – an off-the-field initiative, as opposed to something that will drive a club's competitive success."
Even those investor/operators in tune with Garber's contention are starting to evaluate whether a more expansive approach is required.
New England investor/operator Jonathan Kraft once adhered to the idea that potential Designated Players must appeal at the box office and chased several players who would have fit that model, but he said his thoughts on adding a DP have altered as the prevailing wisdom throughout the league has shifted.
"The DP (in MLS) has really changed," Kraft said during an interview on Monday afternoon. "It wasn't just someone who could contribute on the field, but somebody who could really move the needle off the field. Clearly, it's becoming much more the former than the latter and we understand that."
The revised line of thinking has shaped New England's ongoing and public pursuit of a DP to bolster a squad that missed out on the playoffs last season.
Revolution coach Steve Nicol and vice president of player personnel Michael Burns nearly clinched a deal for a potential DP – Nicol said earlier this month that it was a player based in Turkey – before watching the deal fall apart at the last moment.
Despite the setback, the Revs technical staff still has Kraft's blessing to pursue a player who may not necessarily fulfill the traditional DP role.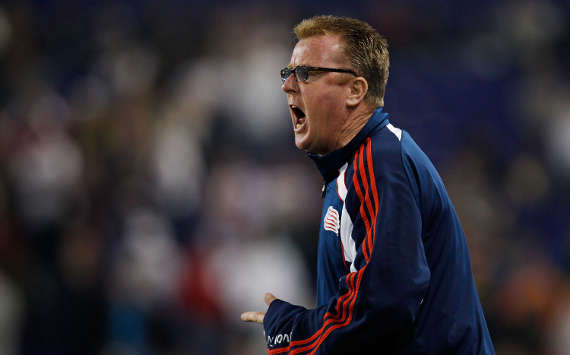 "We were ready to go and we're still going to keep looking, but it has to be someone who can really help us in the position that we need help in," Kraft said. "From my perspective, that's a striker, but Stevie and Mike can figure that out."
As the Revolution adapt to the new DP reality, MLS must also chart the course of the rule heading into its future. The Board of Governors passed a series of significant revisions last year to expand the rule – each club may now employ two DPs at a salary budget charge of $335,000 and can sign an additional DP by paying a $250,000 luxury tax into a fund distributed to all clubs that do not exercise the option – and remove the need to renew the concept on a yearly basis.
The extra leeway has allowed more inventive uses of the DP process. The decision to invest significant funds in players like Castillo (a Designated Player for one year due to the transfer fee paid to Colombian club Deportivo Cali, according to ESPN Dallas) and Montero (by elevating him to a DP deal to ensure he remained in Seattle) shows a new interest in securing younger DPs with one eye toward reaping a potential transfer fee in the future. Hassli and Mendoza reinforce the model of selecting players designed solely to boost on-the-field performance.
While those signings may have pushed the boundaries of common DP perceptions, the mechanism does not have limitless bounds. Domestic standouts such as Dwayne De Rosario have pushed for DP deals in the past, but it appears unlikely that MLS is willing to expand the usage of the model to encompass such players.
"I don't see it at this time, but, again, we recognize at MLS that our thinking changes and needs to evolve as the market shifts," Garber said. "I can't say what it'll look like years from now."

The ideological movement over the past few years suggests room still exists for the DP rule to change as the league continues to devote more resources to improving its playing staff across the board. As the Board of Governors weighs further modifications down the line, Garber said he hopes that the original idea behind the rule is not obscured.
"I think it's going to continue to evolve over time because teams need to make decisions that make sense for their club, but, at the end of the day, we need more players that break through the clutter, entertain people, keep them on the end of their seats and perform a little magic on television and in the stadium," Garber said. "That's something that our clubs need to get very focused on (in the future)."
Garber and Kraft on some of the current issues swirling around MLS and the Revolution
Garber on the first two weeks of the MLS season: "It's been great. The opening week was a monster, and last week was great. We still have some first games (to play) – we're looking forward to the opener in Portland – but attendance has been strong and television ratings have been strong. It's been a great opening two weeks."
Garber on the impact of the FIFA window on last weekend's matches: "Going forward, you'd like to not be in a situation where teams are missing a number of starters from their roster because they're called up to national team duty. But it either requires us to really reduce the number of games that we play, reduce the number of competitions we play in or expand our schedule window. All three of those things have implications that represent big challenges. I continue to struggle with it. I went to the U.S. - Argentina game. I would have loved to have gone to the Philly game. I couldn't do both. I understand that represents a challenge (for our clubs and our fans)."
Garber on the value of the All-Star Game: "We think we have one of the most compelling all-star formats in professional sports. This whole idea of pitting ourselves against the best clubs in the world and putting that on national television – and in many cases, playing in large stadiums, but, in this case, Red Bull Arena – is just another step for us to connect with the broader global game. One of the great values that MLS has is that it is part of the most popular sport in the world. Today, it isn't the most popular sport in America, so we continually try to connect with that key value, if you will. This sport is so big and there are so many great clubs. We're going to do what we can to provide that opportunity for our fans and give our players a bit of a test."
Garber on the new partnership between MLS and U.S. Soccer designed to increase communication between the league and its referees: "The process, it's very early. We've had two weeks of games. I didn't expect because we had an offseason meeting and we put a bunch of guys in our office that all of sudden that officiating would change dramatically. I think it's going to change and evolve over time. The most important thing is that we're communicating more closely with the officiating community. We have them in our offices reviewing games every time a game is played, and they're coming up with an evaluation system that will lead to better assessments and better assignments. Hopefully, there will be better communication between us and them about how the game should be presented to the public." … "Listen, there were controversies before this started. There will be controversies after. In two or three years from now, there will still be controversies. It's the nature of the sport. What we hope is that we can do a better job of understanding what kind of things are going on on the field so that we can hopefully work with the officials to make it better."
Kraft on the Revolution's chase for a Designated Player: "(The Revolution technical staff knows) that we were comfortable doing it. We don't get involved in scouting the players or making talent evaluations. Stevie (Nicol, Revolution coach) and Mike (Burns, Revolution vice president of player personnel) have the green light to go out and do something if it would really help our team. We had found a player that Stevie was excited about and we came close. It was my understanding that we reached an agreement with the player, but that his club decided not to let him out."
Kraft on the Feb. 20 training camp incident involving Kevin Alston and Shalrie Joseph: "I wasn't there, so I don't know what happened. Shalrie, for a long period of time, and Kevin, for a shorter period of time, my interactions with them have only been positive and I think they represent the Revolution incredibly well. I think that when you're a young man, you're on the road and you're a professional athlete, you have to be extra cautious and careful with what you're doing. Even if you're not doing anything wrong, you have to stay ten steps on the side of not doing anything wrong, not being two or three steps away (from that line). Again, I wasn't there and I actually haven't talked to Shalrie or Kevin so I don't know the full story, but as people, as players and as teammates, this organization supports each of them."
Kraft on Kraft Soccer and U.S. Soccer president Sunil Gulati's role with the Revolution: "He's the president of Kraft Soccer. He represents the family's soccer interests to the world. When you have somebody of his caliber and his stature representing you, opportunities that you might not know existed, you'll suddenly hear about." … "Sunil's primary focus – and rightfully so – is making sure the U.S. Soccer Federation – and by default, its two flagship teams, the men's and the women's national teams – are as competitive as they can be. But I think that all feeds into ultimately making MLS more successful." … "Not a major soccer decision gets made that Sunil is not actively involved with, but we all understand that this position doesn't have his full-time attention. We're comfortable with that because we believe that the other things he is doing with soccer ultimately feed back and help Major League Soccer and the Revolution."
Kraft on whether the NFL lockout would have any impact on the Revolution: "No. They're totally separate businesses. I know people sometimes like to try to prognosticate about where our interests lie. We feel as passionately about the Revs as we do the Patriots. It bothers us when people presume otherwise. They're completely separate businesses, though. The lockout of one (club, the Patriots) – or if there was a work stoppage in MLS, it wouldn't affect anything to do with the Patriots – (doesn't have an impact). We're just business as usual with the Revs. We're just hoping to get three more points this Saturday (against Portland) and get off to a fast start so that people can be chasing us all year rather than the alternative."
Kyle McCarthy writes the Monday MLS Breakdown and frequently writes opinion pieces during the week for Goal.com. He also covers the New England Revolution for the Boston Herald and MLSsoccer.com. Contact him with your questions or comments at kyle.mccarthy@goal.com and follow him on Twitter by clicking here.
Follow Goal.com on

to get the latest soccer news directly. Check out Goal.com's

page; be part of the best soccer fan community in the world!