The cost of a soccer-specific stadium in Major League Soccer is quickly becoming one that every club is to assume. For the clubs without their own stadium yet, the pressure to have a place to call home has never been higher. It is no longer a luxury, it now a necessity.
Many MLS clubs were fortunate to be located in cities which are home to other major sports teams and college sports programs with existing stadiums. Such is the case for the New England Revolution, which shares Gillette Stadium with the NFL's Patriots.
MLS anticipates the addition of three new soccer-specific stadiums in 2011, including Portland's JELD-WEN Field (formerly PGE Park), Vancouver's BC Place Stadium and Kansas City's recently named LIVESTRONG Sporting Park. The cost of a new soccer-specific stadium capable of holding 18,500 fans is averaging $200 million. The Philadelphia Union realized the completion of its $120 million PPL Park last year while Sporting KC will spend $200 million on LIVESTRONG Sporting Park - both featuring the same 18,500-seat capacity. However, Red Bull Arena in Harrison, NJ similarly cost $200 million but is able to hold 25,000 fans.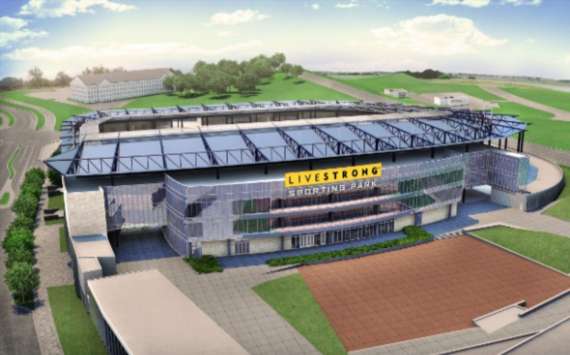 LIVESTRONG Sporting Park | Kansas City will move in this season
While the expansion Vancouver Whitecaps await the $500 million renovation of its future home at BC Place Stadium slated for this summer, the club resides at Empire Field, a temporary stadium constructed for a few home matches. The stadium is soccer-specific and is capable of seating an estimated 20,000 fans, a similar capacity to the soon-to-be-completed BC Place. Surprisingly, the ability to seat more fans than the majority of recently completed stadiums comes at a fraction of the cost.
At $14.5 million, Empire Field is only 2.9% of the renovations to the club's BC Place Stadium and 7% of the cost of LIVESTRONG Sporting Park. More surprising, Empire Field was constructed in 111 days, a mere fraction of the time needed for permanent structures, most which take several months to a year for completion. In terms of amenities and features, Vancouver's temporary solution is on par with most stadiums, featuring covered seating, broadcast booths, luxury suits, scoreboards, enormous video screens, concession stands, restrooms, retail space and locker rooms. As quick as the Empire Field was constructed, it will be destroyed in even less time as the club moves to downtown Vancouver.
During the MLS Commissioner's State of the League in November 2010, Don Garber was proud to reflect on the addition of two new soccer-specific stadiums during the previous 2010 season in Philadelphia (PPL Park) and New Jersey (Red Bull Arena). In March, Garber announced that the San Jose Earthquakes, New England Revolution and D.C. United would likely be the next clubs in line to announce plans for soccer-specific stadiums.
In an article by Jonah Freedman that has since been removed from MLSsoccer.com, the league momentarily provided additional insight into the potential use of temporary stadiums in other markets besides Vancouver. According to Garber, Major League Soccer is exploring the use of temporary stadiums for its clubs without existing soccer-specific stadiums. Thirteen clubs will have their own stadium by the end of 2011, leaving just five without a place to call their own. The 2012 expansion Montreal Impact already has plans for renovation to its Saputo Stadium.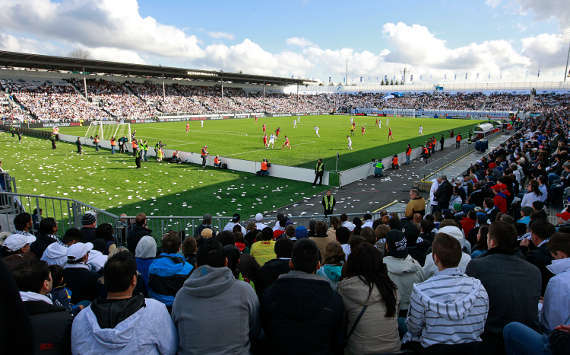 Empire Field | Vancouver's temporary home cost just $14.5m to build
On a larger scale, both Russia and Qatar's FIFA World Cup bids include multiple modular stadiums. The intention is for these stadiums to be utilized during the world's largest sporting event, only to be relocated and rebuilt in developing soccer nations following the tournament. Despite Qatar expecting to spend an estimated $4 billion on stadium construction and renovations, costs could yet be much higher. The committees of each nation have commissioned Nussli AG, the Swiss engineering firm behind Vancouver's temporary stadium and similar projects for clubs in Europe.
Consider the amount of money that can be saved through the use of temporary or modular stadiums. Using them as permanent fixtures as opposed to destroying them upon completion of a fixed stadium would save, in many cases, hundreds of millions of dollars, and seat the same number of supporters. Based on attendance averages alone and a successful start to the 2011 regular season, MLS is expected to do well financially this year. However, the league should have seen this as an opportunity earlier that is about to bypass them completely.
Follow Goal.com on

to get the latest soccer news directly. Check out Goal.com's

page; be part of the best soccer fan community in the world!